How to Export Kindle Notes and Highlights
Kindle is a very useful e-reader. You can have a lot of books, and while you are reading, you can highlight and take notes. However, many people are annoyed by the limitations of leaving a book unread or exporting highlights after finishing it.
Summarizing the main points and what you want to say after you finish reading a book can make a tremendous difference in retention in your memory. For this reason, we will show you how to easily export your Kindle notes and highlights.
First of all, there are three broad ways to export Kindle notes and highlights. It is the original location from which the notes and highlights are retrieved. Respectively, they are the Kindle device, the Kindle app, and Cloud Reader.
Kindle devices are Kindle Paperwhite, Oasis, Kids, etc. Kindle apps are available on iPhone, iPad, Mac, Android phone, and Windows PCs. And Cloud Reader is Amazon's official website to see notes and highlights on the web.
Below are three destinations to export Kindle's notes and highlights.
1. Export from Kindle device
From your Kindle device, you can send notes and highlights through email. And in this case, there is no limit on the number of notes and highlights you can export, which is one of the advantages of using the Kindle device.
Here's how to do it:
Open the book on your Kindle device and click on the three dots button in the upper right corner. Here, click on the option Notes & Highlights.

You can see a button that says Export Notes, click on it. It will export the notes to your registered e-mail address.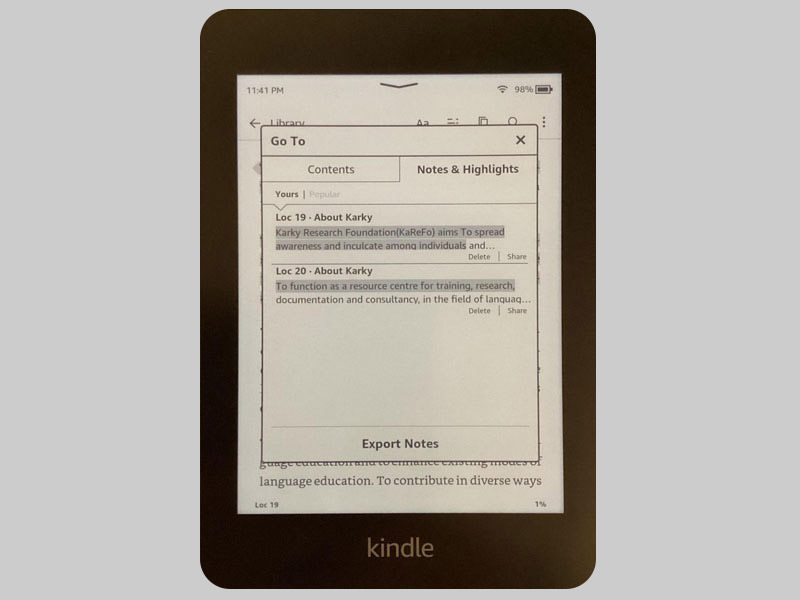 In addition, by connecting the Kindle device to a computer with a USB cable, you can copy and save the files.
This file is called My Clippings.txt and is unique to the Kindle, although it is a text file.
You can get this file only from Kindle devices, so if you want to save the file directly to your desktop, you need to purchase a Kindle device.
2. Export from Kindle apps
This way is the simplest. Because you can export notes and highlights via email or save them as an HTML file.
From mobile devices, you can only send notes and highlights via email in an HTML file. And from the desktop app, you can download and save notes and highlights as an HTML file.
These are very simple, but the disadvantage is that there is a limit to the number of highlights you can export. It varies from publisher to publisher, but the number of highlights to export cannot exceed 1% of the entire Kindle book (some publishers set it at 15%, for example).
Highlights that exceed 1% will be automatically cut off, and once you have completed the export for that book, you will not be able to export anything other than that 1% again.
To export notes and highlights from the Kindle Mac app, you can open the Notebook (right sidebar) and click Export.
It shows Save As at the top right, so you can save it as a .html file by clicking the button.
Export from Kindle iOS app on mobile
As the red arrow shows, there is a share button on the Kindle app.
Click that, choose Email and choose citation style. Then, you can see an email sending page showing up, so input an email address you want to receive the notes and highlights. It sends in an HTML file.
3. Export from Cloud Reader
This option is the most common; anyone who has a Kindle account can see the past highlights for free. Also, there here are many third-party services to export and download notes and highlights through Cloud Reader and here are four of them:
You can access Kindle Cloud Reader by searching Cloud Reader on Google. And to start the export, click Notes & Highlights on the left on Cloud Reader.
Glasp is a social web highlighter that allows people to highlight and organize web articles and find like-minded people to learn together.
Its main feature is to highlight web articles and YouTube, but they offer users to import Kindle's notes and highlights, export them to Readwise, and download them as a file, in the format of .txt, .csv, .md, .html, and .png.
Glasp provides a simple way to import and export Kindle's notes and highlights. With this option, you don't need to care about the export limit like you export from Kindle apps.
Also, it's a good point that Glasp offers this service for free and without any limitations.
Here's how to use it:
Once you've done it, you can see Copy Highlights or Select Books at the top-right of the page. If you choose Copy Highlights, you can copy all of the notes and highlights from a book. It saves in the clipboard, so you can paste them on Notion, Evernote, Apple note, and anywhere. And if you choose Select Books, you can choose as many books as you want and import them to Glasp.

Once the import has finished, you can see Kindle books like below.
Clippings.io is a service specialized in importing and exporting Kindle's notes and highlights. It imports Kindle's notes and highlights from Cloud Reader or by uploading clippings text files that we can get from Kindle devices.
Sign up and install a browser extension Chrome.
Once you have signed up for Clippings.io and installed the browser extension, you can see a banner and Clippings.io's icon on the toolbar. And if you click the icon, you can see a popup to select books to import.

After the import has finished, you can see imported highlights and notes on the Clippings dashboard.

In the Export section, you can see export destinations and file options. And you can connect those services or choose file options to export.
Another option to import Kindle notes and highlights is to upload My Clippings.txt.
Clippings provides a simple way to import and export Kindle notes and highlights, and it is nice that they accept uploading My Clippings.txt for those who have Kindle devices.
One thing to consider is that there is a limitation on the number of exports. To export unlimitedly, we need to upgrade to a professional plan that costs $2.99/m.
Bookcision can import Kindle notes and highlights from Cloud Reader but in a unique way.
It is simply a bookmarking service in your bookmark bar and then clicking on that bookmark on the Cloud Reader page.
To get started:
Go to Bookcision and add the DRAG TO BOOKMARKS BAR to your bookmarks bar as shown below.

Next, access Notes & Highlights from your Kindle's Cloud Reader, with the notes and highlights for each book displayed. Select the books you wish to export and click Bookcision on the bookmarks bar to begin the export.

When the export has finished, you will see the exported notes and highlights shown in the following image. To save them locally, you can copy-n-paste. After clicking on it, you can paste them on Notion, Word, Google Docs, Apple Notes, or any other place. Other options are downloading as a file in

.txt

,

.xml

, and

.json

.
The merit of using Bookcision is its simplicity and price. It's free to use Bookcision.
Readwise is a tool that automates the import and export of books, articles, and tweets in bulk. Once the service is activated, you can import highlights of Medium articles, Twitter threads, Pocket, and Instapaper bookmarks, in addition to Kindle books.
You can also automatically export it to Obsidian, Notion, Evernote, Roam, etc., or download it as a .csv or .md file.
Following is a list of services that can import into Readwise.
To import Kindle notes and highlights, you need to:
Connect Readwise to your Kindle, as shown in the picture above (you can also import the My Clippings.txt file into Readwise, but since I already explained, so I will skip it in this chapter).
Clicking on it will take you to a screen where you can install the Chrome extension Readwise.

After installation, tap Connect on the Kindle again. Cloud Reader will automatically open and begin installing all book notes and highlights. In the process, if you are asked to log in to Amazon, please do so.

When the import completes, you can view them in the Readwise Library, which you can access from the Browser.
To export, you must click on Export Highlights and go to the following page. Export Highlights" can be accessed from the top bar under Connect & Sync.
As you can see in the image above, Readwise has many export options. The only local saving options are .csv and .md files, but since people like to organize and edit their Kindle highlights in Notion or Obsidian, this export option makes sense.
Though Readwise has good import and export options, the only drawback is the paid plan. The first month of use is free, but no importing is allowed at all after the trial plan.
You can also export up to 10 articles/books, but you will not be able to export more than 10. It is quite a unique experience that you cannot retrieve the highlights of your book. You can see the pricing below.
Final Thoughts
Thank you for reading. I hope this article will make it easier to export Kindle highlights.
While many people use Kindle, but I think that not many of them know how to export notes and highlight them effectively.
Being able to export and manage highlights in bulk would improve your productivity a lot.