15 Essential Twitch Tips & Tricks You Should Know
Helpful tips and features that help you make the most of Twitch's game-streaming service.
Twitch is one of the popular platforms for watching live videos. Although it started as a game-streaming service, it now offers everything from reruns of classic shows to broadcasts from artists, gamers, and who not.
Twitch is built to provide an awesome experience to both streamers and viewers and offers a lot of features not to miss a few of them. That said, if you are one of its users, then this post is dedicated to you. Here, I am going to talk about the tips and tricks for making the most use of Twitch as a viewer.
Read Also: 5 Best Home Theatre and Media Center Software [Review]
Freebies & Loots
Earn Drops (freebies)
Drops are a new way to earn game freebies for watching your favorite game streamers on Twitch. These are usually activated by a game developer, and you must link your game account with Twitch to get Drops.
While browsing, you can check for Drops — they are visible on browse, game (as you can see in the above image), and channel pages (as noticeable in the below pic). You can click these icons/links to opt for Drops, but you must link your game account first; and if required, Twitch will notify and ask you the same. After you have linked it, you can watch the stream to get a chance to earn Drops.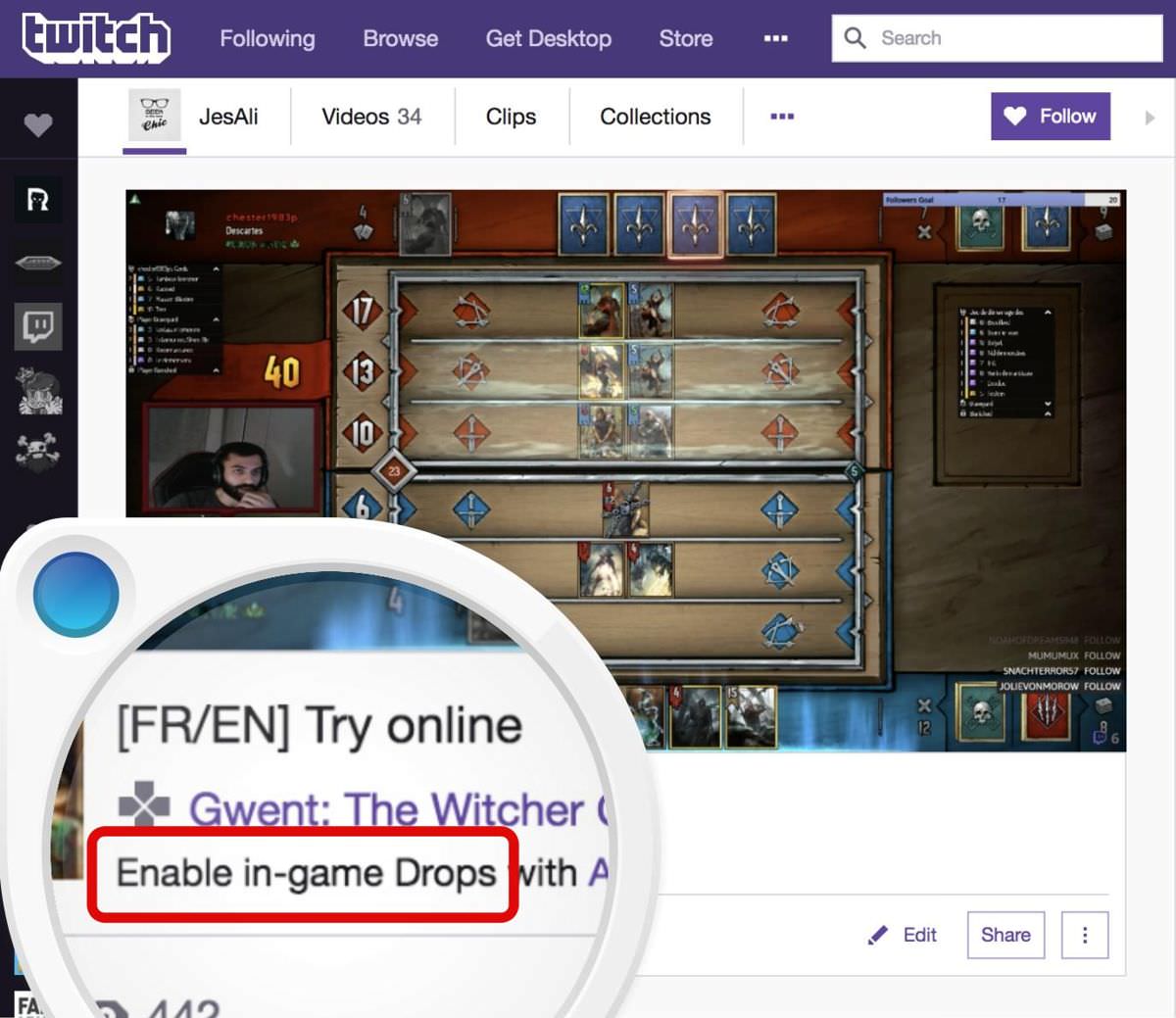 Chat Functionality
Appear offline in chats
When you want to hide your online status from everyone on Twitch, then this is what you need to do: click on your profile icon at the top-right corner and click on Invisible. It will hide your status from everyone including friends and stops sharing your activity temporarily from your friends as well.
Block a user in chat
If you dislike a user's messages in a chat, of which you are not a moderator, you can easily block the user to stop receiving messages from him/her. You must click on his username and then click the "Block User" button (chat icon) in its user card. That is all, you will no longer receive messages from him/her.
View chat log on mobile
Though Twitch offers its mobile app with chat functionality yet it clears off the chat once you switch the channel or close the app. If you hate this functionality and envy other messaging apps such as Facebook Messenger and WhatsApp that keep your chat history locally, then this trick is just for you.
The trick is to use TChat for Twitch — it is a third-party app for Android that is built to improve on the chat functionality offered by the official app. It also allows you to watch live streams and live chat in multiple channels.
Enable do not disturb
In case you are overwhelmed by all the new messages and cannot watch your favorite streamer, then you can put yourself to "Do Not Disturb" mode to mute the new whispers. You can click the Option button (gear icon) in the Whispers box and choose the option "Do Not Disturb" to enable it.
Toggle chat and side-nav
Though its channel pages are intuitive, yet I feel that they display a lot more elements than required. Fortunately, one can hide the navigation bar at the left side and the chat section on the right side to expand the video size.
How to show/hide them? On the channel header, you will see left and right buttons on both of its sides. You can click the left button to show/hide the side navigation and the right button to show/hide the chat section. I usually hide the side navigation to chat as well as view an expanded video simultaneously.
Pop-out the chat section
If you wish to chat in a dedicated window, then this trick is for you. On the left-bottom corner of the chat section, click the gear icon and choose Popout. Now you can chat in its own window without any distractions.
I find this trick very useful when used with the below trick to pop out the video player as well. It allows me to view the live game on one monitor and view the chat section on the other monitor, boosting my overall experience.
Video Functionality
Pop-out the video player
If you are only interested in watching the live game and want to hide the page including other details, you can switch to fullscreen mode. However, what if you want to view the video, but inside its own, different window?
In such situation, click the option button (gear icon) of the video player, choose the option name "Popout Player", and you will see the video in a new window.
Create and share a clip
Twitch allows you to create a clip of your favorite moment in a live streaming video. A clip is built from the video from 25 seconds before to 5 seconds after you ask to create it, thus totaling to a default length of 30 seconds. You can also edit it to increase/decrease the length to a maximum of 60 seconds.
While viewing a live stream, click the Clip button at the bottom of the video player. A new tab will open with your clip, where you can also name and edit it to fix up the timing. When done editing, you can hit Publish to save the final clip. Finally, you can click the share buttons to share it on social networks.
Stream on other clients
If you want to view the stream on a third-party client or player, say VLC Media Player, then Chatty with StreamLink is the solution. Chatty is a third-party chat client for Twitch that provides Twitch-specific features.
Chatty, being developed in Java, is available for all desktop platforms. You can use it to join channels and chat on Twitch. Along with its chat-related features, it offers a streaming feature that lets you view the live stream in a live-streaming client. Please check its guide for more details on this neat trick.
Cast a stream to your TV
If you like watching games and videos on the big screen, like me, then the idea of casting a live stream to your TV must have crossed your mind. If this is the case, here is the good news: you can cast a stream using this trick.
You need to open Twitch on a Chromium-based browser like Google Chrome or Vivaldi. Then, open any live stream and in the right-bottom corner of the video player, click the Cast button. Finally, choose your casting device on which to cast the live stream, and then enjoy the live stream on your TV.
Privacy & Security
Log-in in just one click
If you hate to enter login credentials every time you need to log in, like me, you can use a password manager to store your login details and enter them automatically for you. What if you do not use one?
Alternatively, you can login into Twitch using your account on Facebook. For that head over to your account's Settings, switch to the Connections tab and click the Connect button on Facebook. Finally, log in to your Facebook account and allow Twitch to access and connect to your account on Facebook.
Then after, you can log in directly to Twitch in just one click by clicking on the "Connect with Facebook" button on its login modal dialog.
Block strangers in chats
Twitch allows anyone to message or whisper you by default, but if you are unhappy with this preference, you can change it. Just open the Settings, switch to the "Security and Privacy" tab, and toggle on "Block Whispers from Strangers" under Privacy to block communication from strangers.
Add two-factor authentication
Two-factor authentication has become the de facto standard for securing an online account from unauthorized logins. It asks for something you have (a phone or a key) in addition to something you know (a password) to access your account. That said, Twitch supports it, and you can enable it using these:
Open Settings of your account > switch to "Security & Privacy".

Click the "Set Up Two-Factor Authentication" button.
Enter your phone number along with the country code.

Enter the verification code you get on your phone via text message or Authy (if you have Authy installed on your device).
Opt out of personalized ads
Although Twitch does not provide any default option to opt-out of interested based advertisements yet there is a way to protect your privacy. You can set up your ad preferences on DAA WebChoices and NAI Consumer Out Out, and Twitch will respect these choices while displaying ads to you.
Kindly note that advertisements including personalized ads support Twitch, so opting out of interest-based ads may hurt your favorite service.