45 Creative Resumes to Seize Attention, Vol. 1
In today's competitive job market, having a standout resume can make all the difference in securing your dream job. A creative resume is an excellent way to grab the attention of potential employers and stand out from the sea of traditional, boring resumes. With these creative resume examples to inspire you, this article showcases how you can showcase your unique skills and personality while still maintaining a professional look.
Each of these resumes featured in this article is designed to make a lasting impression on potential employers. From unconventional layouts and eye-catching graphics to personalized branding and unique color schemes, these resumes demonstrate the power of creativity when it comes to job hunting. By using creative resumes, you can highlight your individuality and creativity while showing potential employers that you are not afraid to think outside the box. Whether you're a graphic designer or a marketing specialist, these 45 creative resumes will inspire you to create a standout resume that will help you land your dream job.
Creative Resume Design, Vol. 2
Creative Resume Design, Vol. 2
Sending in your resume is usually your first step in making a lasting impression to your dream company,... Read more
A CV that probably laid the author the job and great at attracting attention among several hundred applicants.
#2
Author's first take at visualizing general tasks he does daily between age 0-32. It also highlights significant events of the last 20 years.
Just a creative way to get a graphic design job, while expressing author's parallel interest in fabric and sewing.
#7
A retro and vintage CV with pictures.
#8
A relatively clean teaser of a graphic designer's resume, black and white version. Made to match a vinyl record-themed portfolio design.
#13
A different perspective on the typical time-line theme resume. This is just concept art, as there are almost no real metrics represented except for time.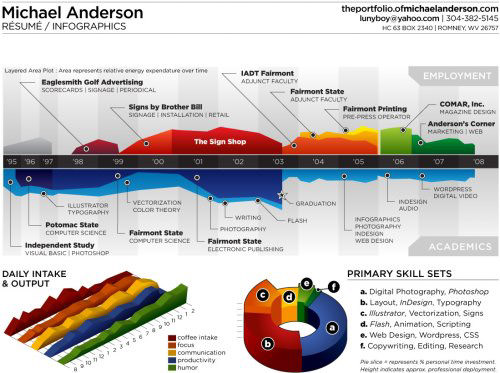 A copy of author's resume included in each issue of DESGINERD toward the end where the novelty ads would normally be.
#16
An eye catching resume illustrating author's education and work-place experience since high school.
A resume that designed for a typographic class.
Resume on a paper cup, tissue paper and a piece of receipt.
A newly designed resume for my business practices class.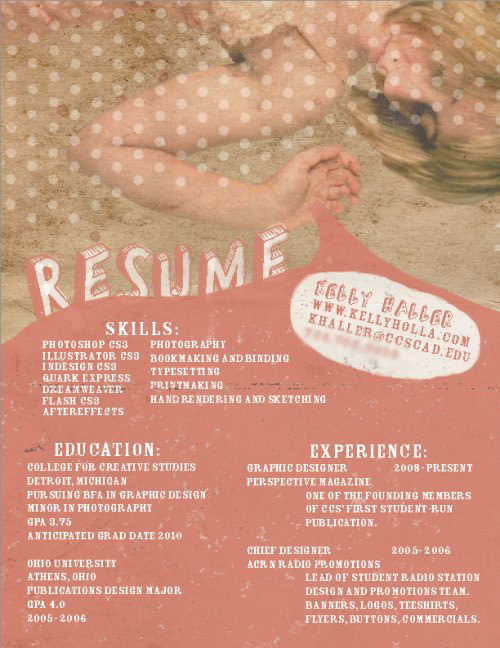 A resume that designed for someone who was applying to be a waiter at a restaurant.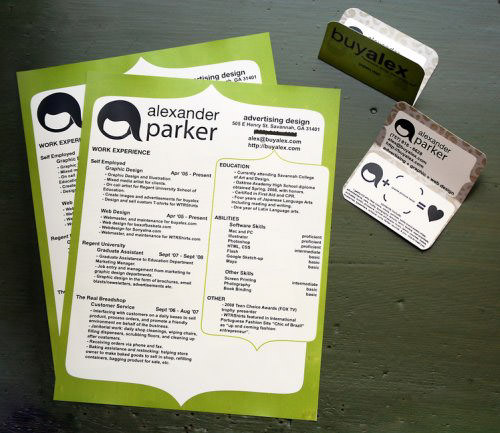 Fold the resume to become a 3-D box.
A resume/self-promo box and big enough to print out and fold up.
#28
Resume T-shirt by BlackBirdTees.
This is an appendage to a traditional resume, to be included as a forward page in portfolio.
#30
#32
8 pages booklet type CV.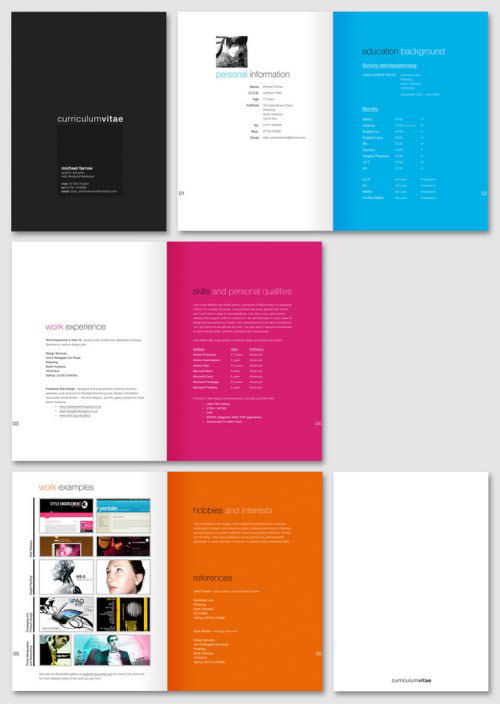 A timelie resume and work history by Robert Berg.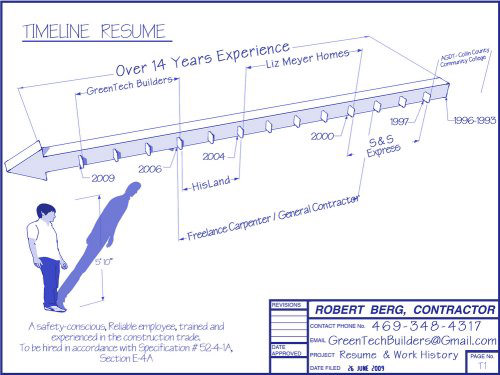 A non-traditional resume.
Resume in urban-art version and done with adobe photoshop CS3.
CV interpreted into a A2 poster. A poster designed to be printed A2 size, put in a A4 envelope and mailed to prospective employers.
A resume that more cuter and eye-catching than type-on-paper-crap.
A typographic resume by Christa.
#45