15 Weird and Wacky Coat Hook Designs
Apart from the major overall theme of your house design, small accessories like coat hooks can add a special atmosphere and feel to your walls and your home. When guests come a-knocking, they'd need a place to hang up their coats, hats, scarves, jackets, etc. And that's when unusual coat hook designs can really get conversations going.
This round-up of 15 unusual designs features some really strange coat hooks – from shurikens to glass bottles, rocks to hardened paintbrushes. Know of more weird and wacky coat hook designs? Share them with us in the comments.
Recommended Reading: 30 Extraordinary Clock Designs
Ninjas came and left their shurikens on the walls. Instant coat hooks!
The designer of these hooks came up with this idea when he forgot to wash his paint brushes and later found them hard and unusable the next day.
Foosball fans rejoice! Let your "teammates" hold your items for you.
It's a hook AND a clip, probably made for giants, but they work well for us too.
Coat Hanger Line Up by Kristina Podrug
Ah, this one is for fans of minimalistic design, perfect for both the home and office. You can customize the dimensions and colors.
The Tree Coat Stand by Robert Bronwasser
This nature-inspired design puts branches (and hooks) on your wall. It feels like spring in here, doesn't it?
Hanging by Lucirmás
Now here's something you don't see every day. The bottle hooks will be a great choice to spice up the walls of a restaurant or a bar. You can leave love letters and messages too!
You can make your own; just follow the link to a DIY tutorial on creating smashing kitchen hooks using old forks and spoons.
These illuminated wall hooks in the form of buttons can be a fantastic decoration for any futuristic house design. Moreover, they help you find your things in the dark.
Love collecting pebbles and rocks? Use them as bathroom hooks.
Perfect for the bathroom, kitchen, or bedroom. These hooks are available in blue, white, pink, green, and lavender.
These drop-shaped hooks can add a touch of color to any wall. You can combine them and create your own unique patterns. They are available in various colors.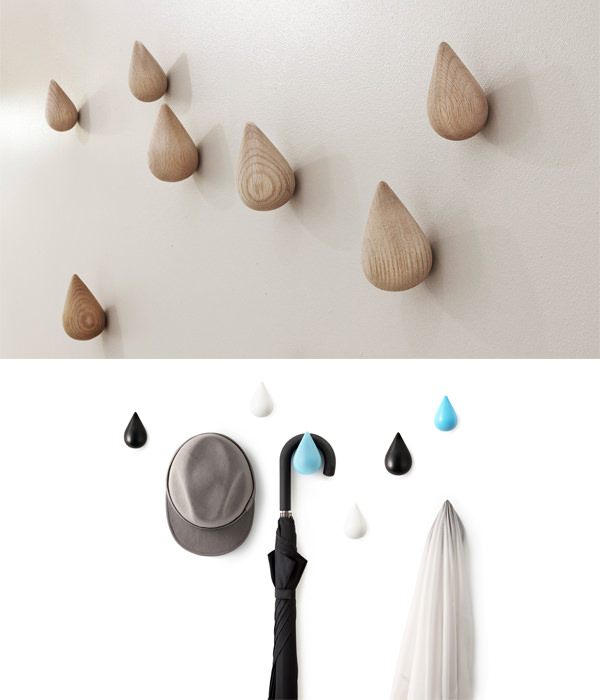 "99 bottles of beer on the wall, 99 bottles of beer…"
Add some mystery to your wall with these covered hooks. They turn 120 degrees and can protect your attire from dust. They also give the illusion that someone's hiding behind the covers.
Anchor's ahoy. and a couple of whale tales, I mean tails, too.