20+ Beautiful 2019 Calendars to Buy
Wonderful 2019 calendars that you can buy for a friend or just to gift your own self.
When you think of a nice Christmas/ New Year's gift, one of the first things that come into your mind is a beautiful creative calendar. I consider it a great gift as it's usable all year round and keeps reminding you of the one from whom you received it.
Take a look at these wonderful 2019 calendars that you can buy for a friend or just to gift your own self.
Delightful, hand painted watercolor feathers of different birds. It can be a perfect gift for an aviary or nature lover.
Creator: laurabrothersdesign
An exclusive, hand-made calendar of different cute animals playing dress up. It's a year-long fun-filled fancy dress party and you're invited!
Creator: misterpeebles
A calendar with 12 most beautiful cities of the world in fantastic illustrated styles. It can be a great accessory for any room and a perfect gift for your globe-trotting friend.
Creator: TessaGalloway
This calendar features colorful illustrations of nature, wildlife and botanical designs – perfect for framing as prints once the calendar is finished. The dates have plenty of space to write appointments and reminders in.
Creator: ArtworkByAngie
A cute calendar to give you a dash of positive thinking in a beautiful way. A hand-painted item with a new motivational quote for each month.
Creator: sarahfrancesart
Elegantly designed table calendar with Magnolia flower patterns. There is a separate spread for important dates and much space with each date to add your own reminders.
Creator: LaudeDesigns
Anyone with a sweet tooth would love this yummy pie calendar. All the illustrations are hand-made and there are facts and anecdotes for each pie.
Creator: PattieJansen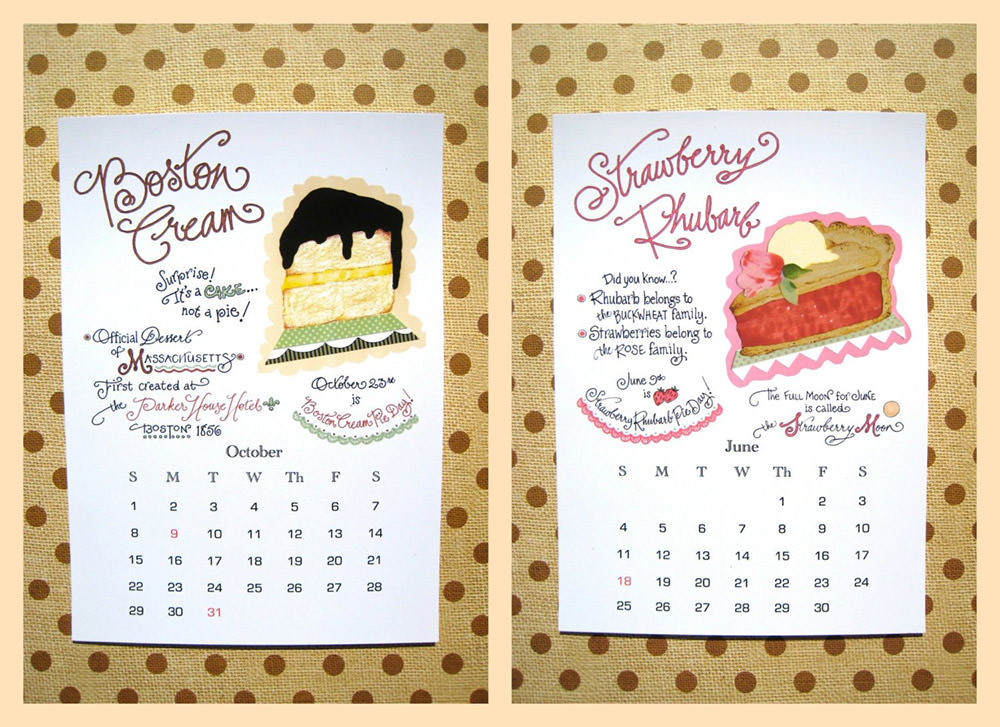 Inkblot mono print watercolor designed calendar printed on luxe paper. A lovely gift for anyone with a taste.
Creator: laurabrothersdesign
A calendar that features 12 original illustrations inspired by folk tales from around the world with their anecdotes printed on the back. A high-quality hand-painted item.
Creator: PaperRavenCo
A collection of original artwork that highlights the natural history of Alaska in the form of a wonderful calendar. The artwork includes plants, birds, fungi, rocks, and landscapes.
Creator: NizinaNaturals
A calendar made with cutest illustrations of a fluffy pet rabbit and its owner. There's a space for notes at the bottom of each page. The langage of the calendar is French.
Creator: LinetteSuperChouette
A cool table calendar with a wood base to brighten up your space in 2019. Each month features a different hand-drawn animation.
Creator: BCuriousGiftShop
Magnificently illustrated Mount Vic and Me inspired artwork in the form of a practical 2019 calendar. You can jot notes, add birthdays, and special events.
Creator: MountVicandMe
For gemstone fans, here's a calendar with macro photographs of different minerals. You'll be amazed at the beauty of nature that is featured in these photos.
Creator: Macrografiks
Featuring 12 original illustrations inspired by flowers and butterflies, the calendar is made with high-quality recycled paper and hand-made artwork.
Creator: NathalieOuederni
First in this list, here are different design variations of a lovely and useful monthly planner with abstract artwork.
Creator: DOZI
A mini wall calendar made with finest quality paper and beautiful watercolor illustrations. It can be a thoughtful gift to your loved one and a lovely item for your own home.
Creator: Legacy Publishing Group
An appointment calendar with heart-warming designs created by Florida-based stationery boutique and design studio. A beautiful item for any house.
Creator: Rifle Paper Co.
12 magnificent illustrations on everything lemon-inspired is what makes up this creative calendar. A great gift for the foodie in your life.
Creator: Rifle Paper Co.
A great gift for someone who spends much time on desk but still aspires to see the world here is a table calendar with lovely illustrations of different countries.
Creator: Rifle Paper Co.
An elegant floral calendar made with original illustrations and pastel colors. A lovely accessory for your home or workplace.
Creator: Margaret Jeane