20 Free Invoice Generators to Create Invoices Instantly
As a small business owner or a freelancer, you know the importance of invoicing. Invoices are sent to notify your clients about products and services you delivered, so you can get paid for your work.
As a rule, invoices specify the amount of products or services you delivered, how much it costs per unit and the total price.
Invoices can help you become more financially organized, track your income and make clients take you more seriously.
You can create your own invoice template if you like but if you're looking for just a quick, simple, and easy-to-use invoicing tool, we got some of those in this post right here.
Sign up not required
The tools we highlight in this section are free for use and great for one-time use because these tools do not require sign ups for you to start using them. The first six provide payment gateway integrations that give your client multiple methods to quickly clear your invoices.
The next five tools do not have payment integrations but are still great invoicing tools to let you send out your invoices quick and easy.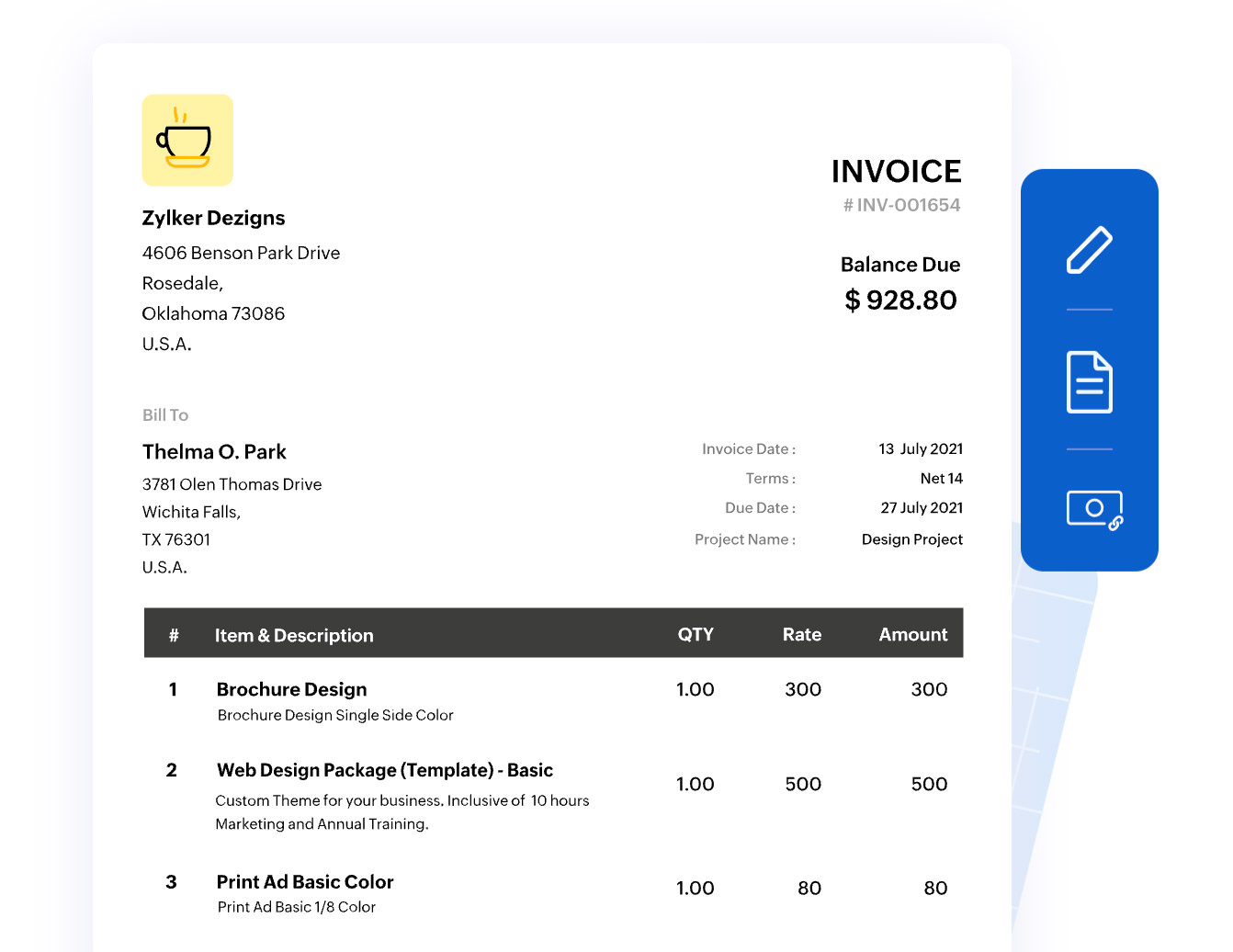 ZOHO has a hassle-free invoice generator you can take advantage of. ZOHO makes it easy to create and save, print, or send well-designed invoices in PDF to your clients.
Every section down to the Notes and T&C is editable. However, it doesn't seem to have any attached payment options.
Free Invoice Generator is a great site for finding specific templates, such as invoices for translation services, auto repair, or even region-specific invoicing needs.
It has plenty of payment gateway options (Paypal, credit cards, Stripe, eWay, 2CheckOut, Authorize.Net) or you can just download the invoice in PDF form and/or email the invoice to your client.
It has a subscription-based billing software for time-tracking options among other features.
Invoice Generator does not require registration and you can start work directly on an organized template.
Just download the invoice in PDF to send to your clients, and you can start receiving payments via credit card, PayPal, wire transfer or even Bitcoin.
Moreover, clients that opt for offline payments can let you know that the payment is on the way with the click of a button.
Slimvoice provides easy invoicing options. You can create, manage, and send an unlimited number of invoices. Also, it lets you to download your invoice in PDF format.
It also has Stripe integration, allowing you to accept credit card payments right on your invoice.
Invoice.to has a super-simple interface of the website, perfect for one-time-use. If you like to see a little design, color or boxes in your invoices, you won't find much of any of these elements here.
This tool carries Stripe integration but the form keeps everything else relatively quick and easy.
Duet is a free-to-use invoicing app that you can host up in your own server. It takes payments via Stripe or Paypal. Once a payment is cleared, you will receive an email notification.
The app allows you to send unlimited, simple and organized invoices to unlimited clients.
It also comes with a reporting module, and you can check all your past payments from the dashboard. Check out the Duet app demo here.
If you want the ability to simplify or enhance your invoices, Invoice Simple would be the best tool for that. It lets you customize your invoices to suite your needs.
You start off with a basic invoice template but you can change colors, add a stamp, insert payment terms/notes or client notes, or change the currency and date format (if your client is from another region).
After all that, just download or email your invoice. There are no mentions of payment integrations.
Shopify has an invoice generator that churns out a rather professional-looking invoice. The good news is you don't have to be a Shopify user to use this invoicing tool.
However, instead of an in-template form, this generator is full of fields that you have to fill in first before it can generate a preview for you (which may slow down the process just a little).
Sign up required
Who doesn't want more options? If you do not mind signing up to use a free invoicing tool, then we have a few more tools here that you might want to look into.
Some of these tools are free for life, giving you unlimited number of invoices for unlimited number of clients, while others are attached to a pro or premium invoicing/billing tool that you can consider checking out if you like the free version.