9 Sites to Create Your Own Magazine Cover
If you've ever wanted to put your face on a magazine cover, you could do so with Photoshop, but you'd need skills of course. Then again, why go through the trouble when you can quickly create one with the right online tool? I have found about 9 such tools that you can use to create magazine covers, with little to no design skills.
Whether it's Esquire, Cosmopolitan, Glamour or Times Magazine, take a look at the following tools and see what strikes your fancy. Maybe you could even use it them to pull a prank on your friends.
Read Also:  30+ Free Magazine PSD Mockups to Download
With Magazine Cover Maker, you can put your own picture on covers of such famous magazines as People, Time, Fortune, in just one click. The site has templates to choose from and a user-friendly simple interface to work with. Save your ready magazine cover in JPG or PNG, or share directly to social media.
PhotoFunia is an online service allowing you to adjust your photos, create a postcard, add funny faces, drawings, frames to your images, and add your photo to a magazine cover. Instead of just having a generic magazine cover featuring your image, this service lets you incorporate the magazine into photos of real life settings.
Funny Photo lets you play around with various photo effects, frames, postcard and collage templates to enhance your image and create your very own personal proof of stardom. It has a photo editor which can help you retouch a photo before using it. You'll find a range of magazine covers including a few of the more modern ones.
BigHugeLabs gives you a couple of options when it comes to uploading your photo. You can choose to do so from your computer, Instagram, Facebook, or from your Flickr photostream. Moreover, with this tool, you can select your magazine layout, title, tagline, publication date, and more. To top it off, you can even use this to create a postcard.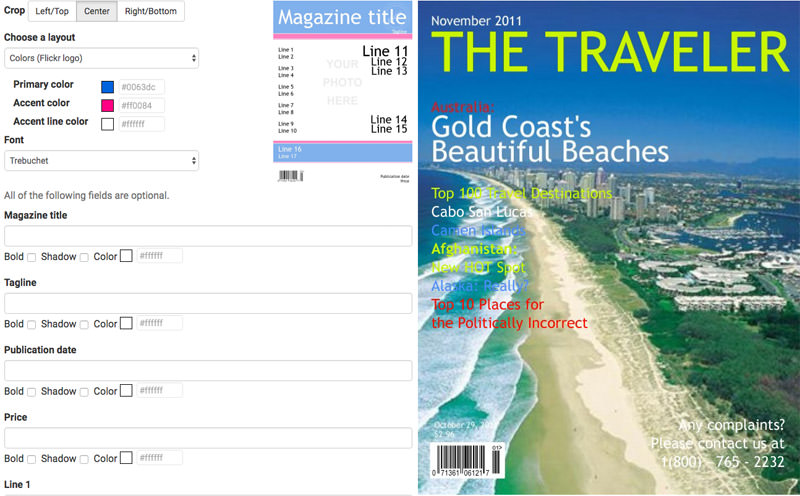 Madmagz is an online tool which allows you to create not only a magazine cover, but a whole magazine line by line. They have pre-made magazine templates, and you can choose one of them: modern, classic, pop art, visual, minimal, newsletter, romance, clean, flat and more.
Note: It's actually a paid service, with some free options – you can create a web magazine version for free.
LucidPress allows you to create a magazine along with brochures, posters, flyers, invitations and newsletters. You can choose one of the pre-made magazine templates, each adjustable to match your brand. This tool is paid, but if you want to create just a magazine cover with yourself, you can do it for free.
Fakeazine gives you the opportunity to become the star on the cover from a selection of over a 100 magazines. You can upload a photo and then adjust it by zooming in and out, dragging it as you need to and even change the background color. Once you're done, you'll get a code to share this magazine cover via your social networks, forums, etc.
Canva is a popular online tool to add text to images. You can create a magazine cover with your photo, presentation, poster, different social media profile and cover images, blog post images, resumes and many many more. They have pre-made designs of each type of images, so you can just insert your own picture and text – and that's it.
If you like pulp magazines, with this tool you can put your photo on a pulp magazine cover. The customizer tool lets you adjust text, columns, alignment, text size, shadow, font and more. Afterwards, you can download the cover or use it to print out T-shirts, mugs, magnets, posters, iPad cases and more (this is an external service by Zazzle, charges apply).