18 (More) Services To Convert Websites For Mobile Devices
Do you have a mobile friendly version of your website or blog? With mobile devices now driving nearly 7 percent of Web traffic (according to CNET), it's now more important than ever before to make sure you have a mobile optimized version of your blog for those devices.
People who use their mobile phones, smartphones, and tablets to access the Web are usually in a hurry and don't have time to wait. If they have to wait for the desktop version of your site to load and attempt to render properly, they'll more than likely grow impatient and end up leaving your altogether site before it even loads. Plus, let's face it, desktop versions of blogs and websites just do not function properly on mobile devices – no matter how smart they are!
So this list will take a look at numerous tools that will help you mobilize your blog (or website) and create a mobile friendly version. Whether you're looking to design your own mobile site or want to simply redirect to the mobile default version of WordPress, there is sure to be a tool listed below that can help.
More related posts:
Online Tools
App Factory
App Factory lets you create a mobile app for any platform: iPhone, Android, and Windows Phone 7. It's HTML5 enabled, yet there is no coding required to create your app. The service prides itself on consistency and making sure your app works across every platform. You can fully customize your app with your logo, colors, etc. Along with your blog, you can also create an app based around your Twitter, Flickr, YouTube accounts, and more.
Pricing: Play with the App Factory free; Get the App Pack $20; Upgrade to a Pro App $750.
Wirenode is a mobile website creator that supports mobile widgets (i.e. Twitter, RSS), polls and forms, Google maps, statistics/analytics, wallpapers, and QR codes. You'll get to preview your site in a phone emulator so that you can see exactly how it will look to your mobile users. It also has a WYSIWYG editor and gives you the ability to create galleries – which is great for mobile portfolios.
Pricing: Free; Start $6.68/month; Business $13.50/month; Premium $40.22/month; Agency $259.00/month.
Zinadoo lets you go mobile in minutes with an unlimited number of pages on your mobile site. One of their unique features is the ability to import your contact list from Plaxo. You can then use Zinadoo's internal messaging system to send emails to your contacts right from your mobile phone. Other features include: web widgets, site optimization, mobile search, and mobile videos.
Pricing: Initial 14-day free trial; Plan A $102.00; Plan B $136.00; Plan C $177.00.
"Winksite makes it easy for everyone to create and share a mobile Web site and community." One of the neat things about Winksite is that once you create your mobile website, you can share it via the social network part of the site. This means that anyone can also access your mobile site right from their computer.
Price: Free.
Jagag
Jagag is another mobile social networking platform (like Winksite) that lets you create a mobile site and minutes and then allows you to invite your contacts to view it. You can also use it to send mobile greetings to your family and friends. There is no HTML knowledge required and you can create an unlimited number of websites. One of their unique features is the abilities to grab web content from other websites like LinkedIn, Facebook, and Google.
Pricing: Free.
XtGem is a visual mobile website builder and WAP creator. It gives you an unlimited amount of disk space and bandwidth. You can update your site via the website or on-the-go via your mobile device. You will have ads on your site, that XtGem uses to for revenue, however they are unique and don't look like your regular everyday ads. Most of their new and upcoming features can be read about in their blog.
Pricing: Free; Starter $1.50/month; Advanced $3.00/month; Expert $7.00/month.
goMobi
goMobi is a unique service that integrates with your own social networking accounts to encourage viral activity. It supports seven different languages: English, Spanish, French, Dutch, French, German, Portuguese, and Chinese. You can also use QR codes and print flyers to connect mobile and print marketing campaigns. Some of their other features include WYSIWYG editing, Google maps, analytics, magnetization via ads, and support for location-based services like FourSquare and Gowalla.
Pricing: $13.50/month for subscription and $13.50/year for .mobi domain.
Mobilemo
Mobilemo is a mobile marketing tool that not only lets you create a mobile website, but also helps you to turn your fans into loyal customers. They provide you with a web-based mobile website builder and "mobile + social marketing services." There is Facebook integration available if you want to automatically publish your mobile site updates to your fan page or if you want to add like buttons to your mobile pages.
Pricing: Free; Basic $200.00/month; Premium $400.00/month; Plus $800.00/month.
WordPress Plugins
Since most of the above tools require you to build your own website, here are some tools that can integrate more easily with a WordPress blog for mobilization.
Handheld is a gorgeous mobile WordPress theme that works alongside your default theme. When your blog is accessed on a mobile device, this mobile optimized theme will be displayed. Note: The mobile theme is only used when the plugin detects that your visitor is using a mobile phone.
Pricing: Free for currently Elegant Themes members, otherwise $39/year for membership.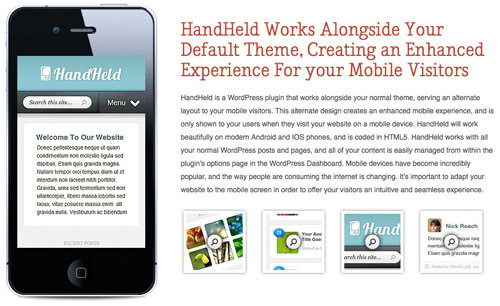 "The BAAP Mobile Version is a complete toolkit to help mobilize your WordPress site." It includes a mobile theme switcher, extra widgets, and mobile admin panel. The mobile theme switcher lets you users switch back and forth between the mobile or desktop version of your blog. The mobile admin panel lets you edit your posts and approve comments from any mobile device.
This plugin is very similar to BAAP Mobile, but it has a few additional features. It includes a set of advanced themes for Nokia and WebKit devices, custom color variations, analytics, mobile ads, QR code widget, and more. It will also help to ensure that your markup is valid and that your site scores a 5 on mobiReady (see honorable mention below).
WP Mobile detector does just what the title implies: it automatically detects mobile devices and displays a compatible mobile optimized theme. Not only can it detect standard mobile devices, but it can also tell if the visitor is using a smart phone. So the type of theme used depends heavily on the type of device used. It also includes advanced features like analytics, image resizing, detection of over 5,000 mobile devices, collapsible menus, dynamic page loading, touch optimized layouts, widgets, and much more.
Wapple Architect lets you mobilize your blog in minutes. All mobile devices are detected with this plugin, plus it carries over your current blog theme to create a consistent look and feel on mobile devices. This is a unique feature because most other plugins will use the WordPress default mobile theme, or let you choose a premade theme – neither of which will perfectly match your blog. This plugin comes with a ton of features like Google AdSense integration, advanced pagination, analytics, commenting, and more.
"The Mobile Smart plugin allows your WordPress site to switch your theme if a user visits it using a mobile device, plus adds template tags to help you." You can also set it to let your visitors manually switch between a desktop and mobile version of your site (while on their mobile device), if you prefer. Devices recognizable with this plugin include: iPad, Blackberry Tablet, Android Tablet, Windows Phone 7, video game systems, and more.
WPtap instantly turns your blog into a mobile friendly version with the integrated mobile detector. It automatically detects the type of system and mobile browser that your blog is being viewed from and then switches to a mobile theme as needed. If you have a different WAP or mobile website that you want it to redirect to (such as one created with an online tool mentioned above), then you can do that as well. A unique feature that it includes is the ability to redirect each type of device to a specific URL.
Mobile BuddyPress is a mobile blog theme that is optimized for the iPhone, iPod Touch, Android, and some Blackberry devices. Like most of the other plugins listed here, this plugin detects the mobile device of your visitor and then displays 1 of 2 BuddyPress Mobile themes. It also includes the option for your visitors to switch between the desktop and mobile versions of your site.
IamMobiled is a simple plugin that automatically detects mobile devices and then displays a mobile optimized version of your blog. There is also an integrated ad system that you can use to make money. Your users will be able leave comments and search your blog as well.
Honorable Mention
mobiReady
mobiReady isn't a tool to mobilize your site, instead it's a tool to let you test the mobile-readiness of your website using the industry's best practices and standards. This way you can see how your website is likely to function on a mobile device. All you have to do is enter your URL on the homepage and you'll get a full-page or results with visualizations, a test summary, compliance tests, page markup, HTTP response headers and more.
With all of these tools available for you to mobilize your blog, which one do you prefer?