40 WordPress Themes For Churches and Other NGOs
In today's internet-save world, if you're running an organization or community, a website can be an effective point of contact for your users or followers. And this goes for religious and spiritual communities as well that can benefit a lot from a professional website tailored to their needs.
So if you're looking to establish or update such a website, take a look at this list of elegant-looking WordPress themes. Through most of these themes are designed for church websites, you can use them to create website for mosques, synagogues, temples, or any kind of religious or non-profit organizations.
The list comprises of both free as well as premium WordPress themes offering different features and a variety of elements. Take a look at the list to know more about each theme and see which one would suit you the best.
55 Free & High Quality WordPress Themes
55 Free & High Quality WordPress Themes
Although there are thousands of WordPress Themes available all over the web, choosing "the one" can still be challenging. WordPress... Read more
Grace is a nice clean template for churches, Christian prayer groups, charity and non-profit organizations. It has a useful easy event calendar to notify visitors about upcoming church events.
This church theme is user-friendly and readable. It has a beautiful combination of soft color scheme and nice typography.
Preview Jesus church WordPress Theme
HelpingHands is a powerful charity and donation theme for WordPress. You can easily edit the site and collect donations with PayPal or other payment processing systems.
Preview HelpingHands WordPress Theme
Christian church theme comes with everything you may need for a modern clean church website. It has even Bootstrap functionality, audio player and video integration, several sliders to choose from, and archives.
Preview Christian church WordPress Theme
Adore Church is an SEO-optimized WordPress theme with an event calendar and a blog. It has unlimited color options, 150 line icons, and Google fonts to customize the design for your own needs.
Preview Adore Church WordPress Theme
Pure white background and slider images with floating light are amazing for a church website. Main website content is divided into three columns and combined with images.
Preview Right Way WordPress Theme
This amazing theme for charity organizations and churches features nice image background, donation form, donation counter, about us area, image gallery, and easy contact form.
Salvation is a nice church WordPress theme with pink colors. It features an event management system, a donation form, and custom widgets.
Preview Salvation WordPress Theme
Bright Path is a nice clean theme for WordPress with a user-friendly design. Your visitors with find all the necessary information quickly and easily there.
Preview Bright Path WordPress Theme
Pastor'e is a clean minimalistic WordPress theme for churches, Christian, prayer groups, charity and non-profit organizations.
Preview Pastor'e WordPress Theme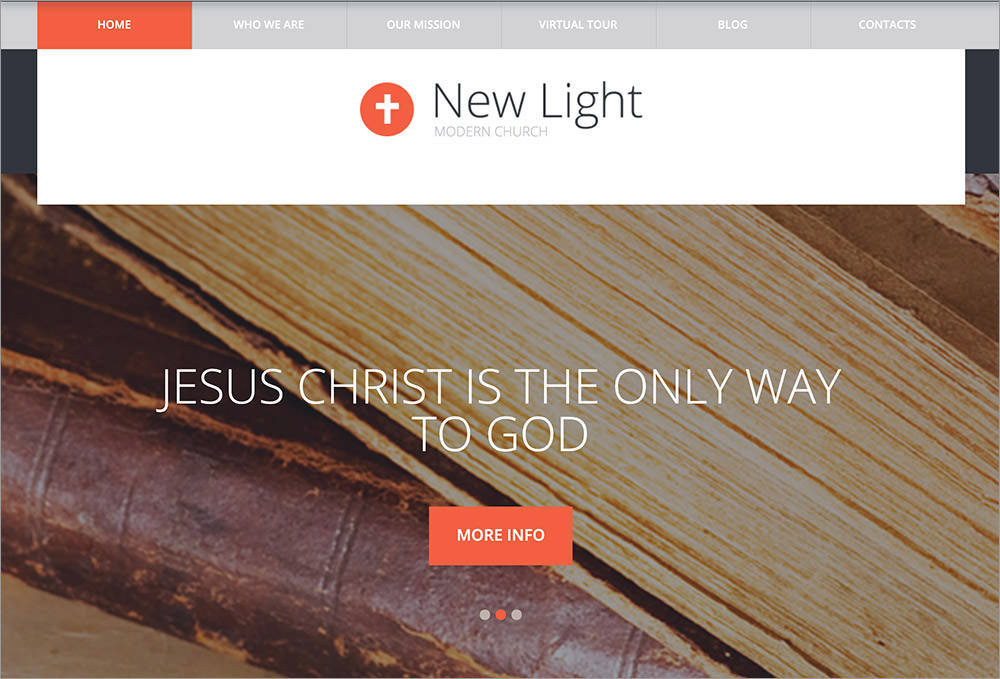 Love, peace, and harmony it's all about a perfect religious site. The template is well-designed and coded to fit your needs perfectly.
Preview Enlightenment WordPress Theme
Hopes is a powerful multipurpose WordPress theme with advanced features. It has a testimonials area, event calendar, blog, and donations.
Forgiven is a modern website for churches with podcast area, bold image slider, event calendar and counter, showing how much time till the next event is left.
Preview Forgiven WordPress Theme
This amazing yet simple church theme will be suitable for any religious organization. It has portfolio, blog, audio player and video integration.
Preview Modern Church WordPress Theme
Church and Events, the name of this WordPress site template says for itself. The template is made for churches, but it will be suiatble for any kind of business: medical, political, nonprofit, gym, education and more.
Preview Church and Events WordPress Theme
This vivid website template is made for Hindu temples. It has a list of services, nice image header, video integration, portfolio and an integrated Google map.
Preview Hindu Temple WordPress Theme
Belief is a great WordPress theme for non-profit, religious communities, church or charity sites. It will be suitable for a church who is going to have a blog on their site.
Preview Belief WordPress Theme
Wise Church is a feature-rich website template that will be a fit for any church. The homepage can be created with unlimited combination possibilities of 9 block layout.
Preview Wise Church WordPress Theme
This Christian responsive WordPress theme looks pure, clean and light due to its white color scheme and images with blue sky. It has a nice block to add quotes or testimonials.
Preview JesusWay WordPress Theme
Benevolence is a perfect website theme for a modern church or nonprofit charity organization. Using this theme you can showcase any type of content in a nice clean way.
Preview Benevolence WordPress Theme
LightBook is a powerful WordPress theme with extended plugins for events and donations. It has 4 different read-to-use homepages to fit your needs.
Preview LightBook WordPress Theme
Blessing is a simple church theme for websites with nice image slider in a header. It also features event calendar and counter, gallery, simple contact form, and a blog.
Preview Blessing WordPress Theme
Divinity is a modern clean website theme featuring Bootstrap 4 framework. Currently, they have 4 ready-made demos to choose from and more demos are coming.
Preview Divinity WordPress Theme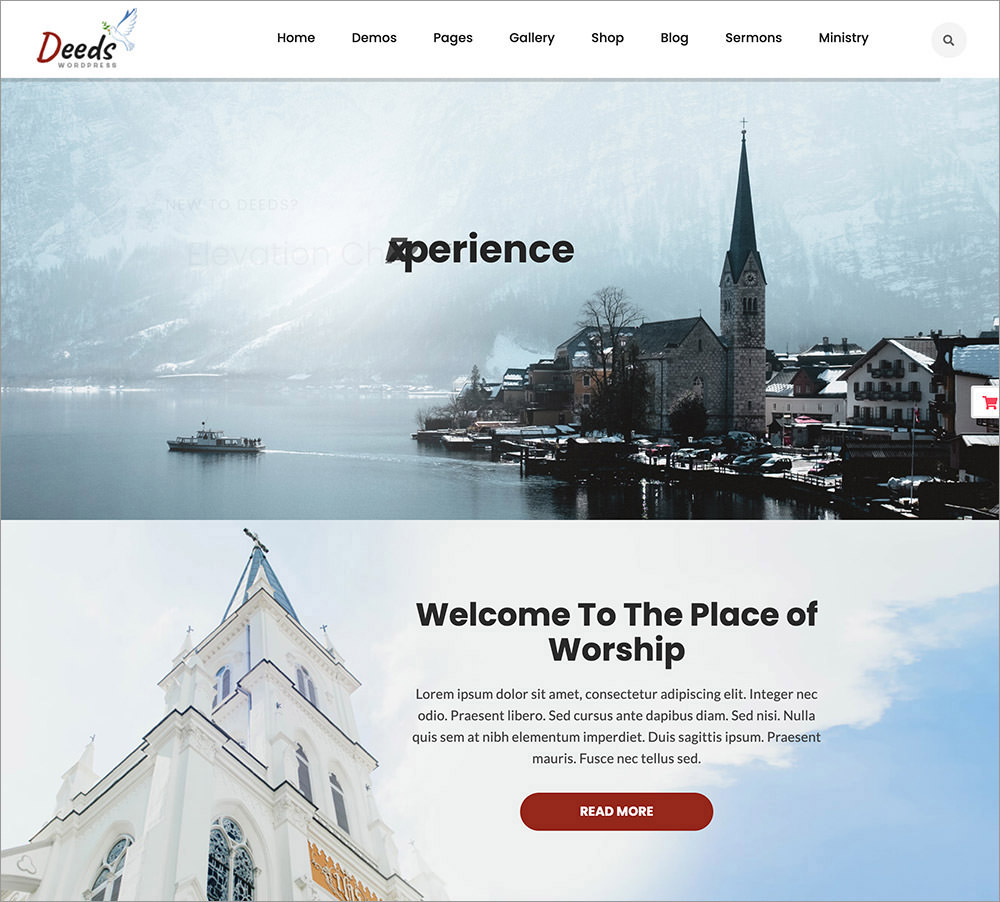 Deeds is a premium theme which you can use to create church website, religious propagation, a nonprofit organization, ministry, church event, church donation or a church fundraising website.
Maranatha is a premium website theme for church with a long homepage, parallax scrolling, and real-time customization features.
Preview Maranatha WordPress Theme
Resurrect is a beautiful mobile-friendly website theme. You can choose from light or dark color scheme to fit your taste.
Preview Resurrect WordPress Theme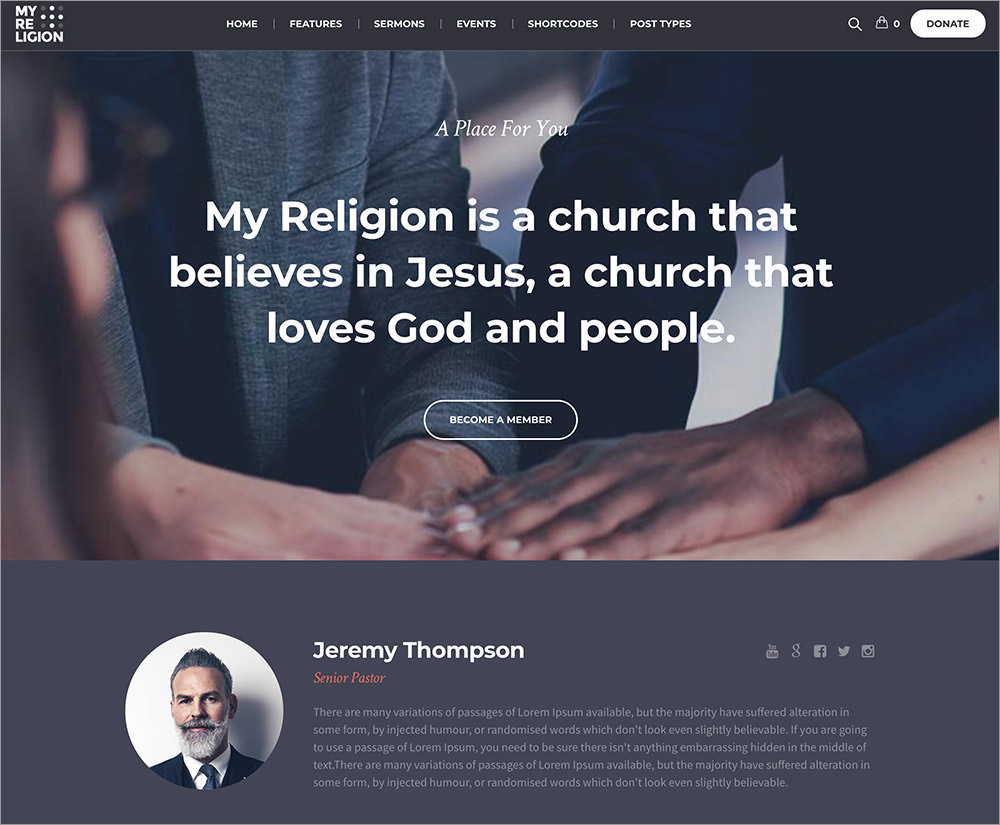 My Religion is a perfect WordPress template for both modern and traditional church. It features beautiful images and typography, even calendar, testimonials or/and quote area, donation form and much more.
Preview My Religion WordPress Theme
Bethlehem is a creative beautiful theme for religious organizations. It has Soundcloud integration to add audios from latest sermons, image slider on homepage and blog.
Preview Bethlehem WordPress Theme
Peak is WordPress theme for charity nonprofit organizations. You can add video to the site, create a timeline of some event, add stories of real people and help them collect funds.
Born to Give is responsive WordPress theme for charity crowdfunding. It has events calendar, successful stories, blog, and form to collect money.
Preview Born To Give WordPress Theme
Charry is a beautiful WordPress theme for nonprofit organizations that collect money for charity. It has a donate form, become a volunteer form, counter of projects and much more.
Preview Charry WordPress Theme
Zegen is a beautifully-designed WordPress theme that can be used to house any church website or religious donation, charity, fundraising, or volunteering website. The theme is equipped with testimonial section, sermons, testimonials, and many other features that are useful for a quality church website.
The theme comes with Elementor front-end builder the allows you to simply drag and drop different elements for any kind of customization. Moreover, the theme is SEO optimized, offers efficient support, and is packed with a number of useful plugins..
A neat and minimal WordPress theme, Ichthys offers you all the features of a complete and high-quality Church theme. You can set up a donations page and raise money for a cause, highlight special events, and upload sermons for your users.
On the technical side, Ichthys is quite powerful too. You get several homepage layout options, sidebar templates, unlimited color choices, integrated WooCommerce plugin, built-in Google Map, and full customization without having to write a single line of code..
Preview Ichthys WordPress Theme
With a classic yellow and black color scheme, Vatican is a powerful WordPress theme that offers multiple features and high level of flexibility. You can use it to run a professional church, mosque, or synagogue website and even raise funds and sell merchandises through your website.
From events and donations page to sermons, media gallery and a professional blog, the theme has everything covered. Apart from that, the theme offers 600+ Google Fonts, social media integration, WooCommerce support, beautiful animations, and a lot more that you expect from a professional theme.
Preview Vatican WordPress Theme
As the name says, Spiritual is a professional WordPress theme with calming colors and a clean look. It offers different layout options for the homepage and being fully responsive, it displays equally well on any device.
Talking about its core feature, it is equipped with a theme customizer that allows you to modify different elements of the theme and preview the changes at the same time. Additionally, you get WooCommerce plugin, custom shortcodes, revolution slider, translation ready, and icon fonts among many other features.
Preview Spiritual WordPress Theme
A multi-purpose and feature-rich WordPress theme, Deborah can be used for any kind of religious website and worship community platform or you can customize it for any other kind of website. It provides all the elements and features needed for a professional website to address a wide audience.
One of the best things about the theme is that it's accessibility-ready, meaning you can customize it for users with different disabilities. Also, it offers a variety of color combinations, readability optimization, a responsive layout, and much more.
Preview Deborah WordPress Theme
SKT Charity is a free WordPress template for churches, fundraising, charity, nonprofit organizations. It's compatible with a contact form, WooCommerce, and a gallary.
Preview SKT Charity WordPress Theme
The theme is perfect for churches, scholarships, education, healthcare, scientific research, political, charity, humanitarian, club and association websites.
Preview GivingPress Lite WordPress Theme
Our Church is a perfect WordPress theme to house a church website or any kind of religious platform. It is completely responsive, highly customizable, and up-t-date with all the useful feature and plugins.
It allows you to create unlimited page structures with 40+ shortcodes and also offer all the important plugins built-in. The theme is also SEO optimized, offers Revolution Slider and really easy customization options.
Preview Our Church WordPress Theme
God Grace is originally a church WordPress theme but being highly customizable, you can use it for just about any kind of website or blog. It offers different features for posting sermons, holding donations and fundraising campaigns, and putting up events of your organization.
The theme offers a fully responsive layout to give users a great experience on any device. Its other features include retina-ready display, wide and boxed layout, custom shortcodes, drag-and-drop page builder, 600+ Google fonts and a lot more to look forward to..