Fun Christmas Apps for Your iPhone and iPad
Christmas merrymaking is just around the corner! What better way to usher in the festive spirit than to equip your iOS devices with Christmas apps themselves?
Sure, it's highly unlikely that we need countdown apps to remind us when Christmas is, precisely, but it would be fun to countdown and anticipate for the much awaited holiday season, right?
From countdown to caroling apps, here are a few random Christmas apps for your iOS devices.
Beautiful Christmas Mobile Wallpapers
Beautiful Christmas Mobile Wallpapers
Christmas is a season of festivities and decorations. When we decorate our houses and workplaces with Christmas theme,... Read more
Join Charlie Brown, Snoopy and the Peanuts gang as they embark on an adventure to discover the true meaning of Christmas.
Narrated by Peter Robbins, the original Charlie Brown's voice, with soundtracks from the show, this interactive storybook with optimized illustrations and animation will bring warmth into your home this Christmas.
Cost: $4.99
Get Tacky's Christmas, a digital book, for your children. Find out how penguins, Tacky, Goodly, Lovely, Angel, Neatly and Perfect celebration of the holiday is interrupted by penguin hunters! Now, it's up to Tacky and his special Christmas present to save the day.
Cost: $3.99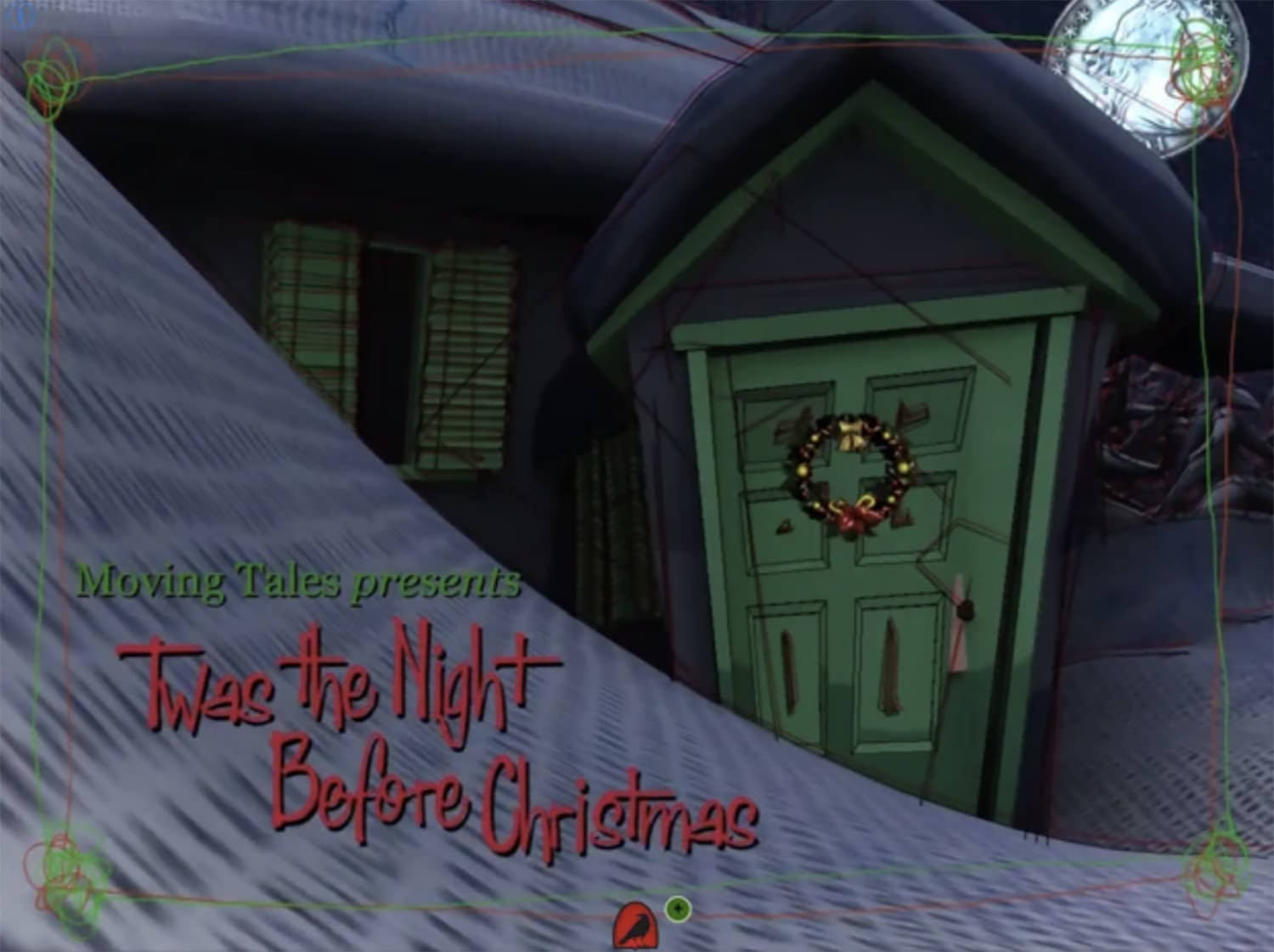 Another digital storybook, this classic poem is animated in a playful and funny tone, where you can choose from three professional narrations, or record your own voice as you read the poem aloud. You'll be surprised with some of the contents of the story.
Cost: $3.99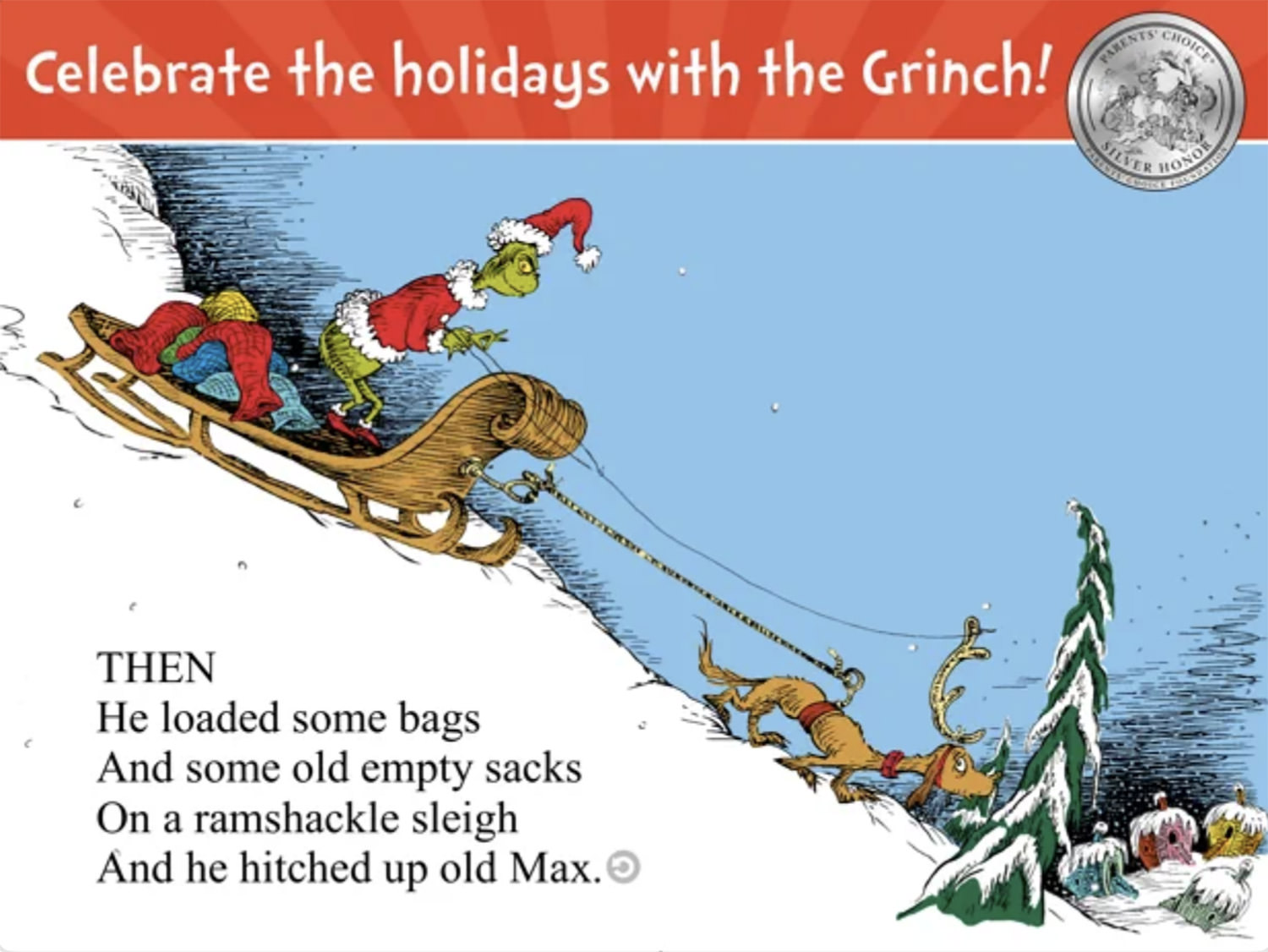 With an immense hate for Who-ville's holiday celebrations, the Grinch hatches a plot to steal all their presents and prevent Christmas. Read this classic heartwarming story by Dr Suess with digital interactivity included! Discover the true meaning of Christmas with the Grinch.
Cost: $3.99
Meet Santa and his wife in his home in the North Pole this Christmas! Lend him a hand as he goes delivering gifts, hopes and happiness to children all over the world, and count down with his wife and fellow elves to Christmas. Don't forget to make your own Christmas wish list!
Cost: Free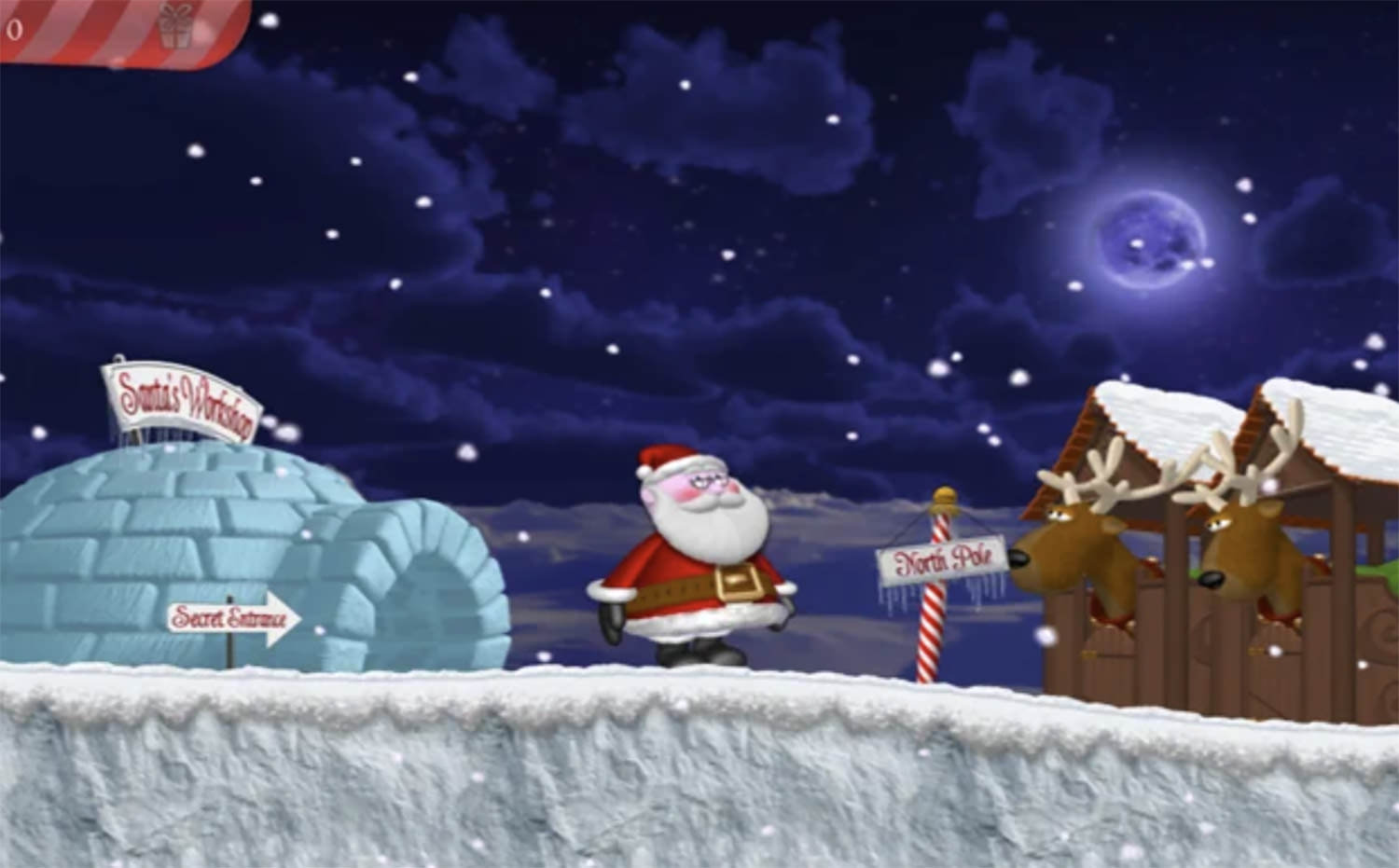 Christmas Eve Crisis is a challenging game full of interactivity and fun. The background story is about Santa Clause who is getting ready on the Christmas Eve to deliver gifts. However, some accidents happen and a crisis comes over.
Your challenge is to help Santa in making deliveries before the sunrise. The game features 10 interesting levels, collecting different Christmas items, and amazing graphics.
Cost: Free
A game for iPad, Toca Hair Saloon is an exciting game that lets you style Santa's hair any way you want. You can run your own Christmas-themed hair saloon using different accessories and features.
You can cut or trim hair, apply different hair accessories like scissors, hair trimmer, and hair dryer etc., and use 8 different types of hair colors. What's more interesting is that you can use some really new hair accessories and even a magic potion.
Cost: Free
With this Message from Santa app, you can send customized Christmas messages to your loved ones from Santa. These messages can be short video messages or phone call from Santa. Both children and grown ups can send these greeting messages and let their friends enjoy a little moment of joy.
Cost: Free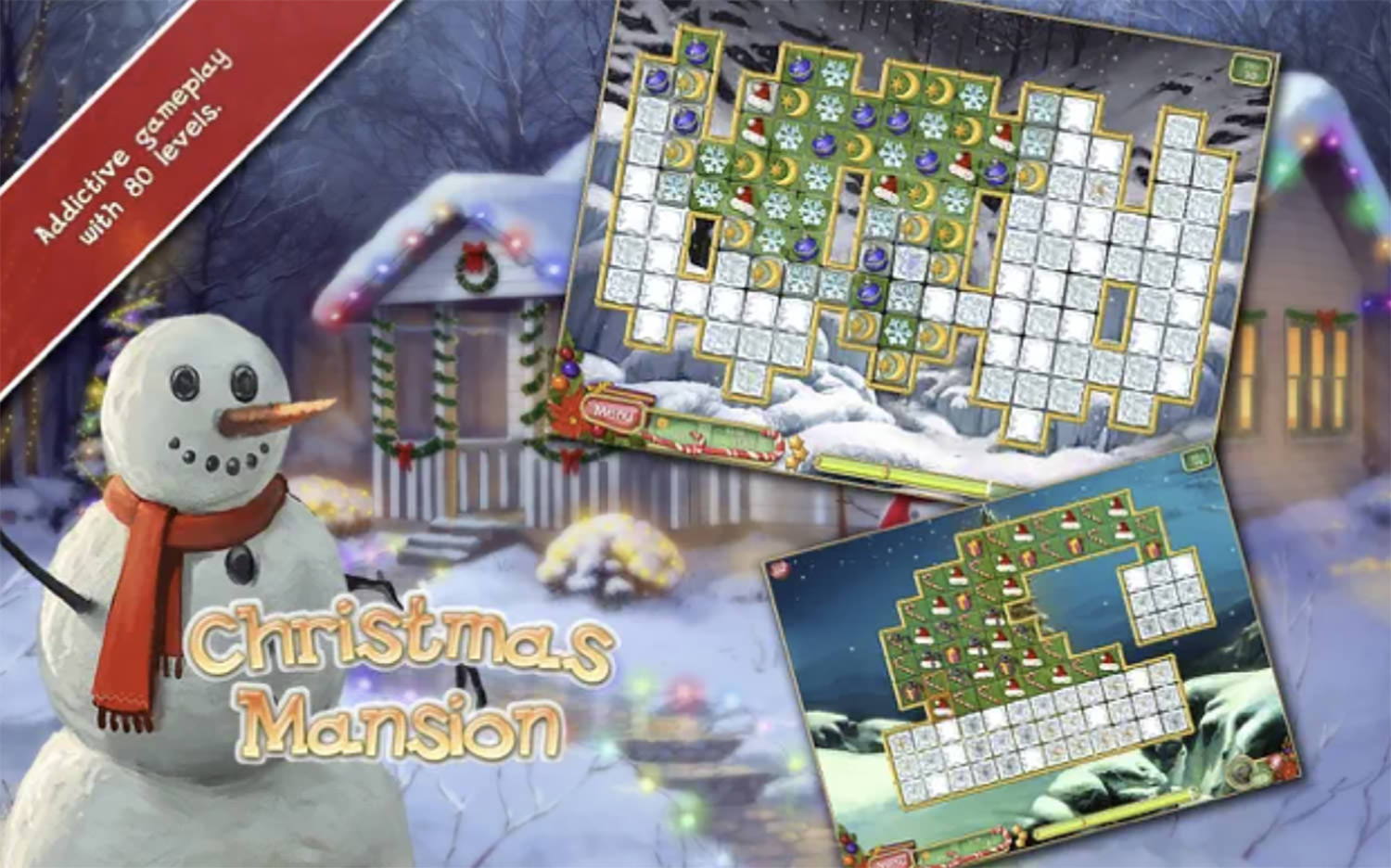 Christmas Mansion is a puzzle game for everyone. You can play different puzzle levels, collect Santa's coins, and decorate your house with different Christmas ornaments. The puzzle game features an interesting gameplay, relaxing activity, and some really wonderful bonuses.
Cost: Free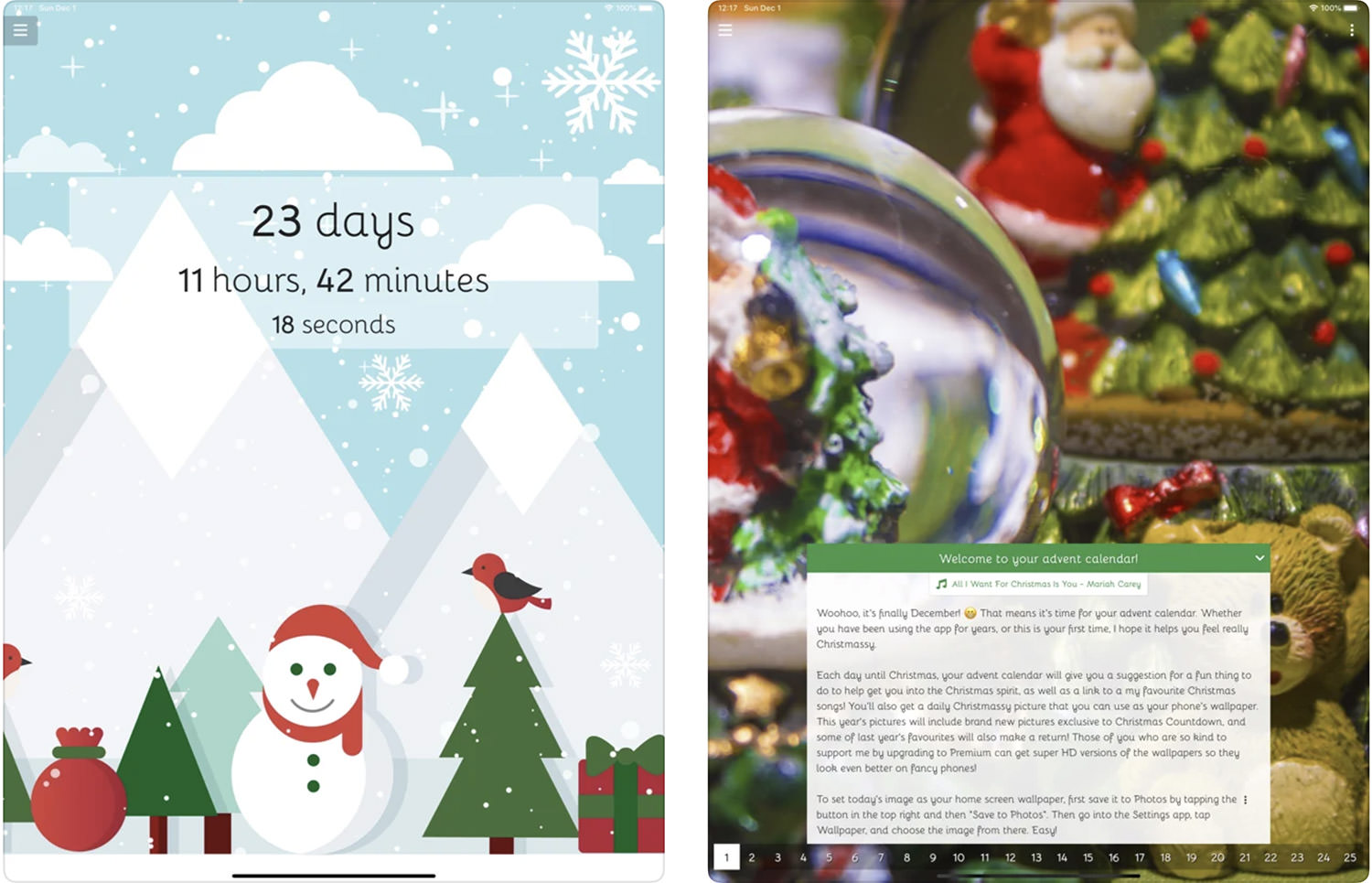 For those who just cannot wait for Christmas day to arrive, here is a Christmas countdown app full with warm snowy feel. You can choose any of the different backgrounds available and enjoy Christmas music as well. There's also an option to set one of the many HD images as your wallpaper.
Cost: Free
Christmas Booth lets you add Xmas feels to your pictures. You can either take a picture or choose one from your Camera Roll and add Christmas-themed stickers to give your photos a fun and festive touch.
The app is so easy that even the kids can use it to create fun photos. Also, there's a wide variety of stickers available and you can also easily post your creations on your social media account.
Cost: Free
Give your keyboard a whole new Christmas touch with this amusing Christmas keyboard app. you can use this keyboard app to send Christmas-themed stickers, music and sounds, and creative emojis.
The most interesting aspect of the Christmas Keyboard app is that it woks like an Advents Calendar meaning, a new feature unlocks every day from the first day of December right to the Christmas Day.
Cost: Free
Santa's Bag is a helpful app when you don't have the time or energy to think about what to buy for your friends or family members for Christmas. It enhances your Christmas shopping experience by taking out hassle from planning, budgeting, and shopping gifts.
You can email or save your gifts list, get lots of interesting Christmas gift ideas, and track your gift buying through a progress bar. There's also a Christmas countdown to keep you updated wight in the app.
Cost: Free
Pic Collage is a feature-rich collage-maker and photo editor that enables you to create lovely and memorable photos for every occasion. For making Christmas cards and items, there are special features for creating beautiful holiday feels.
Cost: Free
A Christmas-themed match-3 game, Christmas Sweeper features brilliant graphics, challenging game levels, interesting background stories, and amazing gifts that you can win after clearing each level. You'll see festive Xmas elements at every stage of the game.
Cost: Free
For the ones who like to challenge their minds, here is a Christmas-inspired quiz game. You can play different games like guess the picture, guess the emojis and thousands of other guessing games. Each day of the month a new quiz is unlocked and you can also see a Christmas countdown in the app.
Cost: Free
NORAD is a fun app that lets you track Santa's program and countdown to the days when your Christmas gift will get to you. You can check the time to the start of Santa's Yuletide journey around the world and also play some games or read Christmas stories right in the app.
Cost: Free