20 Free High Quality Business Card Templates to Download
The business card is one of the best way to leave an impression with a new client or employer. But in the digital world, the physical business card isn't something you can just hand over. This is where business card templates like the ones shown in this post come in.
These templates and mockups are free to use and have elements (such as texture and color), that are easily editable. Follow the links to get to the source and download the materials.
Photorealistic Mockup
An amazing set of photorealistic mockup scenarios delivered in PSD, counting on smart objects to feature your business card designs. Edit reflective shadows for a more realistic appearance.
Colorful
A creative PSD mockup scenario to showcase your dual-face portrait business card designs leaning against a wall corner.
Black Textured Business Card
How about showcasing your business card on a stunningly realistic cardboard-like texture and bright cyan ink print?
Rounded Business Cards
Check out these 3 photorealistic mockup scenarios to feature your business card designs in neat rounded corner templates. The clean light and dark focus-blurred backgrounds give this an intimate look. [Download here]
Clean Cards
A neat set of mockup templates that feature realistic shadows and smart object layers to showcase your clean-styled business card designs.
Modern Hipster
Make yourself look elegant with this modern and sober business card design with a subtle hipster and vintage vibe. It comes in fully editable PSD, Ai and InDesign file.
Realistic Mockup
Be a professional and keep it simple with this black and white business card design in high resolution, featured in a realistic style.
Nautical Business Card
A cool and fresh business card design in a nautical theme with engraved logo and icons, plain white background with a realistic card texture. Available in editable PSD, AI and INDD files.
Vertical Business Card Mockup
A black background mockup with realistic paper texture depicting a business card stack with front and back views, available in layered PSD with smart object insertion.
Blank Business Card Mockup
A set of 4 free business card mockups in high resolution. You can easily change the background, side color and design with smart layers. You can also modify shadows and highlights.
Nature Inspired
PSD business card template with an organic design inspired by nature, featuring logo, icons and a minimal mountain silhouette. Front and back views available.
Stacked Business Card
A modernly designed free business card mockup featuring fully customizable front design in a beautiful stacked arrangement.
Standing Business Card Mockup
A cool business card mockup available in PSD featuring two propped up cards at 3200×2000 pixels.
Perspective
A nice perspective of the front and back of a business card in a realistic environment.
Slim Business Card Mockup
Regular business car templates can be a bore so why not spice it up a little with this slim mockup design. Available in three separate editable PSD files from different perspectives.
Dark Business Cards Mockup
Here's one that display a stack of dark business cards inside a cardboard box.
Vertical Standing Business Card Mockup
Let's switch it up again. This time with a standing business card mokcup instead. Featuring realistic shadows, editable card design, customizable background and floor color. Simply add your design via the provided Smart Object Layers in the PSD file.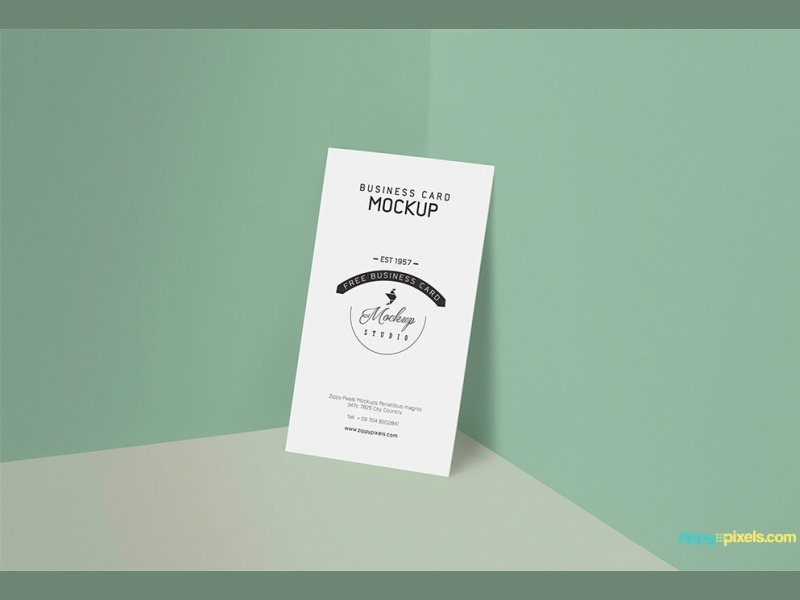 Photorealistic Business Card Mockup
Highly photorealistic and very easy to use business card mockup displaying a simple stack of cards in a reflective material.