30 Free Business Card Templates to Download
If you're looking for an easy way to create a professional-looking business card, you've come to the right place. In this post, we've compiled a list of 60 business card templates that you can download and use for your own business.
Whether you're a freelancer, small business owner, or just looking for a quick and easy solution, these templates offer a range of styles and designs to choose from. Plus, with the convenience of digital downloads, you can have a new business card design ready to go in just a few clicks. So, whether you're looking for a classic design or something more modern and trendy, we've got you covered with our collection of 60 business card templates. Let's get started!
Here you see a photo-realistic template with a business card on a piece of paper. It looks like a corporate template.
This is a set of two business card mockups. One displays a vertical business card lean on the wall, and the second one features two vertical business cards.
Show your work to the client using this stunning retro-inspired business card mockup. It includes a pack of cards in a box. You can edit using Adobe Photoshop.
Floating business cards mockup is general-purpose so that it can be used for any type of project. Download the mockup and insert your design into a placeholder.
This fantastic mockup displays business cards on a wrapping paper. It also can be used as invitation or postcard mockup.
This beautiful silver business card mockup is a great option to present your vertical designs. Two smart layers will minimize your work.
Take a look at this detailed, nice business card mockup. Use smart layers to edit the template in Photoshop.
If you are looking for a realistic business card mockup, use this cool template with a hand. It displays a palm of a hand holding two business cards to show both sides.
Here is a retro-inspired mockup with a pack of business cards with a metal clip. You can change both the design and the background.
Use this set of six business card mockups to showcase your designs on a red background. You can present horizontal and vertical business cards.
Here is one more business card mockup using a clip, but in modern way with bright yellow background.
These fantastic business cards are scattered chaotically on the desk. You can replace them with your business card designs.
Look at this elegant package of eight minimalist business card mockups. It uses real photo shadows and reflects from a window.
Impress your client at the very first glance using this beautiful mockup with a pack of business cards on a blue background. It looks clean yet dynamic.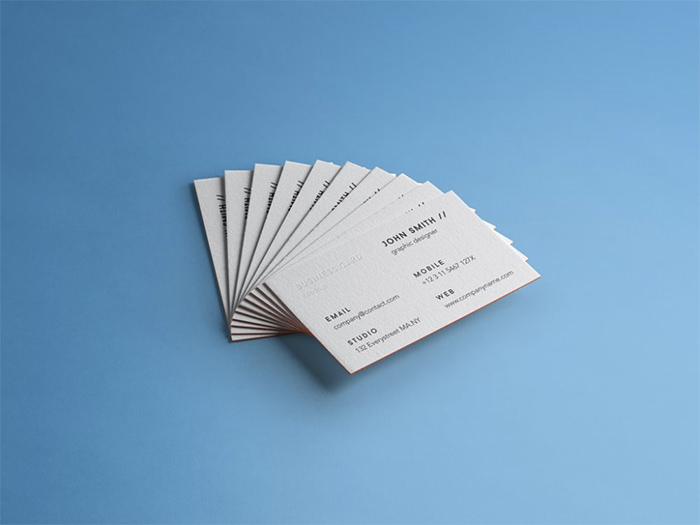 If you have a vertical design, this mockup with a male hand holding a business card is the best option for you. You can easily edit the business card layout in Photoshop.
Check out this photorealistic flat lay mockup with a business card on a desk. It surrounded by office accessories, such as keyboard, mouse, notebook, and iPhone.
These are four clean business card mockups with white background. You can choose one of four templates and edit it using smart layers.
Download this free PSD file with business card mockup in a wrapping black paper. It looks like it was just delivered by a printing company.
This is free gorgeous template showing two sides of a business card design. It uses a pink backdrop.
For all food lovers out there, just look at this tasty mockup with business cards and French cookies macarons.
Here is a detailed mockup with textured business cards on a bright background. You can insert your design using smart layers in Photoshop.
The mockups are so realistic these days that you can't even understand is it a true photo or not. Use this mockup with a male hand and a keyboard to showcase your business card layout.
When you see just a flat business card design in Photoshop, it's difficult to picture how it looks printed. This mockup will help you see business card printed on a photo.
Here are a lot of business cards laying on a desk chaotically. You can change the layout of business cards on your own.
A business card is a part of company branding. This mockup is designed properly to show all the beauty of your design.
The PSD template of business cards displays unique touch and feel of letterpress design.
Here is a photorealistic beautiful mockup with a business card in hand on the street background.
These are two piles of business cards with color sides. It uses smart object to make it easier for you to insert your design.
If you want to show your professionalism to a client, use mockups to showcase your designs in real life. Here is a business card in a box template.
A simple mockup with three piles of business cards laying together. You can edit the design of business card in a few clicks.