8 Best Video Hosting Platforms in 2022
If you're into video creation or run a video sharing website, having a reliable video hosting platform is as integral to it as the content itself. A good video hosting platform gives you privacy and security for your content and your users a great viewing experience.
So before you dive into the quest to find a video hosting platform, take a look at this list of some of the best ones in the market. These platforms offer a variety of features and pricing options, so you can find the one that fits your needs. Read on to know more about each platform in detail.
What to look for in a Video Hosting Platform?
Before we get into the list of best platforms, let me first tell you what exactly you should be looking for in a good video hosting platform. .
So, the first step in picking a suitable video hosting platform is to determine your needs. You'll need to consider the following factors:
The type of videos you want to create – marketing videos, live streaming or a vlog, etc.
The number of videos you plan to create.
Your budget.
The features you need.
Once you've determined your needs, you'll need to consider the following factors when choosing a video hosting platform:
Ease of use — The platform should be user-friendly, so you can easily upload and publish videos.
Storage space and bandwidth — The platform should offer plenty of storage space and bandwidth so you can upload and share large videos.
Video quality — The platform should offer high-quality video so your audience can watch your videos without buffering or interference.
Customer support — The platform should offer excellent customer support in case you have any problems using the service.
8 Best Video Hosting Platforms
Now that you know what you should be expecting in a good video hosting platform, here's a list of the best and most latest video hosting platforms you can find. The list includes 3 free and 5 paid video hosting platforms so you can choose on the basis of your budget and requirements.
YouTube is the world's largest video hosting and sharing platform with over 2 billion monthly users. It's a free platform that allows you to upload, view, and share videos.
You can also create and manage your own channel on YouTube. It offers a variety of features, including:
YouTube's main features:
Hosting live streams.
Huge audience for your content.
Creating and managing your channel.
Unlimited video storage.
Embedding videos on your website or blog.
Getting insights on your videos with YouTube Analytics.
YouTube's limitations:
The ads can be intrusive and distracting.
You cannot customize embedded videos.
No download option. For video download you need third-party downloaders.
Can't protect your videos with a password.
How much YouTube cost?
Youtube is free.
YouTube is suitable for:
YouTube is a good choice for businesses that want to create and share videos to a global audience. Moreover, individuals who are low on budget or content creators and vloggers who want to generate a following on social media.
However, if you're searching for a more advanced video hosting platform with more control and fewer limitations, you may want to consider one of the paid options on this list.
Vimeo is another popular free video hosting and sharing platform. It was founded in 2004 by two friends who wanted to share their videos online. Vimeo has grown into a massive platform with over 200 million users. It offers both free and paid plans, and its paid plans are some of the most affordable on the market.
Vimeo's most unique feature is its ease of collaboration: clients, freelancers, and team members, freelancers may all view private projects. You can set permissions for each reviewer or collaborator and alter them as needed, depending on the project. Here are some of its other cool features.
Vimeo's main feeatures:
There is no limit on bandwidth, file size, or duration of a video.
You can upload HD videos.
You can customize embedded videos.
No ads.
Ability to password protect your videos.
Download option available for videos.
Custom branding options (only in paid plans).
Allows companies to personalize video players, work together as a group, and access analytics and other marketing features.
Vimeo's limitations:
Live streaming is only available in the Premium plan ($75/month).
There is a limited number of integrations with other tools and platforms.
Limited audience.
How much Vimeo cost?
Free (30-day free trial with all paid plans) and Paid (ranging from $7 up to $75/month).
Vimeo is suitable for:
Artists and SMBs (small and medium-sized businesses) or other creative professionals who want to exhibit their work while also marketing their services to a targeted audience.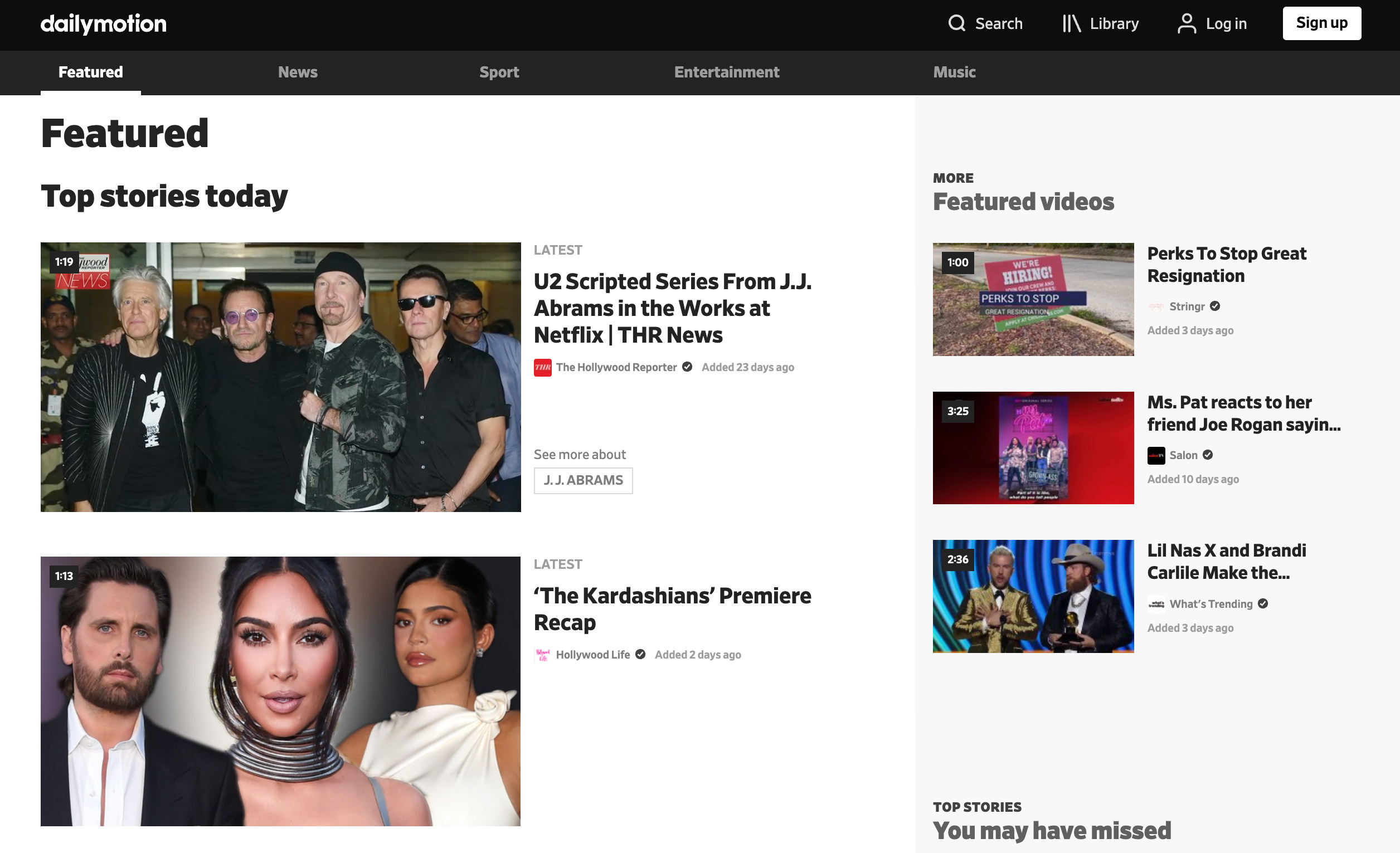 Dailymotion is another famous video hosting and sharing website where users can upload, host, and share videos. You can say it is a true rival of YouTube with over 300 million unique visitors each month. Dailymotion is based in France and was founded in 2005.
Dailymotion's main features:
Unlimited storage and bandwidth.
Live streaming available (you have to enroll in the Dailymotion partner program to access this feature).
Can make the video password-protected.
Create playlists and embed videos.
Share videos on social media.
Dailymotion's limitations:
You can upload videos up to 2GB in size.
Videos can be up to 60 minutes long.
You need a third party downloader to download videos.
Not ad-free.
How much Dailymotion cost?
Dailymotion is free.
Dailymotion is suitable for:
Content creators and professionals who are looking for a YouTube alternative or want a parallel monetization option along with YouTube.
Cincopa is a robust media management and video hosting platform. You can use Cincopa to host any type of midea – videos, pictures, audio files, and podcasts. It also has a variety of slide show designs, photo galleries, video players, and private video hosting services.
Cincopa offers a free browser plugin called RecTrace that allows users to record screens and webcam. Users may accomplish all of this from their email browser. Users may click the RecTrace icon in their Gmail to start recording themselves. Once they record themselves, the video will be included in the email automatically.
Some of the renowned companies and organizations are using Cincopa including Euronews, Pfizer, Salvation Army, CNN, Dell, Worldpay, and US State Department (as mentioned on Cincopa's official website).
Cincopa's main features:
Video hosting for Sharepoint and LMS is available.
On-demand videos — It allows users to store and play pre-recorded videos.
Allows broadcasting/live streaming.
Automatic speech-to-text transcription.
Can integrate with email marketing platforms.
You have full control over your videos i.e. you can password protect the videos, restrict audience based on their location and age, restrict embed options to the domains of your choice, etc.
Gather personal viewer data by triggering on screen pop-ups with the form during a video.
Comprehensive video analytics.
Cincopa's limitations:
The drag-and-drop editor might be sluggish to load at times.
There are not many features in the free version. To get full advantage of its features, you must upgrade to the Plus (or more) plan.
You have to pay for audio files or picture hosting along with video hosting even if you don't need them.
How much Cincopa cost?
Free (a 30-day free trial) and Paid (offers plans from $25 $350/month).
Cincopa is suitable for:
Agencies, enterprises, and educators.
Wistia is a video hosting platform made specifically for digital marketers. It offers businesses a simple and effective way to host and share videos with an easy-to-use interface, powerful tools for managing their videos, and a wide range of customization options.
Wistia enables you to integrate lead capture forms or other CTAs within the video player itself, providing more complex functionality.
Wistia's main features:
Podcast hosting.
No ads.
A/B testing features.
You can insert clickable Call to Action buttons (CTAs) in videos.
Can integrate with major CRMs and email marketing platforms.
Soapbox is a Chrome extension by Wistia that is used for screen recording. You can record yourself and insert that recording directly into the email.
Videos are SEO optimized.
Comprehensive video analytics.
You can create channels and embed Wistia videos in your blog/website.
Password-protect your videos.
Wistia's limitations:
No live streaming.
Very limited features in the free plan (you can only upload three videos in the free plan).
May be expensive for marketers who are tight on budget.
How much Wistia cost?
Free (only 3 videos or podcasts to embed) and Paid (Pro plan for $99/month or Advanced plan with quotation available upon request) .
Wistia is suitable for:
Digital marketers and enterprises with a goal of sales and lead generation.
Spotlightr is a multipurpose video hosting platform that can be used by marketers, small businesses, and educators. It allows you to achieve more with your videos by providing you with advanced tracking and marketing capabilities.
It is also the cheapest among the paid video hosting platforms on our list. Some of the interesting features of Spotlightr are:
Spotlightr's main features:
Hybrid video hosting — you can stream videos directly from the servers of popular free video hosting sites like YouTube, Facebook, Vimeo, etc. without ads.
Drag-and-drop feature for uploading videos.
You can embed videos and playlists on your blog/website using their embed code. Domain restriction is available for video embeds.
Social sharing to all major social networks.
You may request visitors to provide their name and email address before they can view your video.
Can add clickable links, CTAs, images, opt-in forms at any moment in the video.
Comprehensive video analytics.
Password protection is available. If you're selling training courses on membership websites, you can also make your videos uneditable, non-shareable and make them unable to download.
Through ZAPIER, it works with a variety of email services, marketing platforms, and 750+ other applications.
Spotlightr's limitations:
Storage and bandwidth may be limited for some users. You need to pay extra to get more bandwidth and storage.
Although they claim to have cloud servers, sometimes, the buffering becomes slow for embedded videos.
How much Spotlightr cost?
Free (2-week free trial with every paid plan) and Paid (plans available from $7 to $40/month).
Spotlightr is suitable for:
Small businesses, marketers, salespersons, coaches, and educators.
If you're searching for a top-quality and advanced video hosting platform with all the features you need to host, share, and measure your videos, Vidyard is the answer. With its intuitive interface and powerful analytics, Vidyard makes it easy to get the most out of your videos.
Plus, with integrations for Salesforce, Marketo, and HubSpot, Vidyard is the perfect solution for sales and marketing teams looking to use video to drive their business forward.
Vidyard's main features:
Powerful video analytics.
Just like RecTrace and Soapbox, it has a screen recording browser extension called Vidyard screen recorder.
No ads.
You may place a banner with your name and title at the start of your screen recording video.
Live streaming is available.
Password protection is available for your videos.
Integration with major business tools is available like HubSpot, SalesLoft, Gmail, Outreach, Marketo, Hootsuite, etc.
You can embed videos to your websites/blog and emails.
Like Wistia and Spotlightr, you can add clickable links and CTAs in your videos.
Automatic transcription of videos.
Vidyard's limitations:
It is not for content creators as you cannot monetize content.
Free version only have a video recording and uploading feature.
The business plan is quite expensive ($1250/month).
How much Vidyard cost?
Free (offering basic features) and Paid (plans ranging from $15/month to $1250/month).
Vidyard is suitable for:
Large businesses that can afford this expensive video hosting solution.
SproutVideo is a cloud-based video hosting solution that helps businesses of all sizes to create, host, manage, and share their videos.
It offers a wide range of features such as video analytics, branding customization, lead capture tools, and more. SproutVideo also provides its users with 24/7 customer support.
SproutVideo's main features:
On-demand video and live streaming capabilities.
Robust video analytics.
You can protect your videos either with a password or make them login protected.
You can restrict countries, domains, and IP addresses where the video can be allowed.
You can insist viewers add their first name, last name, and email address to watch a video. It is helpful in lead capture.
Like Wistia, Spotlightr, and Vidyard, you can add CTAs in your videos.
Videos are SEO-optimized. It automatically generates video sitemaps for you.
You can create a beautiful website around your video.
Supports video quality from 240P up to 8K.
SproutVideo's limitations:
Limited features in their Seed and Sprout paid plan.
No in-built audience.
The interface is a bit user non-friendly.
How much SproutVideo cost?
Free (30-day free trial) and Paid (offering plans from $24.99 to $499.99/month).
SproutVideo is suitable for:
Small and medium-sized enterprises.
Marketers who are looking for lead generation and sales.
The bottom line
If you want to use a free video hosting platform, YouTube is the answer without any doubt.
For small and medium-sized businesses, Spotlightr and Cincopa are suitable. Both have some amazing and unique features that many other paid video hosting sites are lacking. And they are much cheaper than others.
Large businesses with heavy pockets can go with Vidyard which is an advanced video hosting platform. With its intuitive interface and powerful analytics, Vidyard makes it easy to get the most out of your videos.