Top Unified Messaging Apps: Rambox, Franz, Disa Compared
If you hate lengthy emails, like me, you must be using messaging apps to keep the conversations quick and short. However, messaging apps introduce a new problem while solving our old problem — the problem of fragmentation of chat services and tools. We use multiple apps — different ones per purpose.
For example, you may be using WhatsApp, Skype, Telegram, and Messenger for chatting with friends and family members; and communicating with coworkers on Hangouts, Hipchat, and Slack. Let us admit it — we are tired of switching from one app to another. It slows us down and hurts our productivity too.
So, the question is: what is the solution to this fragmentation of chat tools? All-in-one aka Unified Messaging Apps.
Top 10 WhatsApp Alternatives
Top 10 WhatsApp Alternatives
If you hate lengthy emails, like me, you must be using messaging apps to keep the conversations quick and short. However, messaging apps introduce a new Read more
What's a Unified Messaging Apps
Unified Messaging Apps is an app that combines or unifies all your messaging services in one place and helps you avoid switching from apps to apps. You get to manage a single window with all your chats.
It sounds productive, does it not? Let us check the best unified messaging apps that work on all popular platforms — desktop as well as mobile — combined.
Top 3 Unified Messaging Apps
If you are tired of too many chat applications and browser windows, Rambox provides a one-step solution to organize your workspace by integrating several email and messaging apps into a single application on your PC.
What interests me the most is that Rambox supports a wide range of services — including Asana, Gmail, Slack, Trello, and many more (I think the count is almost a hundred) — along with the ability to add your own custom service. Once you add the services, you get notifications for each app as numbered bubbles.
Franz is another free and open-source messaging app for desktop platforms, like Rambox, that combines chat and messaging services into one application. You can manage all your business and private accounts at the same time.
As compared to Rambox, Franz supports lesser applications currently — only sixty-five — while Rambox supports many more applications. The list includes all popular services like WhatsApp, Messenger, Slack, Telegram, etc. However, it does not allow you to add any custom service, unlike Rambox.
Disa is yet another unified messaging app which works on mobile devices, unlike Rambox and Franz that work on desktops. It integrates three messaging services — Telegram, Messenger, and SMS/MMS into one hub on your Android. Also, it supports more services using third-party extensions aka plugins.
You can group and organize conversations, share files and photos, and do a lot more in one place. It helps you view messages and send a reply to the conversations from the various apps as individual streams or as one unified conversation organized by your contacts — based on your preference (unlike the others).
Apps & Services Supported
Rambox
Rambox supports almost 90+ applications including some unpopular ones like Glip and Mail.Ru. You can take full advantage of some collaboration services like Grape and GroupMe. That is not all — I did not tell my most favorite feature — one can add any custom, non-listed service to suit one's needs.
The messaging apps supported in Rambox include WhatsApp, Messenger (listed as Messenger for Pages and Messenger for Business) Skype, Telegram, Slack, and WeChat while TweetDeck, Wire, and Xing are a few unpopular ones. As for email services, Rambox supports AOL, Gmail, iCloud Mail, Outlook, and more.
Note: Click here to see the complete list of services supported by Rambox.
Franz
Franz offers support for many popular applications supported in Rambox. However, it just supports 60+ apps — fewer in comparison to Rambox. Some of the messaging apps include WhatsApp, Messenger, Hangouts, and Telegram while AOL, Gmail, and Outlook 365 are some of the email services.
Additionally, Franz allows adding services through plugins aka recipes. But, it is not as easy as adding a custom service in Rambox. In the latter, you can add a service directly from its interface, but in Franz, you need to develop a custom plugin to add support for your new, non-listed messaging or email service.
Note: You can check the complete list of supported services of Franz here.
Disa
Disa, the last app of the trio, supports a handful of applications like WhatsApp, Messenger, Telegram, and SMS/MMS. However, WhatsApp may or may not work for you per reported by few users. In comparison to the other two apps on this list, Disa supports the minimum number of messaging and email services.
Moreover, Disa allows adding additional services via plugins — quite like Franz but not as easily as Rambox. However, I found that this list is also small. Also, the process is not user-friendly, and you need to dive in its community page on Google+ to look for the available plugins from its third-party developers.
Note: Check out the whole list of supported services/plugins of Disa here.
Freemium Features & Goodies
Rambox
When you try Rambox for free, you get support for 99 apps in a user-friendly interface with multilingual support. Also, if you use a service that is not listed in Rambox, you can add your custom app in a few steps. You can also search for the applications and enable/disable them to hide the unnecessary ones.
You will see notifications and badges for unread emails or messages for every added service. You can also disable the notifications using the "Don't disturb" button. Then, if you need security, you can also lock it using a password. Lastly, all your configuration gets synchronized in real time to every device.
Franz
Franz provides a tabbed interface (like Rambox) for having different services in a single interface along with multilingual support. Its setup is very smooth — just click on "Add a new service" and enter your credentials for the service to add it in Franz. Then, you can switch from one service to another like a pro.
You can set a service to launch at the start, enable/disable the services per your need, and add as many email and chat/messaging services as you require. Interestingly, you can also invite your friends to use Franz from its Settings.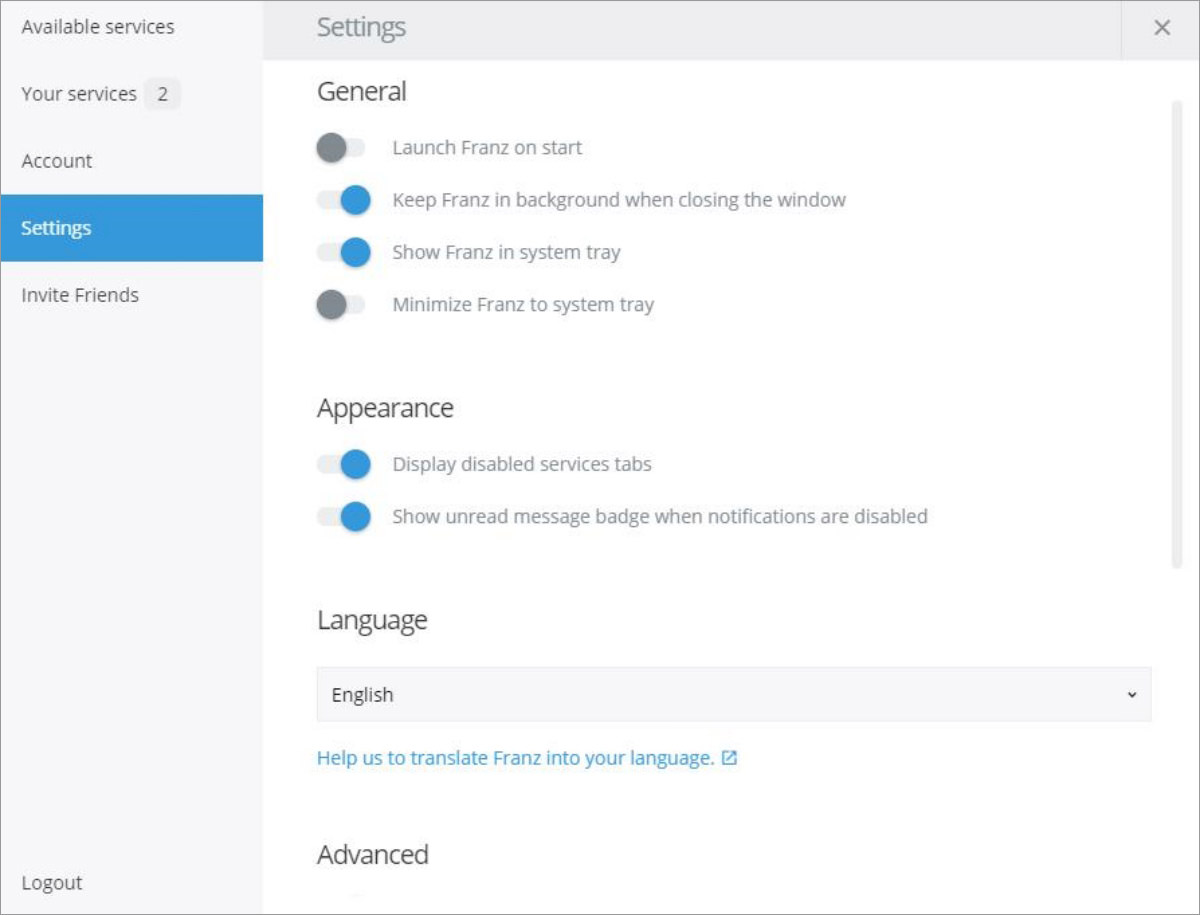 Disa
On the other hand, Disa lets you merge conversations into one super chat seamlessly with the same friend on different services, or separate them per service. This is a unique (and my favorite) feature, which is missing in both the other two apps. Moreover, you can export or personalize those chats.
Disa has an attachment menu in the composition area, which is bold, colorful, and quick to access. In Disa's Settings, you can opt for its dark mode for a darkened interface. Also, you can make your conversations colorful, get a full-width conversation list, and customize more, thanks to its superb options.
Premium Addons & Features
Rambox
Rambox supports 150+ apps on a premium subscription compared to 90+ on its freemium version. You can choose between light/dark theme, and prevent unwanted ads and pop-ups as well. Also, it lets you choose your work hours to prevent app notifications and manage notifications in different panels.
Rambox offers many more features — a spell checker and premium support as well. You can unlock these features using its Pro version for $5 per month or $4 per month for annual billing. Also, there is an Enterprise edition too.
Franz
Franz is basically free, like Rambox, but paying for a subscription unlocks a few specialized features. It offers a Premium Supporter License for €4 monthly or €35 yearly with the capability to host services like Grape, HipChat, Mattermost, and Rocket.Chat and you get premium support as well.
Franz intends to add additional premium services in the future like support for proxy & VPNs, encrypted session synchronization, and user profiles to manage home/work profiles. Rambox already offers some of these features, so Franz seems inferior here. Moreover, it offers an Enterprise License too.
Disa
Disa is different — it does not offer a premium version, unlike the other two apps. It does support dark theme in its free edition (the only edition) like Ranz, which comes only in the premium edition of Rambox. Of course, it does not offer other advanced, paid-only features of Rambox or Franz, but it is expected.
OSs & Platforms Supported
Rambox
Rambox latest version is available for Windows 7 and above and macOS 10.9 or newer. Rambox also works on Linux with support for Ubuntu 12.04+, Fedora 21+, and Debian 8+ along with Snap (64-bit) and AppImage (64-bit).
Franz
Franz works on Windows 7 or newer and macOS 10.9 and above, like Rambox. Also, it is available for Linux, but only for Ubuntu and AppImage. However, it supports Linux only for its community edition (free), unlike Rambox.
Disa
On the other hand, Disa is available for only for mobile phones — that too for Android. However, its team has a vision for iOS too, but it will not be soon.
Which is the best?
Well, it really depends on your requirements. If you are looking for an app to use on the go, you have Disa, else you can choose between Rambox and Franz. I chose Rambox over the latter since it supports more messaging services than the other. You can easily pick one of them that supports needed apps.
That was all about the best three unified messaging apps — Rambox, Franz, and Disa. I believe everyone is in dire need of using an all-in-one messaging app since everyone uses multiple messaging services and has to switch from one app to another for checking all the incoming messages on all the platforms.