5 Desktop Linux Distributions for Beginners — Best of
If you are bored from Windows or macOS, you may wish to try out Linux. It raises a question: which distribution should you try? The reason being there are hundreds of Linux OSs (or distributions), making it confusing for beginners to pick one of the available options.
Ubuntu is undoubtedly the most popular distribution on the planet, owing to its classic yet friendly interface, stability, and support for thousands of software. It is also backed by a vast community, so if you ever break your system, you may easily find help online. That is why I am skipping discussing Ubuntu in detail.
That said, let's check out the best beginner-friendly distributions for desktops except Ubuntu. You will not miss it; I am going to discuss a lot of similar OSs.
Note: If you are a beginner going to install or try out Linux OSs for the first time, you should not install first — create a bootable flash drive and try it live before installing it in your system. You can use Rufus to create bootable flash drives.
10 Most Asked Questions About Linux
10 Most Asked Questions About Linux
You have probably heard of Linux as the free alternative to Windows and OS X. It's one of... Read more
Linux Mint is one of the most popular distros for both beginners and advanced users. If you are switching from Windows or macOS, Linux Mint offers a lot of features and utilities to help you easily switch to Linux. Some of its popular features include automatic backups and updates, huge software repo, etc.
Linux Mint is an open-source distribution that can be installed or even used directly from a flash drive. Though it avails a handsome amount of features and tools and supports most multimedia features, it is not resource hungry, unlike Windows 10. Also, it comes in three flavors, i.e., it avails and supports three desktop environments namely Cinnamon (modern), MATE, and Xfce (fast).
Pros
Windows 10's Start menu-like app menu, making it easy for you to switch.
Works out of the box — especially for drivers and full multimedia support.
Timeshift supports incremental backups like File History in Windows 10.
Warpinator allows sending or receiving files across the network (Wi-Fi).
Synaptic Package Manager makes installing or updating apps a breeze.
Cons
Supports just three editions officially while Ubuntu or Fedora does more.
Snap — Ubuntu's new software packaging system — is blocked by default.
PPA (Personal Package Archive) is less supported; may break the system.
Quick links
Pop!_OS is another popular Linux distribution developed by System76. One of the highlights of Pop!_OS is its superb user experience providing streamlined interface and workflows, thanks to enhanced keyboard shortcuts and automatic window tiling support — similar to the Snap Assist feature in Windows 10.
Pop!_Shop is its take on Microsoft Store, providing a single place to search for, install, or remove all latest apps and developer tools. Do Not Disturb helps skip those annoying notifications when you are working in your "zen mode". Hybrid Graphics lets you run apps with battery-saving or high-powered graphics. Also, it supports dark mode like some other distributions and Windows 10.
Pros
Support for most everyday features, making it easy for you to switch.
Stacking helps auto-stack apps to provide browser tabs-like workflow.
Full Disk Encryption works out of the box to better protect your data.
Refresh Install helps reset your system like Windows 10's Reset this PC.
APT and Flatpak support helps run all your apps in secure environments.
Cons
Dock may seem confusing at first if you are from Windows or macOS.
No 32-bit version is available, making it impractical for old computers.
Quick links
elementary OS is another popular Ubuntu-based Linux distribution. It comes with its own desktop environment named Pantheon, which provides a superbly elegant yet simple user experience, thanks to the team's painstaking efforts. Its biggest feature is that it looks and feels like macOS, however, it does also make it limited.
AppCenter is its take on Microsoft Store, providing you a single application for searching, installing, and removing apps in elementary OS. Do Not Disturb helps avoid annoying notifications to stay focused like a monk. Surprisingly, it also supports picture-in-picture, letting you watch a video side-by-side.
Pros
Look and feel is similar to macOS, making it easier for you to switch.
Parental Control helps set per-user time limits and manage websites.
Powerful yet fully customizable keyboard shortcuts, similar to Pop!_OS.
Privacy controls let you supervise access to the location or microphone.
Cons
elementary OS may seem minimal for power users — especially to devs.
AppCenter has very limited apps; will get better with elementary OS 6.
Quick links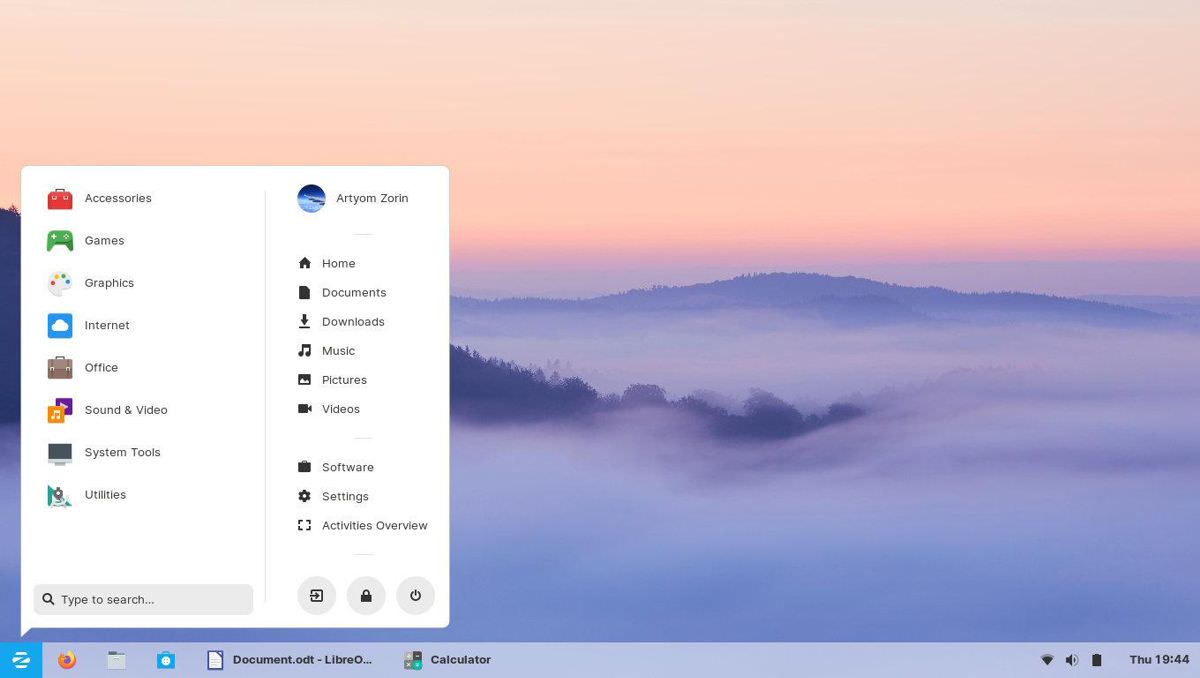 Zorin OS is another superb Linux distribution based on Ubuntu. Its unique selling point is that it supports the look and feel of both Windows and macOS, unlike many other distributions that provides a user experience of either Windows or macOS, making it perfect for companies, schools, and organizations.
Another unique feature of Zorin OS is that it offers multiple editions — Ultimate, Core, Lite, and Education. Ultimate edition packs in premium layouts and extra apps and games while Core is targeted towards everyday users. Lite edition is built for old computers while Education packs in educational apps and games.
Pros
Windows 10's Start menu-like app menu, making it easy for you to switch.
Zorin look changer avails customization options to change look and feel.
Software store has many apps like Linux Mint (unlike elementary OS).
Avails Wine out of the box, letting you to run Windows apps inside Linux.
Cons
Ultimate edition requires $39 to offer the macOS-like desktop style.
Quick links
Fedora is yet another popular Linux distribution, and it is the only distribution on this list that is not based on Ubuntu. It is also easy to get started with Fedora like Linux Mint or elementary OS, however you may miss the look and feel of your previous OS until you try one of the Fedora Spins (say, Cinnamon).
As we are discussing desktop distributions, I will focus on Fedora Workstation. Using the GNOME3 desktop environment, it is a user-friendly yet powerful operating system.
Fedora is based on Red Hat, and it is mostly used for development and learning purposes, making it ideal for developers and students alike. And it supports RPM software packages, unlike above distributions that support DEB.
Pros
Avails the bleeding-edge technology from the Linux/UNIX world.
Supports multiple desktop environments as part of Fedora Spins.
Supports KDE Plasma, Cinnamon, MATE, and more environments.
Cons
Less beginner-friendly than the other Linux distributions on this list.
Poorer support for proprietary drivers than other distributions here.
Poorer stability than other distributions mostly due to new technology.
Quick links