The Best Datacenter Proxies For 2023
If you know about digital data extraction or site execution testing, you will definitely know how crucial it is to have a decent proxy service while doing these jobs. In any case, you do not really need to work in the web-based space to utilize a proxy's administration.
Many individuals use proxies to hide their identity while using the web or to watch content that is restricted in their country. Besides that, there are many different purposes for proxies.
Proxies serve as a door between the user and the web. While perusing with a proxy's administration dynamic, your area, and IP address are stowed away from prying eyes. It means you can make it look like you are accessing the web from the opposite side of the world.
What makes proxies so important?
Datacenter proxies offer the least expensive method for changing your IP address. They are great for many reasons: avoiding geo-location restrictions, automating the work processes, and scratching content from the web.
Datacenter proxy's servers come in a variety. You can get IP shared or devoted to your selective use; static or dynamic; in some cases, even free. This page will explain some key types and assist you with choosing the best data center proxy suppliers.Have a look:
Smartproxy is used by clients ranging from individuals to universities or Fortune 500 companies. The provider puts a great emphasis on proxy quality, high-performance results, and customer satisfaction. It has an awarded 24/7 live customer service, a user-friendly interface, and more than 40 setup guides to make your proxy experience as smooth as possible!
With Smartproxy, you can dive into the pool of 100K HTTP(s) datacenter IPs that are from the US and guarantee 99.99% uptime. It also offers advanced IP rotation, hundreds of subnets, and affordable prices. Plans start from $50 + VAT a month and include a 3-day money-back option with terms and conditions applied.
Key qualities of Smartproxy:
100K rotating IPs
US and EU locations
Unlimited connections and threads
Hundreds of subnets
Easy proxy setup
Up to 30 min. sticky sessions
Fast connection
Awesome 24/7 customer supports average response time
Free tools and extensions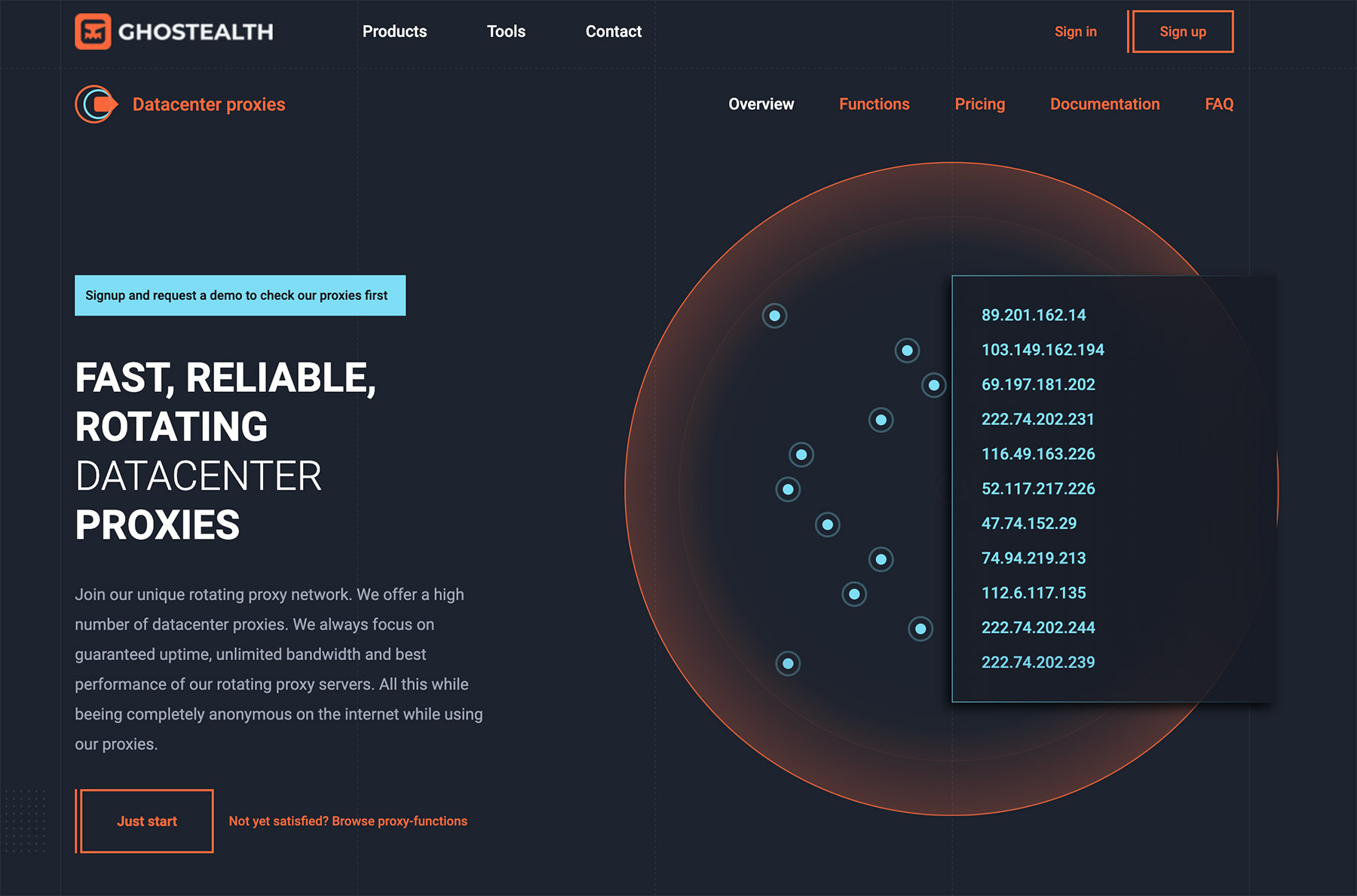 Ghostealth is a proxy provider that has been selling data center proxies since its founding in 2017. And since then, they have been selling their products to other large companies or private consumers.
The proxies can be used for many purposes.; one example is bot automation.
Ghostealth focuses on the consistency and quality of the proxies. A fast response time and an uptime of 99.9% are in focus.
Their entry price is $20, and you are allowed to test the proxies for free before purchasing them. This ensures that the proxies work for each customer and their intended use before making a purchase.
Key qualities of Ghostealth:
Rotating Datacenter Proxies
99.9% uptime
Unlimited Bandwidth
50.000+ Dedicated IPs
Socks and Http/s protocol
Flexible Pricing
Fortune 500 organizations, scholarly foundations, and private ventures all depend on Bright Data's answers to recover significant public web information in the most productive, solid, and adaptable way, so they can explore, screen, examine information, and settle on better choices.
If your requirements are basic, the organization's data center proxies offer extraordinary execution at a much lower cost. In any case, even here, Bright Data outranks a large portion of the opposition, with a 700,000+ Proxy pool spread across 3,000+ subnets, and both nation and city-level focusing on.
Key qualities of Bright Data:
It has 1.6 million+ Datacenter IPs
It offers 99.99% network uptime
It offers 24/7 customer support
The services are available in 195 countries, including the US, China, & Europe
It offers shared or dedicated IPs
IPRoyal has vast expertise in IP connectivity. They have thousands of IPv4 as well as IPv6 address categories in different countries of the world, therefore they are well-equipped to meet all your IPv4 and IPv6 demands. They strive to deliver a long-term and dependable solution that is adapted to your unique IP address business requirements.
Because there is no pooling, your proxy is solely accessible to you. Their data center solutions provide limitless bandwidth with no additional fees, lightning-fast speeds, as well as simple integration. Because you may choose from several areas throughout the world, geo-blocking gets obsolete.
Key qualities of IPRoyal:
It offers a speed of 10Gbps
It provides a reliable 24/7 Service
It brings forth unlimited bandwidth & threads
Please note that the proxies are available ONLY to you and not shared with other users
All private proxies allow HTTPS and SOCKS connections
Oxylabs' worldwide 100M+ residential proxy network is sourced from authorized vendors who are required by law to tell end-users about their membership in a proxy network and get their agreement. Furthermore, a considerable number of these end-users are compensated financially.
Using Oxylabs self-service interface, you can quickly buy Residential Proxy Starter as well as entrepreneurial endeavors and keep track of your data use to ensure that you never run out of traffic.
Save time and money by using a common data collecting system that seems to have a 100% rate of success as well as extracts all heavy-duty data from the bulk of sites, especially e-commerce as well as search engines. They work intending to help you succeed in scraping tasks, thus they're willing to offer all of their experience.
Key qualities of Oxylabs:
It offers 2M+ dedicated Datacenter Proxies
It is available in 188 countries
There are hundreds of pre-selected and tested proxies
It brings forth a city and state-level selection
Support IPv4 and IPv6 protocols for more scraping possibilities
It offers an average uptime of 99.9%
It is accessible on Cloud, Windows, Mac, Linux, iPhone, iPad, Android, and Chromebook
Pricing – starts from $180/month
Zero blocking of the IPs
Final Thoughts
Proxy servers are significant for any web-scraping project. Since data gathering requires an enormous number of solicitations to a server from an IP address, the server can boycott the IP address to forestall further operations. Utilizing a Proxy can assist you in avoiding that.
Various companies worldwide gather market information to have a superior comprehension of their client's purchasing habits and current competition. They use proxies to gain information from the web to have exact data about their target market. Datacenter proxies defeat geo-limitations and IP blocks to gather market information continuously.