The Best Datacenter Proxies For 2023
Get the top datacenter proxies for 2023 with reliable service and smooth experience.
If you are familiar with digital data extraction or site execution testing, you definitely know how crucial it is to have a reliable proxy service while performing these tasks. However, you don't really need to work in the web-based space to utilize a proxy's services.
Many individuals use proxies to conceal their identity while browsing the web or to access content that is restricted in their country. Besides that, there are many other purposes for using proxies.
Overview:
| | |
| --- | --- |
| | Smartproxy: Offers advanced IP rotation with hundreds of subnets, ensuring a smooth proxy experience. |
| | IPRoyal: Offers a speed of 10Gbps and ensures that the proxies are available only to you and not shared with other users. |
| | Bright Data: Provides a massive pool of 1.6 million+ Datacenter IPs with both country and city-level targeting. |
| | Ghostealth: Focuses on consistency and quality with an uptime of 99.9% and offers a free testing option before purchasing. |
| | Oxylabs: Offers 2M+ dedicated Datacenter Proxies available in 188 countries with support for both IPv4 and IPv6 protocols. |
Proxies, in a Nutshell
Proxies are like having a friend who passes notes for you in class. If you want to send a note to someone but don't want them to know it's from you, you give it to your friend, and they hand it over. Online, proxies pass along your requests to websites and bring back the responses, keeping your identity hidden.
What are Datacenter Proxies?
Datacenter proxies, on the other hand, are like having a professional note-passer working out of a big office building. They're very good at passing notes quickly and efficiently, but because they're professionals and not just regular friends, people might recognize that the notes are coming from them.
What are the Differences Between the Two?
Regular proxies are like asking a friend to pass a note – it's casual and can come from anyone. Datacenter proxies are more like hiring a professional to do it. They're faster and often better at the job, but some people might recognize them and know that the note didn't come directly from you. It's like the difference between having a friend help you out and hiring a pro to do the job.
5 Best Datacenter Proxies:
Smartproxy is used by a wide range of clients, from individuals to universities and Fortune 500 companies. The provider places great emphasis on proxy quality, high-performance results, and customer satisfaction. It offers award-winning 24/7 live customer service, a user-friendly interface, and over 40 setup guides to ensure your proxy experience is as smooth as possible.
With Smartproxy, you can access a pool of 100K HTTP(s) datacenter IPs, primarily from the US, with a guaranteed 99.99% uptime. The service also offers advanced IP rotation, hundreds of subnets, and affordable prices. Plans start at $50 + VAT per month and include a 3-day money-back option, with terms and conditions applying.
Notable features of Smartproxy:
100K rotating IPs
US and EU locations
Unlimited connections and threads
Hundreds of subnets
Easy proxy setup
Up to 30-minute sticky sessions
Fast connection
Awesome 24/7 customer support with an average response time
Free tools and extensions
IPRoyal has vast expertise in IP connectivity. They offer thousands of IPv4 as well as IPv6 address categories in different countries around the world, and therefore, they are well-equipped to meet all your IPv4 and IPv6 demands. They strive to deliver a long-term and dependable solution that is tailored to your unique IP address business requirements.
Because there is no pooling, your proxy is solely accessible to you. Their data center solutions provide unlimited bandwidth with no additional fees, lightning-fast speeds, and easy integration. Since you may choose from several areas throughout the world, geo-blocking becomes obsolete.
Notable features of IPRoyal:
It offers a speed of 10Gbps.
It provides reliable 24/7 service.
It brings forth unlimited bandwidth and threads.
Please note that the proxies are available ONLY to you and are not shared with other users.
All private proxies allow HTTPS and SOCKS connections.
Fortune 500 organizations, scholarly institutions, and small businesses all rely on Bright Data's solutions to retrieve valuable public web data in the most efficient, reliable, and scalable manner. This enables them to navigate, monitor, analyze data, and make better decisions.
If your requirements are basic, the company's data center proxies offer outstanding performance at a much lower cost. However, even in this category, Bright Data outshines most of the competition, with a 700,000+ proxy pool spread across 3,000+ subnets, and both country and city-level targeting.
Notable features of Bright Data:
It has 1.6 million+ Datacenter IPs.
It offers 99.99% network uptime.
It provides 24/7 customer support.
The services are available in 195 countries, including the US, China, and Europe.
It offers shared or dedicated IPs.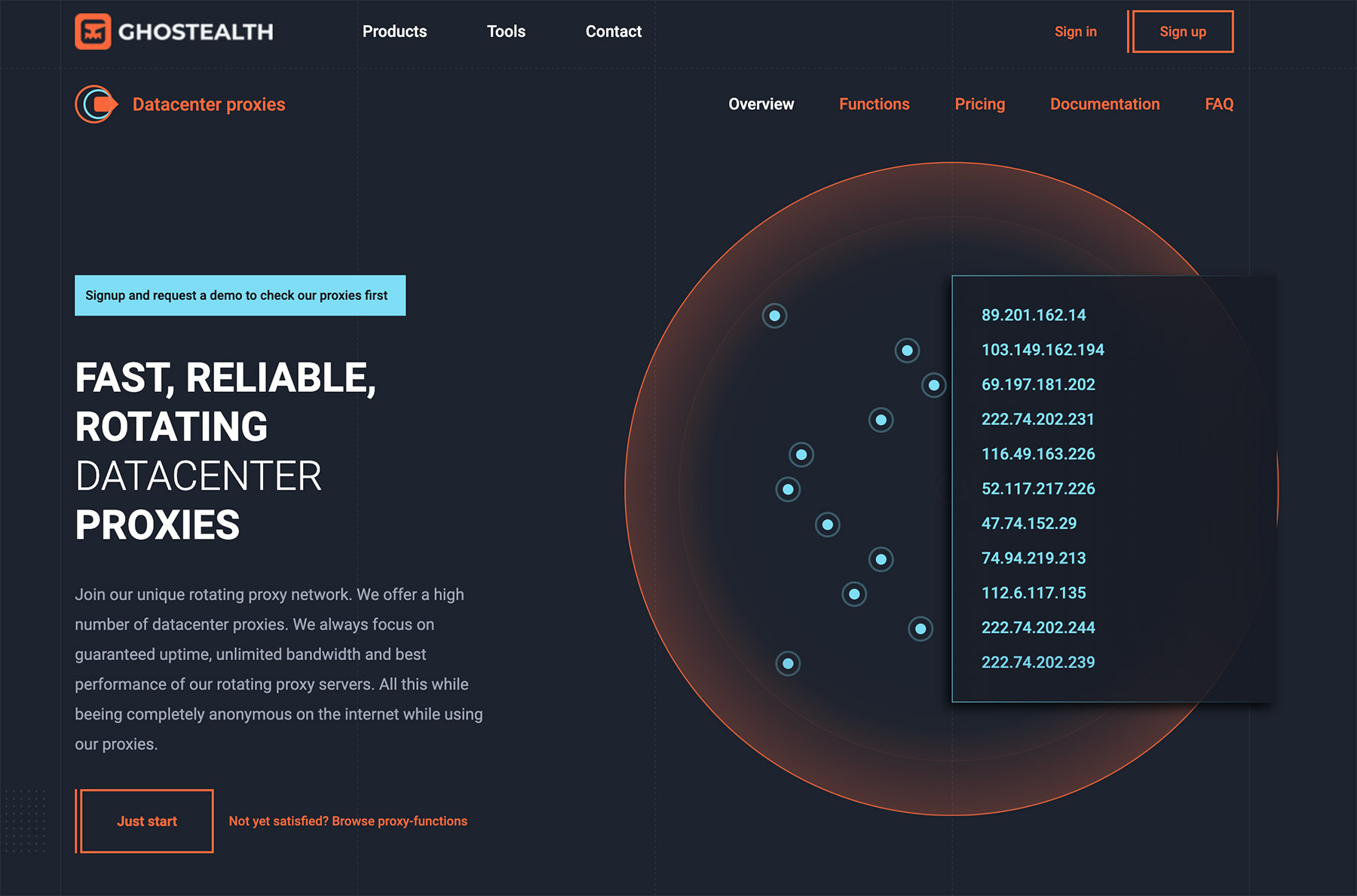 Ghostealth is a proxy provider that has been selling data center proxies since its founding in 2017. Since then, they have been selling their products to other large companies and private consumers.
The proxies can be used for many purposes; one example is bot automation.
Ghostealth focuses on the consistency and quality of the proxies, with a fast response time and an uptime of 99.9% as key features.
Their entry price is $20, and you are allowed to test the proxies for free before purchasing them. This ensures that the proxies work for each customer and their intended use before making a purchase.
Notable features of Ghostealth:
Rotating Datacenter Proxies
99.9% uptime
Unlimited Bandwidth
50,000+ Dedicated IPs
Socks and HTTP/s protocol
Flexible Pricing
Oxylabs' worldwide 100M+ residential proxy network is sourced from authorized vendors who are required by law to inform end-users about their membership in a proxy network and obtain their agreement. Furthermore, a considerable number of these end-users are compensated financially.
Using Oxylabs' self-service interface, you can quickly purchase the Residential Proxy Starter, as well as other entrepreneurial endeavors, and keep track of your data usage to ensure that you never run out of traffic.
Save time and money by using a common data collecting system that seems to have a 100% success rate and extracts all heavy-duty data from the majority of sites, especially e-commerce and search engines. Oxylabs works with the intention of helping you succeed in scraping tasks, so they're willing to offer all of their experience.
Notable features of Oxylabs:
It offers 2M+ dedicated Datacenter Proxies.
It is available in 188 countries.
There are hundreds of pre-selected and tested proxies.
It brings forth city and state-level selection.
Supports IPv4 and IPv6 protocols for more scraping possibilities.
It offers an average uptime of 99.9%.
It is accessible on Cloud, Windows, Mac, Linux, iPhone, iPad, Android, and Chromebook.
Pricing starts from $180/month.
Zero blocking of the IPs.
Final Thoughts
Proxy servers are significant for any web-scraping project. Since data gathering requires an enormous number of requests to a server from an IP address, the server can blacklist the IP address to prevent further operations. Utilizing a proxy can assist you in avoiding that.
Various companies worldwide gather market information to have a better understanding of their customers' buying habits and current competition. They use proxies to gain information from the web to have accurate data about their target market. Datacenter proxies overcome geo-restrictions and IP blocks to gather market information in real time.