Want to Know more About Architectural Photography? We Asked an Expert
Editor's note: This is a guest contribution by Murat. Murat interviews architectural photographers on a regular basis. Visit daminion.net to read interviews with other architectural photographers, each containing samples of their best work, their achievements and failures, professional marketing secret, tips, and more!
The thing that impresses me most about good architectural photography is its ability to imbue inanimate subjects – buildings and other manmade structures – with a life and soul of their own. Over at my blog, I interview architectural photographers on a regular basis. And today, I want to bring to your attention (in my opinion) one of the greatest architectural photographers, Brad Feinknopf.
If you are an avid fan of photography, particularly architectural photography, and are looking for some tips and insights from an award-winning photographer – this is an article you should not miss. Full interview after the jump.
Brad Feinknopf
Brad is a National Architectural Photographer who has photographed over 100 AIA Award Winning Architectural Project,s and has been published internationally.
He has spent the last 20+ years producing exceptional architectural photography. Understanding architecture comes naturally to Brad as both his father and grandfather were successful architects.
In 1988, Brad returned from New York City (where he had been working) to his hometown of Columbus, Ohio to establish a photographic studio that would excel in providing its clientele with the utmost in quality and service in architectural, interior, and corporate photography.
You can reach Brad on his website: https://www.feinknopf.com.
An Interview with Brad Feinknopf
Brad, could you please tell us how you got started in photography? And why you decided to go into Architectural Photography in particular?
My father and grandfather were both architects and my intention was to go into architecture and to follow in my family's footsteps. My undergraduate degree was in Design & Environmental Analysis from Cornell University, which seemed like a perfect lead into Architecture in Graduate School.
During my junior year in college, many of my friends were Photography Majors and they convinced me to take a photography class and the rest is history. I fell in love with photography and found that I had an affinity for architecture, not surprisingly. As I say, "I decided that I would rather get paid to appreciate architecture than to do architecture."
You were recognized by Columbus Landmarks as their outstanding person of 2010: "Over the last 20 years, no photographer has done more to document and preserve the history of the City of Columbus than Brad Feinknopf."
How would you, as an architectural photographer, define success? When did you first realize that you were successful?
I'm successful?! I tend not to think of myself in these terms. Is it for the money? No. Money has never been a motivating factor. Is it the pride of being published? Yes, that is certainly a great vindication of one's work but that is what other people deem of note. At the core, it is about image-making. I am my own harshest critic. If I am making images that I feel good about is what is of utmost importance – whether they make money or get published or not is inconsequential. Secondarily, I say that I live vicariously through my clients. If my clients win awards, get published, are able to generate new work as a result of my imagery then I have been successful. That the truest test of success is having served your clients well.
Which do you consider to be your most successful commercial project and how were you introduced to the client?
Boy, that is hard. How do you determine "most successful"? Certainly, my image of the Boston Convention Center at dawn has been widely used, even for book covers, so it is definitely a "greatest hit". I might call it the most successful image in my portfolio.
I had shot numerous projects for that client previously but the relationship began as a fluke. I was hired to shoot one of the architect projects by another party, much to their original displeasure but once they saw the work I did on their project, they were blown away. After that, began a relationship that continues 8 years on, until today.
On your website you write that your photo studio utilizes some of the top digital equipment and superior retouching services available in the industry today. Could you please tell us what equipment and services you use?
I shoot Medium Format Digital. I was never pleased with the quality and functionality nor the rectangular format of 35mm so when I transitioned to digital I opted to shoot Medium Format as opposed to 35mm as it was much closer to 4" x 5" which I had shot for 17 years. I shoot with a Cambo Wide DS with a Phase One Medium Format Digital Back and 6 Rodenstock Digital Lens ranging from 28mm to 90mm. Additionally, I have had the same Retoucher for over 10 years who knows my style and what I am looking for in my work. She uses the most current Macintosh computers and the most recent versions of Photoshop, etc.
How do most of your clients find you? If you could suggest just one marketing tool to someone relatively new to photography what would it be?
Honestly, much has been referral. A large firm has had a project in the area and they have been referred to me. They have enjoyed working with me, the quality of the work and working relationship so much, that the relationship has grown. One of my largest clients started with me shooting a two-lane bridge locally for them. Now, I shoot most of their work, all over the country. Apart from word of mouth, I think the most valuable marketing tool is one's website. You need to have a great platform for displaying your work and in today's marketplace, the website is it.
Is there any photography book that has helped and/or inspired you more than any other? Can you recommend a book(s) to someone starting out in architectural photography?
My photo book collection is vast. Probably the seminal book for me was Ansel Adams' book, The Negative but, that is rather antiquated at this point in time. Another book I love is Ralph Steiner's In Pursuit of Clouds. It makes the viewer look at the world in a whole new way. I don't think you "learn" from a book but I do think that you can certainly be inspired and I also believe that you must know your photographic history if you expect to know where you are going.
I found an interesting quote of yours (which I agree with it) when surfing your blog. You said: "The less one does with Photoshop the better the final image." What Photoshop tools, if any, are essential for you, and by what parameters do you reject photographs?
I feel privileged to have learned on film. If you couldn't do it in the camera, it wasn't done. Too many photographers feel Photoshop is an image-making tool when it should really be an image improvement tool. I have had too many photographers show me their portfolios only to regale me on how much they have done in Photoshop and the truth is, it looks like it was done in Photoshop. I don't wish to create a new reality, I merely want to capture architecture in its best possible light. Understanding weather, sun, seasons, and architecture is far more valuable than any Photoshop tricks. I have found certain Nik filters, like their polarizer and contrast filters, very useful for certain applications.
As far as rejecting photos, there are numerous factors that make me reject photographs. Tangency is certainly a factor in my decision-making. Whether a shadow, a person, or merely the edge of the frame, tangency can often be a large factor in creating an image I find acceptable or unacceptable. Often waiting 10 minutes for a shadow to move can make the difference between a terrible image and a great one. I like people in my photographs when they are complimenting the architecture, and not competing with the architecture. If a person is wearing a loud outfit and brings the attention to them and away from the architecture then that is a rationale for rejection. These are just a few of many factors that go into my decision-making processes of that which is acceptable and that which needs to be rejected.
Looking at the architectural images in your portfolio I've noticed that very often there is one element in the pictures, apart from the main architectural subject, that reinforces the overall impression: the sky.
Could you please disclose how you manage to get such beautiful skies in your pictures? How often do you have to post-process the sky, or is it may be better to draw it manually in some cases?
It's funny, I had an advertising agency ask my rep, "What is the cost of the post-production for Brad to drop in those skies". I just had to laugh because I have never dropped in a sky in my life. Do I use polarizers, yes. Do I warm-up skies from time to time, yes, but in essence, it is more about understanding weather and weather conditions and how to make them work for you than anything in post-production. I think many of the best images were created when other photographers would have thrown in the towel and gone home. Most of the work I do is not local, so often I am forced to make do with what I have been given as opposed to waiting for "perfect" conditions. That makes you work with what you are given and when forced to do that, often magical things happen. It is amazing what you can create if you see the opportunity instead of the lack thereof.
Do you find there are times when commercial shooting becomes boring and routine? And, if so, what does it depend on? Are there any projects you would refuse, or have refused, to shoot?
Frankly, I would rather work with an architect than an art director. When I work with an architect, they tend to want to know what I see in their project and are paying me for my interpretive eye. Art Directors have a "vision" that you are being hired to create for them. Rarely are you being hired by an ad agency to create "your vision". As a result, you are more of a means to an end than a creative component. I cannot imagine ever doing a food shoot or product still life but then again, I cannot imagine anyone coming to me for that, either.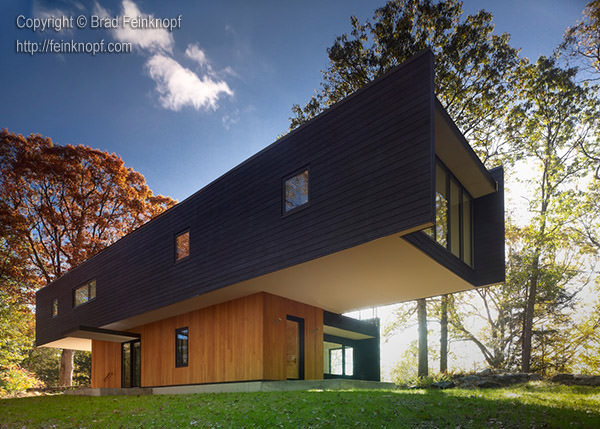 extra questions:
Where were you born?
Columbus, OH
How many years have you been involved in photography, and in architecture photography in particular?
I first picked up a camera in 1985 so, 26 years. I would say I have been focusing on architecture since around 1991 so, about 20 years.
Who are your favorite photographers?
That is a long list: Ralph Steiner, Michael Kenna, Tom Baril, Joseph Sudek, Jeanloup Sieff, Josef Koudelka, Irving Penn, Sebastiao Salgado
In the Architectural World: Roland Halbe, Peter Aaron, Scott Francis, Nick Merrick, Floto + Warner, Tom Arban, and Paul Warchol to name a few.
What do you think you would be doing now if you weren't a photographer?
I would rather not think about it. I can't imagine my life doing anything other than what I am doing. I would likely be miserable. Please don't make me go there.
What do you enjoy most about being a photographer?
The creative process. I love getting in the head of an architect and trying to understand the thought process and passion behind their building. It can often be a very exhilarating process.
Is there anything you dislike about being a photographer?
Buildings don't come to me and therefore I need to travel a great deal – and I hate being away from my family. Additionally, there are numerous ways to make a much better living much easier than photography. Over my 25 odd years, I have seen so many photographers go by the wayside. It is not an easy profession, by any stretch.