20 Airport Art Installations That Wow Travelers
If you have ever been stuck at an airport due to a delayed flight or because you spaced your connecting flights too far apart, the waiting time can be torturous. However, in certain airports, there are pieces of art that are waiting to be discovered and appreciated. In some places there are creative construction hoardings; in other places there are contemporary art installations like the ones you find in this post.
From wall installations to erected pagodas, optical illusions to giant animal sculptures, airports are home to quite a number of modern and artistic interpretations from artists. If you are ever passing by these airports, do check out these amazing sights.
If you like this, you might also like:
1. Changi Airport, Singapore
Kinetic Rain is found in Terminal 1 of Changi Airport in Singapore. It consists of two sets of 608 suspended raindrops made from lightweight aluminum. It's a moving installation that bedazzles travelers whenever they have the chance to enjoy the view.
Source: thisiscolossal
2. San Francisco International Airport, USA
San Francisco's International Airpor is home to many art installations that explore perception. The lamps installation challenges your perception of space, while the hanging and wall installations (second image) changes based on the direction you view them from.
Source: flysfo
3. Incheon International Airport, South Korea
This pagoda is placed right at the center of the Korean Culture Museum, which is one of the many oriental attractions at Incheon International Airport.
Source: huffingtonpost
4. Helsinki International Airport, Finland
These are just random modern art pieces placed around the airport space. They might not make sense at face value but they are eye-catching.
Source: One Mile At A Time
5. Auckland Airport, New Zealand
These installations are pieces of outdoor open-air art. The gallery features world class works from 11 New Zealand artists.
Source: eventfinda
6. Abu Dhabi International Airport, the United Arab Emirates
This sculpture is called 'Forever'. It's a bicycle installation by Chinese artist Ai Weiwei.
Source: Ai Weiwei
7. Frankfurt Airport, Germany
Found in Frankfurt airport in Germany, Martin Liebscher's spectacular panoramic photo installation at Terminal 1 dazzles travelers. The second image features one of the airport shops that went creative with an artistic display installation.
Source: frankfurt-airport.com
8. Chhatrapati Shivaji International Airport, Mumbai
On the first image is a multi-story Art Gallery Facade at T2 airport Terminal. On the second one you see the Diya curtain welcoming guests to the airport lobby.
Source: Indianphotographer.in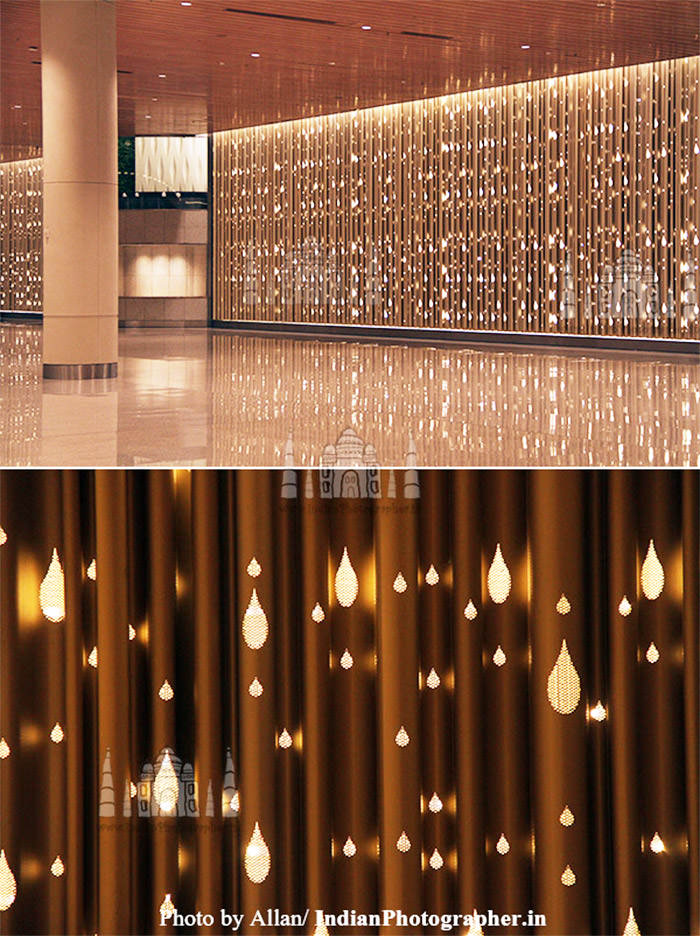 9. San Diego Airport, USA
This LED light installation is created by artist and light engineer, Jim Campbell. It's called The Journey and it guides lucky travelers through San Diego Airport through its flowing, purple, prismatic display.
Source: Jim Campbell
10. Miami International Airport, USA
'Harmonic convergence' is an installation of interactive sound and light sculpture, by Christopher Janney, constructed within the pedestrian walkway of the Miami international airport.
Source: brontis5
11. O'Hare International Airport, Chicago, USA
Between the B and C concourse in Terminal 1 is 'The Sky's the Limit', created in 1987 this neon lit walkway with alternating colors and sounds lights up the motorized pedestrian walkway.
Source: Justin Waits
12. Sacramento airport, USA
This sculpture is called a Riparian Rabbit that is on the U.S. Fish and Wildlife Endangered Species list that is specific to the Sacramento region. It is an animal thought to bring good luck.
Source: Ed Asmus Photography
13. Denver International Airport, USA
This is a 32-foot tall, very anatomically correct blue mustang with glowing red eyes and veins that can be witnessed by people as they drive in and out of the airport.
Source: GOSHA IMAGES
14. Kastrup airport, Copenhagen, Denmark
This is an amazingly beautiful and colorful glass globe installation at Kastrup airport.
Source: Ole Mikael Sa¸rensen
15. Dallas/Fort Worth International Airport, USA
This is a marvelous 'Crystal Mountain' aluminum sculpture by New York artist Dennis Oppenheim. The installation is part of DFW's Art Program which features 30 artists from around the world.
Source: Scott Beale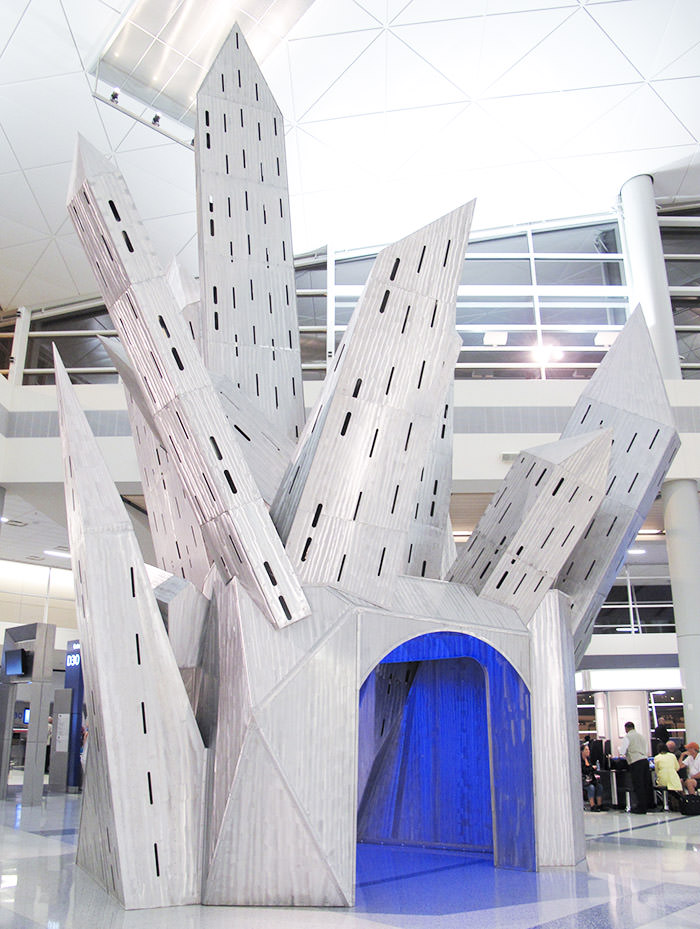 16. London Heathrow Airport, England
Slipstream is a 2014 sculpture created by Richard Wilson for the replacement London Heathrow Terminal 2. The sculpture is over 70 metres long and weighs 77 tonnes!
Source: Vladimir Dimitroff
17. Suvarnabhumi Airport, Bangkok, Thailand
This sculpture is called Tug of War. The Devas (demigods) are engaged in a tug of war with the Asuras (demons), hanging on both sides of the king of serpent – Vasuki (aka Naga).
Source: Al Pavangkanan
18. Brisbane Airport, Australia
This outdoor playground by Carins artist Brian Robinson features giant fish inspired by wild life in Australia's Great Barrier Reef. It's being celebrated as the finishing touch for Brisbane Airport's $30 million Skygate expansion.
Source: BrisbaneAirport
19. Los Angeles International Airport, USA
The sculpture looks like a giant beaded curtain that seems to take on different shapes depending on the light and viewer's perspective.
Source: PanicStudio L.A.
20. Mitchell International Airport, Milwaukee, USA
Tim Prentice, the Kinetic Sculptor has completed similar projects around the world and installed his "Slalom' display at Mitchell Airport. It's a unique opportunity to play with the light to achieve unbelievable effects.
Source: Tim Prentice