45 Free Useful Thumb Drive Applications
Thumb drives were once used to store files and make data portable, but due to the rapid increase in storage capacity over the pass few years these gadgets now have a bigger role. Some even run the entire operating system on a thumb drive.
The more we rely on thumb drives, the more demands we have in terms of tools and applications to facilitate the transfer and security of files. If your thumb drive plays an important role in your daily job, here are some Free Useful Thumb Drive Applications you might be interested.
Synchronization And Backup
Microsoft USB Flash Drive Manager allows you to backup and restore presentation, pictures, songs and applications from and to USB Flash Drive devices and take them with you. Use USB Flash Drives to store personal data, to keep your network configuration and to share information with your friends. Microsoft USB Flash Drive .
xPortClone is a simple but effective tool that allows you to backup files from a removable device to your hard drive. It can be used with iPods, USB drives or even CDs or DVDs.
Toucan is a small utility allowing you to synchronize, backup and secure your data with more options than the built in suite utilities. It is split up into 7 tabs, allowing you to easily find the function that you want.
SyncToy, a free PowerToy for Microsoft Windows, is an easy to use, highly customizable program that helps users to do the heavy lifting involved with the copying, moving, and synchronization of different directories. Most common operations can be performed with just a few clicks of the mouse, and additional customization is available without additional complexity.
Recovery Tools
Unstoppable Copier is useful to copy files from any damaged media sources, like portable thumb drive as it recovers files from disks with physical damage. The program will attempt to recover every readable piece of a file and put the pieces together.
Undelete Plus is a quick and effective way to restore accidentally deleted files. It can also recover files that have been emptied from the Recycle Bin, permanently deleted files within Windows using the Shift + Delete, and files that have been deleted from within a Command Prompt.
Recuva is a freeware Windows utility to restore files that have been accidentally deleted from your computer. This includes files emptied from the Recycle bin as well as images and other files that have been deleted by user error from digital camera memory cards or thumb drive. It will even bring back files that have been deleted by bugs, crashes and viruses!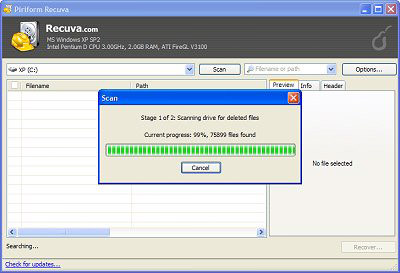 SoftPerfect File Recovery is a tool to recover accidentally deleted files from hard disks, USB flash drives, CF and SD cards and other storage media.
Portable Platforms
The PortableApps.com Suite and Platform lets you carry your favorite computer programs along with all of your bookmarks, settings, email and more with you. Use them on any Windows computer. All without leaving any personal data behind. As soon as you connect your thumb drive into a computer, Portable Apps will open up automatically.
U3 smart drive allows you to carry your software on the same flash drive that carries your files. You can plug it into any PC and work, play a game, message friends, send email, edit photos and more. When you unplug it, it leaves no personal data behind.
PStart is a simple tray tool to start user defined applications. Designed to run portable applications (like portable Firefox & Thunderbird), you can start anything runnable from USB key devices or removable disks.
CodySafe is a software tool that turns any portable drive from a simple data carrier to a computer-on-stick. Carry your computer programs with you, manage them, launch them on any PC, and leave no footprint behind. The management of your portable documents, multimedia files and pictures has never being that easy.
MojoPac, a friendly technology that allows you to take you entire PC on any storage device. MojoPac turns any USB 2.0 storage device, such as iPods, USB flash drives, portable hard drives, USB-enabled cell phones, and USB-enabled digital cameras, into a portable computing environment.
XAMPP is a Web Server package that contains Apache, MySQL, PHP and Perl. XAMPP enables it's user to host a Website, Blog, CMS or try out PHP code and test MySQL database structures all from a testing or production environment.
Security Tools
Dr.Web CureIt is a standalone anti-virus and anti-spyware scanner that scans your PC for viruses, trojans, adware, spyware, hack tools, rootkits, and other malware. The program does not require an installation and can be run from a USB drive.
Portable Antivirus is a FREE portable antivirus application that is capable to remove certain variants of virus, Trojans, ad-ware and spy ware from your computer.
ClamWin Portable is the popular ClamWin antivirus packaged as a portable app, so you can take your antivirus with you to scan files on the go.
PC Repair System provides a variety of free and/or open-source tools for file recovery, anti-virus, anti-spyware, system info and system maint. There are 37 applications in total.
Eraser Portable is a secure data removal tool that runs directly from your iPod, USB thumbdrive, portable hard drive or any other portable media.
TrueCrypt encrypts an entire partition or storage device such as USB flash drive or hard drive.
FreeOTFE is a free, open source, "on-the-fly" transparent disk encryption program for USB thumb drive and PC. These disks operate exactly like a normal disk, with the exception that anything written to one of them is transparently, and securely, encrypted.
KeePass Portable is the popular KeePass Password Safe packaged as a portable app, so you can securely carry your email, internet and other passwords with you. You can place it on your USB flash drive, iPod, portable hard drive or a CD and use it on any computer, without leaving any personal information behind.
Crypto Anywhere is small enough to fit on a single floppy or USB key chain drive and is very easy to use. If you run Crypto Anywhere from a floppy disk or USB drive, you can encrypt your email without even installing software on your workstation.
File & Folder Unlocker – Lock Your Thumbdrive
File & Folder Unlocker is a powerful yet easy-to-use system utility that gives you complete control over the locked files and folders on your computer.