40 Best Free Thumb Drive Applications
A long list of free and useful thumb drive applications including portable browsers, cybersecurity and data back up and sync solutions etc.
Thumb drives are one of the most important and useful computer accessories you'll ever find. These small devices are not just used to carry your data, you can use them for a lot of other functions and that includes running portable apps, and even an entire operating system.
So in this post, I am listing down 40 free and useful thumb drive applications. These apps range from portable web browsers, computer games, cybersecurity, and data back up and sync solutions apart from many others. Let's check them out.
PortableApps.com is a platform to use all your favorites apps from a portable device or a cloud, on any computer. This platform comes with an inbuilt app store to install, segregate, and update the apps.
In its store, you get access to 300+ apps from a range of categories like development, graphics, office, etc.
LiberKey is a PortableApp.com-like platform that boasts of 290+ applications. These apps are portable so that you can use them on multiple devices as well. What I found interesting is that all apps are automatically updated and synchronized with LiberKey.
It avails three suites with different apps – Basic, Standard, and Ultimate.
Lupo PenSuite contains over 160 applications including games that are both free and portable. The software is user-friendly and can be personalized as well as translated into 28 different languages.
Lupo PenSuite avails three versions – Full, Lite, and Zero, which differ in the availability of apps and customization features.
EaseUS Flash/Pen Drive Repair Tool aids you at repairing pen drives and handy drives or memory sticks and recovers the data stored on them as well. This application is free to use, has an intuitive interface, and works on both PC and Mac.
USB Flash Drive Format Tool helps to format devices like pen drives and SD cards and cleans them including any malicious software, pop-up ads, etc.
This app differs from the regular formatting tool offered by Windows because it can also erase data securely and format those devices as well that cannot be formatted otherwise.
USB Disk Storage Format Tool, like the above tool, can be used to format USB storage devices – both instantaneously and efficiently. It removes all data including malicious software, creates volume labels, and also scans the drives for errors while formatting.
This app is free to use but can be used on Windows PC only.
ClamWin is an antivirus program based on ClamAV for Windows. It is free to use and has high detection rates in spite of being a freeware utility.
What I liked is, it comes with a Scanner Scheduler to plan the scans and an add-in for Microsoft Outlook to detect virus-infected attachments. It is automatically updated regularly as well.
Malwarebytes is a fantastic cybersecurity solution that boasts of efficient detection and specialized protection against ransomware. This app provides anti-malware as well as anti-spyware technology with a rapid response rate.
Malwarebytes comes with a free trial offer and works on multiple platforms including Windows and macOS.
Spybot Search & Destroy detects and removes malicious content and spyware by scanning your system. What I found interesting is, it has an 'Immunization' feature, which preemptively protects the web browsers as well.
It is entirely free to use, unlike Malwarebytes, and can be used by anyone on Windows.
TDSSKiller is an application that intercepts rootkits, which in turn hide the presence of malware in a system. The application disinfects your system, after which you can use anti-malware tools. It is easy to download and can be used on Windows.
Toucan is a utility app that synchronizes, backs up, and protects your data. The interface is split into seven sections so that you can easily find and choose a required function. It is a portable tool and only compatible with Windows.
Allway Sync is a data synchronization app to sync data between desktops and laptops, USB drives and FTP/SFTP and WebDAV servers. Though it works on Windows, yet you can also sync your data with macOS using its companion app.
It also avails encryption and data compression features but comes with certain limitations.
GoodSync2Go is another data synchronization app that works directly on any portable device (like flash drives) to sync data between computers. You can connect the drive to multiple systems to synchronize data. However, it is free to use for just 30 days.

Plug2Sync is an all-in-one application that features file synchronization and backup between multiple devices that powered by Windows. However, its free version permits data synchronization of only the default Windows folders such as My Documents.
You can also use this tool to sync bookmarks, favorites, and Outlook.
Darik's Boot and Nuke is a powerful, open-source tool to delete data on hard disks of desktops, laptops, or servers. It also detects viruses and spyware on Windows-powered devices. Amazingly, in spite of being freeware, it offers six erasure standards.
Eraser is another data deletion utility that erases a hard disk entirely and securely by overwriting the drive multiple times using different patterns. It is free to use, like Darik's Boot and Nuke, to improve your privacy but can be used on Windows only.
CCleaner is my favorite optimization tool that allows you to personalize and clean up your system in some clicks. It can erase browser history and temporary files, help configure startup applications, clean and tweak registry, uninstall apps, and more.
Recuva is a file recovery tool from the team behind CCleaner. It helps recover lost or deleted files from your computer, music players, or a digital camera's memory card. What I found interesting is, it can recover buried files – even from damaged disks.
Moreover, it further helps to delete files on Windows securely.
RecoveRx is a data recovery tool, like Recuva, that aids in restoring erased files from most digital devices such as players, thumb drives, external hard drives, etc. You can also use this app to format drives, but it is compatible with just Windows.
Disk Drill is a file recovery tool that helps to recover files of all formats – either through scanning using options like Quick Scan and Deep Scan or reconstructing the deleted files.
This app has a comprehensive filter system, using which, you can locate lost data via file name, size, extension, creation or modification dates, etc.
Another data recovery application, Wise Data Recovery helps you to get back deleted or formatted files from local as well as external drives. The tool supports many types of data including documents, photos, and videos, etc. and works on Windows.
DataRecovery
DataRecovery helps you to recover deleted files on your Windows PC. You can recover files from hard disk or portable flash drive and hard drive. However, this application is not compatible with all system configurations, like most data recovery tools.
Google Chrome is a fast and secure web browser. It comes with built-in malware protection and automatic update feature to provide the latest security fixes. Luckily, it can be used as a portable tool, but some features like certificates and saved passwords are locked to a computer, thus cannot be used across various machines.
Mozilla Firefox is the efficient and user-friendly web browser that is built with multiple privacy-protection features such as pop-up blocker, advanced privacy and tracking protection, automatic updates, etc.
It works portable, like Google Chrome, so you can take your favorite browser along with the bookmarks and its extensions.
CintaNotes is a simple note-keeping application. The notes can be highlighted and copied quickly, thanks to keyboard shortcuts. The notes can also be backed up, divided into sections, tagged hierarchically, and protected with a password as well.
Foxit Reader enables you to view PDFs on the go. You can open, view, edit, annotate, sign, and print a PDF file. It also protects your devices against viruses with its decent security features. Lastly, it is an easy-to-use tool but works on Windows alone.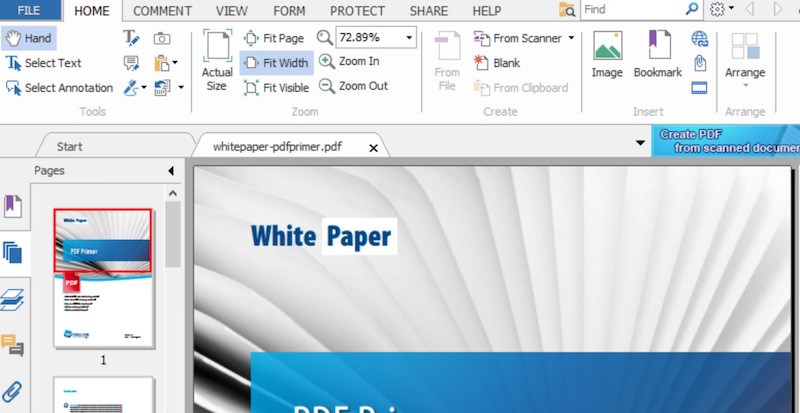 LibreOffice is a user-friendly office suite. It comes with Writer to create documents, Calc to work on spreadsheets, Impress to create presentations, Draw for flowcharts and vector graphics, Math for working on formulas, and Base for databases.
VLC Media Player is a powerful and portable media player that supports many formats such as MPEG-1/2/4, MP3, Xvid, WMV, etc. It is also compatible with DVDs and VCDs. Its portable version is free to use, but it can be used on just Windows.
KeePass is a free and user-friendly password manager. This app manages and stores your passwords for different applications and services. The passwords are secured using a master key, which becomes the only password you need to remember.
The portable version of this app is compatible with Windows, like most tools on this list.
Revo Uninstaller works as a complete and efficient software uninstaller. It allows you uninstall stubborn apps, removes junk files, clear browser history, etc. It can also remove multiple programs in a batch. It is portable and works on Windows alone.
Windows Sysinternals allows you to handle system utilities and technical issues by troubleshooting and diagnosing Windows including its various apps and tools. What I liked is, it comes with a 'Sysinternals Live' feature that allows you to directly execute tools from the Internet without the need to manually download the same.
FileASSASSIN deletes any file in your computer including locked or system ones. Thus it helps to eradicate files put in place by a malware infection. The only downside is, it may even delete an important system file, so you must be cautious while using it.
AppCrashView allows you to view information regarding application crashes that occur in Windows PCs. This application is free to use and reads data from files created by the Windows Error Reporting. This application is compatible only with Windows.
Slax Linux is a small, efficient, and portable operating system that can be used without installation directly from a flash or portable hard disk drive. It comes with necessary programs, and you can further extend it by adding more tools as required.
Elive Linux is a fast and stable operating system, which works on even the oldest computers. It can be run directly without any installation through a pen drive. It is user-friendly, has a dynamic interface, and offers numerous everyday tools.
Porteus Linux boasts of being a high-speed operating system that is optimized to run via a USB flash drive, CD, or a memory card. Porteus requires just 300 MB of storage, supports multiple languages, and brings most essential apps and tools.
wattOS Linux is a free and easy-to-use operating system. It has an efficient interface that works on low-resource systems, and thus brings back life in old machines.
It works through thumb drive as well and features graphics, multimedia, and web tools.
Paragon Rescue Kit Free can revive files and backup or restore data when the system is infected or lost to a virus or a crash. It has a simple interface, supports Windows, and brings tools like boot inspector, network configurator, partition undeleter, etc.
Lazesoft Recovery Suite Free is a data as well as system recovery toolkit, which can be used to rescue deleted files or fix the system after it gets crashed.
This app works for Windows and proves helpful when you need to fix a system instantly.
Gandalf's Windows 8.1 U1 PE 1.0 is a pre-built Windows PE that has tons of useful and utility apps such as internet browsers, media players, anti-malware tools, etc. It is a portable tool that can be installed on a flash drive or a portable hard drive.