30+ Examples & Tutorials of Stunning Polar Panorama Photos
These interesting photos go by various namings –polar panorama, panorama and polar, little planet, planet panoramas, 360 degree panorama, etc but they all mean the same thing. It is created with a panorama photo under one of Photoshop's Distort filter, Polar Coordinates.
They are not as hard to create as they looked. In this article, we attempt to show you how some of the nicest Polar Panorama photos we've found, together with Photoshop tutorials to that help you to create them. Full list after jump.
Baroque Planet
Roudnice Railway Station
Planet New York
My Little World
Manhattan Skyline
Interact Globe
How to create one?
These tutorials are created with Photoshop with your existing panorama photos. If Photoshop is not at your disposal, try usng GIMP
Create your very own planet Rames of Adobetuts gives you an idea how to create a polar panorama in 10 simple steps.
How to Create Your Own Planets Using Your Panorama Another great Photoshop tutorial by Photojojo.
More Examples
Flickr: Create Your Own Planets Flickr group with more than 2300 members sharing about 6000 polar panorama photos.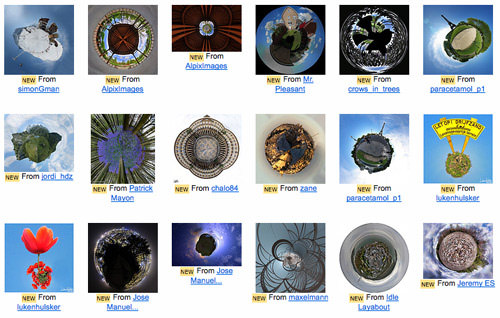 Flickr: Polar Panoramas – A smaller group but yet sharing some really stunning photos.
Compfight Search – Random search with CompFight Flickr Search