10 Free Photo Management Desktop Apps You Should Know
Photo managers allow you to organize your life in photo albums and take care of your digital memories – smartly and efficiently. In this post, we're showcasing the best 13 desktop photo managers that help you view images, manage metadata and do much more.
Image management tools are nothing new, however these tools offer features that were just a thought of fiction in the past. For example, "Smart Albums" auto-organizes your photos, "Remote Albums" tracks photos on networks, "Search Photos" lets you find pictures.
Photos is an intuitive existing photo manager and gallery for all your Apple devices including iPhones. The replacement for iPhotos, Photos is a cloud-synced application for organizing your growing library at a central place easily.
It also offers numerous image manipulation tools to add filters, customize fine details and do much more editing right in the app.
Pro(s):
Offers "Smart Sliders" feature to edit like a pro even if you're a newbie
Lets you see photos in moments, collections, years & more image views
Allows sharing photos via iCloud Photo Sharing & AirDrop to various places
Con(s):
Photos may not win over power users who wishes for advance features for example, import & export tool, collage maker, "remote albums', image protection and support for third-party cloud storages like Dropbox, Google Drive, etc.
Photo Gallery, included in Windows Essentials 2012, is an essential pack of photo editing & management tools. This free software brings more power and allows importing photos from cameras and other devices, tagging and searching images, creating & viewing slideshows and a lot more. Also, it offers various image editing and auto-adjusting features as well.
Pro(s):
Enables batch editing for processing multiple images
Lets you create collages, panoramas and fuse photos
Offers support for around 10 popular image & video formats
Allows sharing photos & videos to Facebook, YouTube, blogs and more
Con(s):
Photo Gallery is not enough for advanced users. Some of the missing features are "smart albums', "remote albums', more powerful photo editing tools, third-party cloud storage support, etc.
Shotwell is a photo manager and editor for GNOME desktops supporting numerous Linux distributions. The software, though open source, brings many image management features like grouping and flagging photos, searching, tagging & rating images, etc.
That's not all: Shotwell also offers many editing features like image transformations, color adjustments, etc.
Pro(s):
Offers extended dynamic functionality using plugins
Supports over 15 images, codecs and video container files
Allows creating slideshows and publishing photos on networks
Con(s):
Shotwell, though offering few advanced features like posting images online, lacks few useful image management capabilities as shown by its Windows alternatives. Also, it could have been better with advanced editing tools and support for more formats.
Adobe Bridge CC is multi-lingual asset management software that allows managing digital assets ready for easy access. This tool allows previewing PSDs even without Photoshop.
Moreover, it lets you make metadata and thumbnails, import photos from mobiles or cameras, adjust color settings, process photos, search, filter & sort images and lot more things.
Pro(s):
Support panoramic and HDR images
Allows editing multiple pictures in flexible batch mode
Lets you organize personal & team assets at a single place
Supports numerous photo, video and document files (PDF, PSD and more)
Con(s):
Adobe Bridge CC brings various productive tools, however, it doesn't compare with photo editors. With better image editing features, automatic images or albums management and sharing options, it could have been the perfect package for everyone.
Phototheca is a superb photo management software, allowing you to view, search, structure and organize your digital photos. The app lets you group photos in albums, events, live albums and smart albums than just simple folders. It offers you plethora of editing tools to touch-up images, edit metadata, search photos, find duplicates and do much more.
Pro(s):
Allows securing photos under a password
Offers various browsing options like calendar and timeline
Lets you import photos from numerous places including network drives
Con(s):
Phototheca offers lots of image management features but lacks in image editing options.
XnView MP offers media browser, photo viewer and image converter in a single package. Built on XnView Classic, it offers numerous photo management and enhancement features like image transformation & editing tools, metadata editing, print module, duplicate finder and a batch processing tool. Works with Windows, Mac OS and Linux.
Pro(s):
Supports browsing 500+ image formats
Offers multiple views like thumbnail, filmstrip, slideshow, etc.
Creates various exports such as web pages, image strips, contact sheets, etc.
Con(s):
XnView MP, though a premium package, doesn't packs in few advanced features and tools like "Smart Albums" and others. Moreover, it's only free for personal or educational uses and nonprofit organizations, but a premium license is required for professional uses.
StudioLine Photo Basic is a image management package with power features. The software offers features like transformation options, special effects, color mixer, etc. along with multitude of image management features such as quick search, sorting, metadata editing, import and export tool, print tool and many more.
Pro(s):
Allows batch processing for making changes easily
Offers creating calendars and greeting cards from your photos
Lets you create web gallery or send photos via email for easy sharing
Con(s):
StudioLine Photo Basic's free edition requires you to sign up for a cost-free key, which may not suit everyone. Its premium version offers more polished features or tools like watermark filter, Flickr upload tool, image backup tool, etc.
IrfanView is a compact photo editor cum viewer that provides a wide range of tools and options to organize and enhance your images. It allows creating thumbnails and slideshows, editing metadata, searching images and much more. Moreover, you can add effects and finishing touches to your photos with just a few clicks.
Pro(s):
Allows batch processing of multiple photos
Supports 120+ image and audio/video formats
Offers support for plugins to add additional functionalities
Con(s):
IrfanView doesn't offer advanced filters or tools like "Remote Albums" for power users. The app's user interface is "too user-friendly" to the point that users are required to go through trial-and-error repeatedly find the right tool or filter.
PicaJet is a digital photo organizer with powerful features to suit your needs. Along with categorizing your photos automatically using folders or metadata, it also lets you view photos from network shares.
Some of its worthy features include image editing, automated import tool, metadata viewing, image searching, timeline view, skins and many more.
Pro(s):
Supports 60+ image, audio and video files
Allows hiding personal photos for basic security
Lets you create slideshows and web galleries of images
Con(s):
PicaJet has lots of eye-catchy features on its premium version such as better image editing, offline archive (on DVDs), powerful search tool, password-protected photos and lot more. Also, its free version lacks metadata editing which is available in others.
Zoner Photo Studio is a photo-manager-cum-editor built for organizing your photos. It handles the overall flow from importing photos from the camera, all the way to publishing.
The tool brings various management features like star rating, labeling and tagging (location tags), etc and multiple editing features including image transformation tools, export utility, etc.
Pro(s):
Supports 55+ image (bitmap + RAW) and video formats
Comes in an interface familiar to Windows File Explorer
Offers Zonerama (online photo gallery) for taking your albums with you
Con(s):
The free edition doesn't offer many features compared to its premium counterpart. The software also lacks smart management features like "smart albums" or "live albums" like some of its alternatives listed here.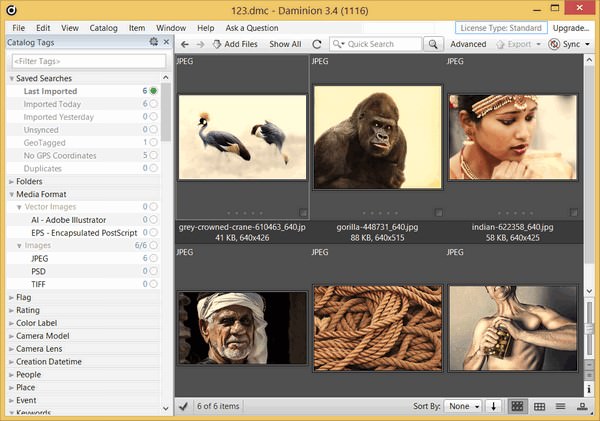 Daminion is a digital assets management solution for storing images, videos and documents structurally. Though it doesn't offer "smart albums" or such, but it allows organizing files in folders and cataloging them using multi-level tags, properties and more. It also offers metadata editing, and importing of files from various other sources/managers, etc.
Pro(s):
Lets you export images & files with optimizations
Supports 85+ image, audio/video and document files
Allows searching for images and other files as well as their content
Con(s):
It is free only for home or personal use. Also, it lacks completely in image editing options unlike other photo management tools. You will require an image editing tool to use with Daminion.
FastStone is an image browser, editor and converter available as a 3-in-1 package. It brings in various image management features like sorting images into albums (using folders), metadata editing, image comparison, etc. The app also offers numerous editing features like transformation, color effects, special effects, text & shapes, etc.
Pro(s):
Support for more than 20 photo and RAW formats
Offers batch processing for large number of image files
Allows creating slideshows, image montages and contact sheets
Con(s):
It doesn't features various options and tools found in other such software. Moreover, it supports a fewer number of image formats compared to Phototheca and other image management tools.