How to Find Out Feedburner Subscribers Figures (When they don't tell)

Some bloggers keep their Feedburner feed counter (chiklet) hidden until they reach a comfortable figure. The reason – simply because the small figures discourage people from subscribing to the blog. Well, it's not all true but it does affects a little. So if you are dead curious about one blog's feed count but the owner aint putting a Feedburner chiklet, there's still way to find out. Here's how.
http://feeds.feedburner.com/~fc/feedID
Copy paste the following to your browser, replace 'feedID' with any blog's feedburner ID, hit enter and you'll be return a the amount of readership in a chiklet. It's really that simple to find out.
How to Hide Feedburner feed count
The reason why the above URL is able to trace your feed count is because you left the option open. To close and prevent people from knowing how many subscribers you currently have, go to Publicize tab, click FeedCount and disable this service.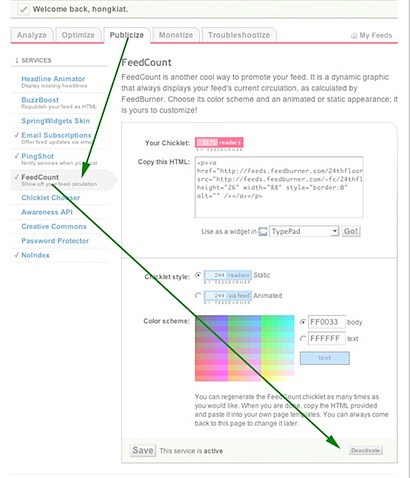 Hat tip from Ganesh
This post is published by a Hongkiat.com staff (editors, interns, sometimes Hongkiat Lim himself) or a guest contributor.