7 Best Sound Booster Apps to Download (2023)
Get the best sound quality with these volume booster apps, perfect for movies and music.
Your smartphone or laptop is not just a device anymore; it's a part of your life. The need for gadgets has paved the way for the invention of new applications.
Among all the features your device offers, exceptional microphone quality is essential. Since your device serves as an entertainment hub, audio quality plays a significant role.
However, there are instances when the volume levels on your smartphones, tablets, or laptops are simply inadequate.
That's when a volume-boosting app becomes relevant. Whether it's a low-volume video, a quiet song, or the struggle to hear important notifications in a noisy environment, the need for a volume boost becomes evident.
Best Sound Booster Apps for an Enhanced Audio Experience
Cutting-edge technology ensures the best listening experience for your movie nights and audio content.
Volume booster apps have emerged as solutions to enhance audio output, taking your listening experiences to new heights.
If you're struggling with the volume on your device, these volume booster apps might enhance your experience.
Volume Booster Plus is what you need if you wish to maximize your audio range up to 500%. You may not need to extend the volume range to the maximum level, but the option is there to suit your preference.
The primary function of this application is to amplify the audio output of your device's speakers beyond the standard limit set by the operating system.
Feature
User-friendly graphics
Suitable for PC and Android
Simple features that work on all
Download Volume Booster for:
Precise Volume (+Eq/Booster) does exactly what its name suggests. If you're looking to enhance your audio quality with a greater volume range and improved audio clarity, then Precise Volume is your go-to solution.
This app is packed with features that your device needs. It's more than just a volume-boosting app. It offers a 5-band equalizer with a bass booster, amplifier, and equalizer presets.
Features
The app is highly customizable, offering a multitude of different presets for various listening experiences.
It's designed to work with a wide range of devices, including headphones, speakers, and sound systems.
It's a delight for bass enthusiasts.
Download Precise Volume for:
Boom redefines your movie experience without the need for expensive headphones or sound systems. From crisp music to dynamic action scenes, Boom captures all the details and delivers them to your ears in high definition.
Clear audio is a must for all gaming buffs, and Boom ensures to deliver quality interactions at every step. Boom is a multi-channel booster that brings you unmatched audio quality.
Features
Unbeatable sound effects to elevate your listening experience.
A clear user interface for easy navigation.
Allows you to control audio levels across individual applications.
Comes with a fidelity effect to improve the overall audio quality.
The spatial feature gives a boost to your speakers and intensifies the 3D effect.
Download Boom for:
Volume Booster Pro is a standard volume amplifier with a straightforward interface and features. It's ideal for all Android devices. Volume Booster Pro is a simple tool that helps you enhance your audio range and quality.
While it doesn't offer fascinating features like other volume boosters, it does a decent job of enhancing your audio quality. The features may vary depending on the version. However, here are some basic features of Volume Booster Pro.
Features
The core feature of Volume Booster Pro is to provide precise control over volume.
Different versions of Volume Booster Pro allow you to adjust the audio.
It may include preset equalizer settings for different music genres.
It may allow you to create and save your custom equalizer settings.
Download Volume Booster Pro for: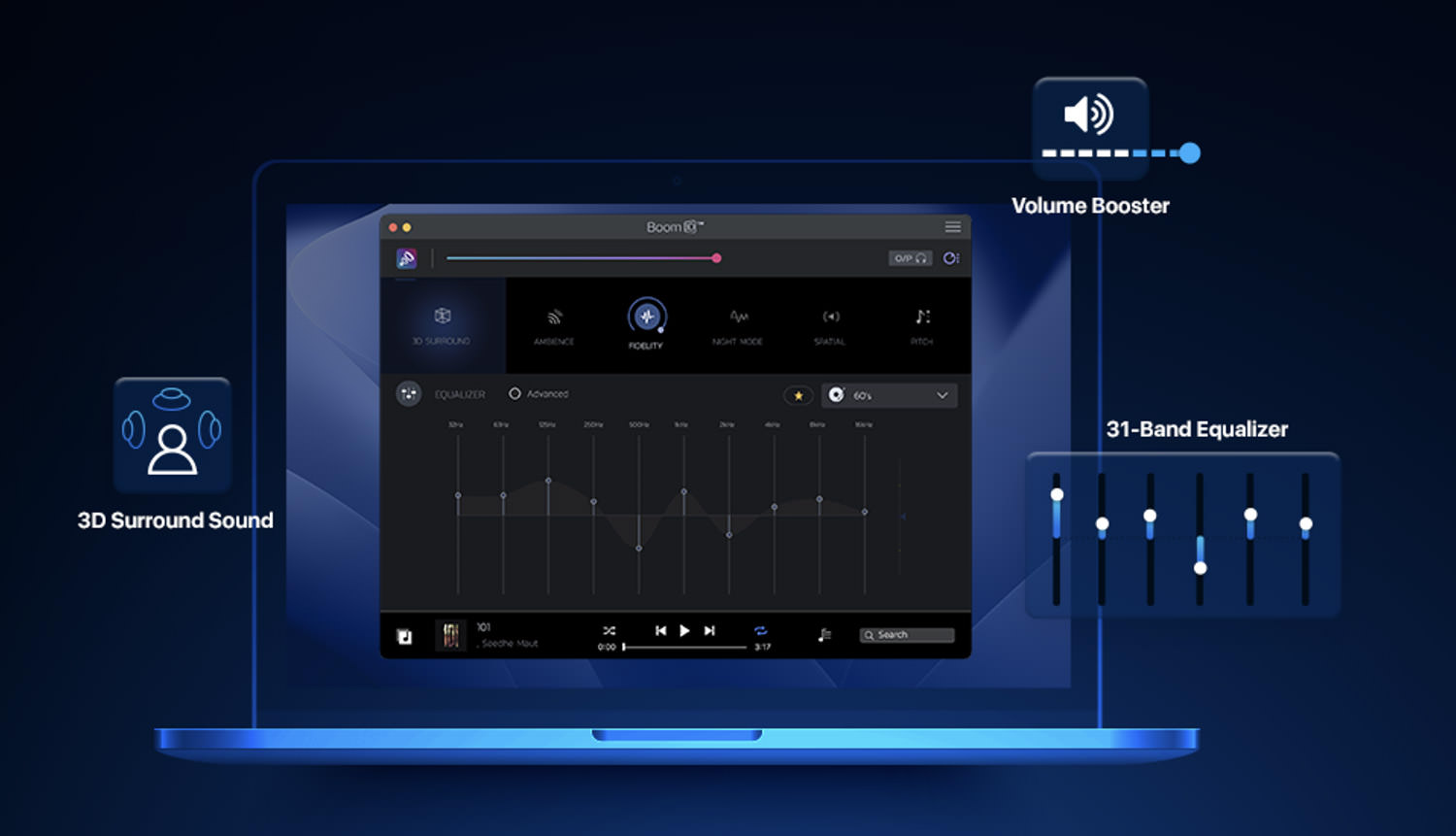 Equalizer FX is a popular volume booster app for Android devices. This app enhances your sound quality and allows you to adjust the sound effects for your audio content.
You can manually adjust the levels of different frequencies, including bass, midrange, and treble, to achieve your desired sound quality.
You can manually modify the level of different frequencies including bass, midrange, and treble, to achieve desired sound quality.
Features:
Equalizer FX includes a bass booster feature that enhances the low-frequency response, adding depth and richness to the audio.
The app allows you to create virtual surround sound, expanding the soundstage and creating the impression of immersive audio.
Equalizer FX may also offer a reverb feature that adds ambiance or a sense of space to the audio output.
It is designed to be compatible with a variety of audio apps and media.
Download Equalizer FX for: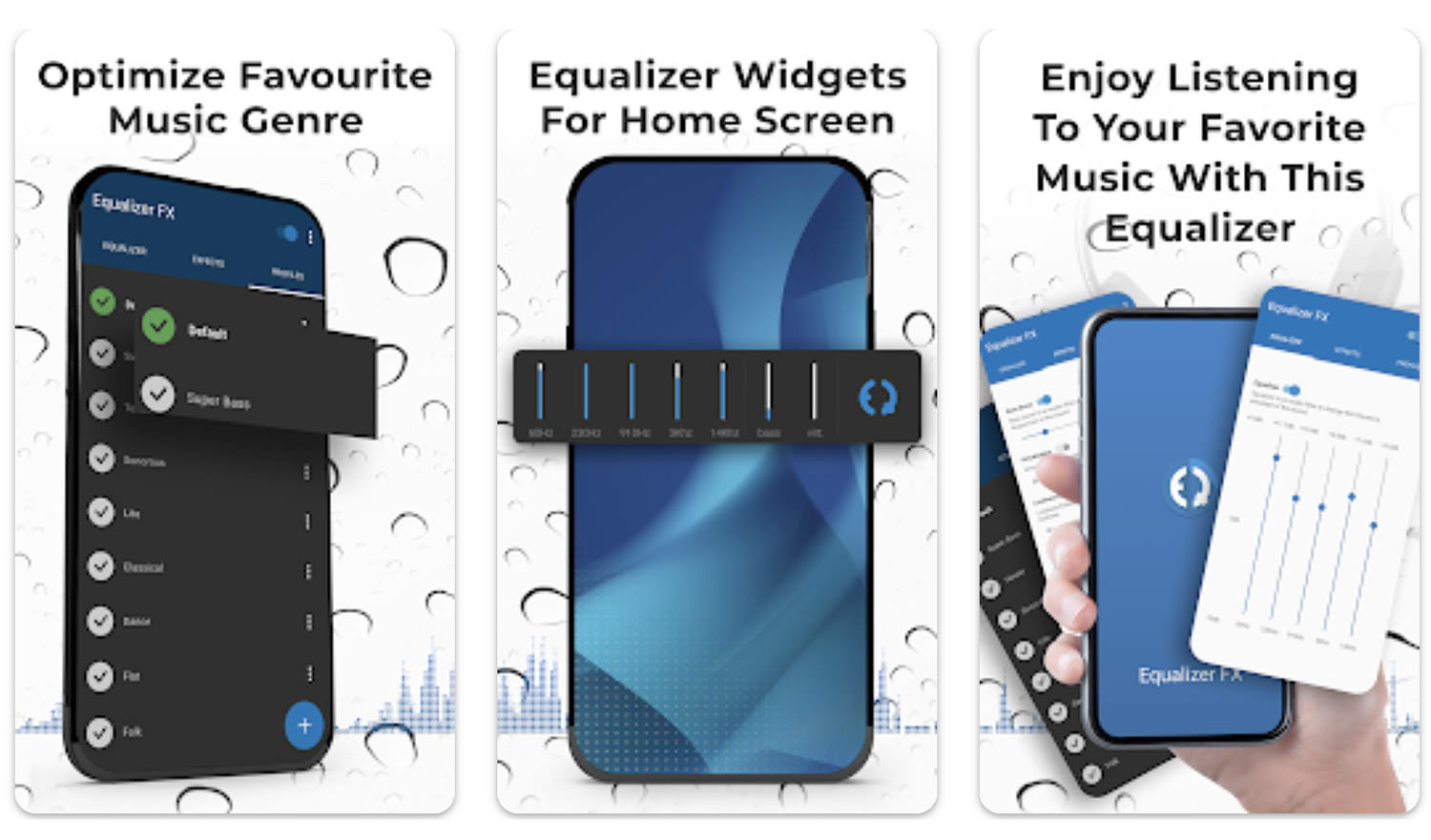 Boom3D is a volume booster app for MacOS and Windows designed to enhance the audio quality of your existing speakers.
Boom3D provides immersive 3D surround sound technology, adding depth and spatial audio effects to your music and audio content.
The app is equipped with an impressive set of tools to boost volume and create an immersive listening experience.
Check out our review on Boom3D for Mac.
Features
3D Surround Sound
Equalizer Presets
System-Wide Audio Boosting
Advanced Audio Effects
Audio Player
Download Boom 3D Volume Booster for:
The VLC Media Player can be your go-to volume booster app. It offers a frequency range of up to 200%, making it ideal for watching movies and video content.
The VLC Media Player features an audio enhancement tool that can potentially boost the volume of your media files. You can use the "pre-amplification" setting within the app to increase or decrease the volume level.
Moving the setting to the right will boost the volume, while moving it to the left will lower the volume.
Related: 20 Tips For VLC Player Users
Download VLC for:
Advantages of Using Sound Booster
Amplified Volume Control: A sound booster gives you the power to increase the volume beyond the limits of your device's settings. This comes in handy when the built-in speakers or headphones of your device don't deliver the volume intensity you prefer.
Improved Audio Quality: A sound booster app does more than just amplify your media's volume. It also enhances the overall audio quality by offering features such as an equalizer, bass boosters, high pitch adjustments, presets, and much more.
Personalized Settings: Many sound booster apps provide the option for users to tailor the settings to their liking. From adjusting the volume level to creating personalized profiles and presets, these apps ensure a more immersive sound experience.
Compatibility Across Various Apps: Sound booster apps are engineered to work seamlessly with media players, streaming services, and communication platforms. Whether you're watching a video or playing a game on your device, a sound booster app can enhance the audio quality across all platforms.
Disadvantages of Using Sound Booster
Audio Distortion: A significant downside of employing a sound booster application is the potential for audio distortion. If you excessively amplify the volume, it can lead to a distorted sound that becomes unclear, muffled, or even crackling.
Diminished Sound Quality: Prolonged use of a volume booster can degrade the audio quality of your media. When you push the volume too high, the audio may become compressed, losing its dynamic range.
Damage to Speakers and Headphones: Regularly using a volume booster app at maximum levels can potentially harm your device's speakers or headphones. Overloading the audio output can put a strain on the internal components, leading to distortion, buzzing sounds, or even permanent damage.
Risk of Hearing Damage: If used irresponsibly for extended periods at high volumes, volume booster apps can have long-term detrimental effects on your hearing. Prolonged exposure may also result in conditions such as tinnitus and other hearing disorders.
What You Should Know Prior to Installing Sound-Boosting Apps
Here are a few things you should know before installing any sound-boosting apps.
Ensure you download the app from a trustworthy source. The official app store for your device's operating system is a good choice. Android users can rely on the Google Play Store, while the App Store is ideal for iOS users. Be wary of third-party websites or lesser-known sources, as they might contain malicious software.
Spend some time reading user reviews and ratings for the apps you're considering. This step can provide a good sense of the app's compatibility with your device and its ability to meet your needs.
During installation, closely scrutinize the permissions that the app requests. Some sound-boosting apps might ask for permissions that aren't necessary for their operation, such as access to your contacts or location, potentially raising privacy concerns.
Remember, some sound-boosting apps, particularly those downloaded from unofficial sources, may contain harmful elements like malware or adware. Prioritizing your device's security when downloading new apps is always a smart move.
Final Thoughts
To wrap things up, incorporating a volume booster app into your device can significantly improve your audio quality. When choosing an app, it's important to look for features like volume amplification, equalizer settings, preset options, audio effects, pitch control, frequency range, and of course, a user-friendly interface.
At the end of the day, the best volume booster app for you will hinge on your individual preferences, the compatibility with your device, and your unique audio needs.
So, take a moment to delve into the various options available, weigh up their features, and select an app that best meets your needs for a superior audio experience.
Frequently Asked Questions
1. What's the best app for boosting mobile volume?
There are numerous volume booster apps available on the Google Play Store that can significantly improve your mobile volume. Some notable ones include VLC for Android, Precise Volume, Speaker Boost, and Equalizer FX.
2. Is it safe to use volume boosters?
Generally, most volume boosters are safe to use. However, given the variety of volume booster apps available, it's important to carefully consider the features they offer and how they align with your needs. Before downloading any third-party app, ensure you understand their policies and that they are being downloaded from a reputable source.
3. How can I increase my volume beyond 100%?
Typically, there's no need to push the volume beyond 50%. However, if you're looking to enhance the audio quality for specific occasions, you might consider downloading volume booster apps that can amplify the volume up to 200-500%. Some apps even offer an audio range of up to 1000% for dynamic sound effects.
4. Can maximum volume cause damage to my ears?
Exposure to volumes above 70 decibels for extended periods can potentially harm your ears. If you're using headphones, it's advisable to keep the volume within a safe audible range to prevent hearing issues.
5. What's a safe volume level for my phone?
A phone volume within the 70-decibel range is deemed safe. Going beyond this range could seriously affect your hearing. For context, 85 decibels is as loud as a blender, club music, or heavy traffic. To protect your ears, it's best to keep the volume within the 70-decibel range.