FocuSee Screen Recording App with Auto-Pan and Zoom (Review)
This screen recording app offers a unique editing tool for auto zoom, pan, and background changes. Explore its features.
We've previously showcased a variety of screen recording apps on this site, both free and paid. However, the app I'm about to introduce stands out as one of the best I've ever used.
Developed by the same team behind Gemoo, FocuSee is a streamlined screen recording app that works on both Windows and Mac. While both operating systems have built-in native screen recording features, FocuSee enhances the overall screen-recording experience, in my opinion.
Not only does it record your screen, but it also transforms your video into a stunning masterpiece with automatic zoom, pan, and background addition, all done seamlessly.
Continue reading to explore all the features of this app.
Getting Started
Once you've installed the app, you'll be prompted to grant permissions for screen, webcam, voice, and system audio recording. Click 'Enable', authorize in System Settings, then click 'Confirm'.
Using FocuSee for Screen Recording
FocuSee offers full-screen, custom area, or active window recording options, similar to Mac's built-in feature. Choose your area, then click the 'REC' button. Pause as needed and press stop when finished.
Edit Your Recording
After stopping the recording, you'll access the video editing interface to enhance your video before exporting.
Adjusting Canvas Size
You can change the video canvas size in the app, making it fit for various platforms like YouTube, LinkedIn, or TikTok.
Adjusting Video Style
In FocuSee's 'Style' section, you can tweak:
Padding: Adjust the video size relative to its background.
Inset: Set the border thickness.
Roundness: Change the video's corner roundness.
Shadow: Add a shadow effect to the video.
Background Customization
Change the video's background using preset images, a solid shade, or a custom color.
Example: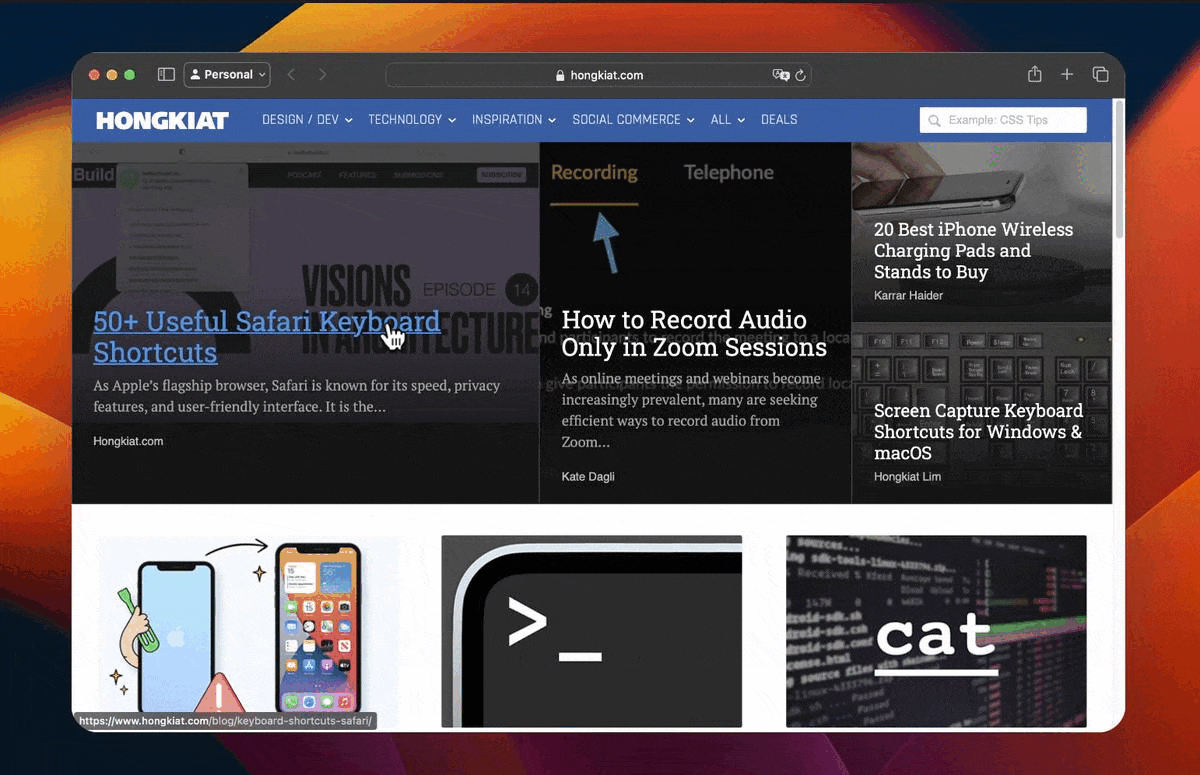 Cursor Modifications
In the Cursor section, customize the cursor's appearance, size, and add mouse click effects.
Adding a Zoom-In Effect
You can enhance your video by incorporating a zoom effect, guiding viewers to specific areas of interest. You can manually direct where you want it to zoom in, or let the app auto-zoom by default. To do this:
Select the zoom bar on the video timeline and position it where you'd like the zoom to begin and end. Adjust the duration by dragging the zoom bar's sides.
Then, use the blue circle on the left to pinpoint the zoom's focus area.
Example:
Here's a sample video where I positioned the zoom in a browse's URL bar.
Creating a Highlight Effect
You can also introduce a highlight effect in the video. To do this, simply click once on the highlight icon in the toolbar, and then position it where you want the highlight to appear.
Here's the same sample video again, now showcasing both the zoom and highlight effects.
Exporting Your Video
Once you've finished editing, you can either save the video to your computer via the 'Export' button or share it using a link with 1GB free storage and an embed code. To utilize the 'Share' feature, a Gemoo account sign-up is necessary.
For direct saving, you can tweak certain settings before hitting the 'Export' button.
| | |
| --- | --- |
| Format | mp4, gif |
| Resolution | 720p, 1080p, 2k, 4k |
| Frame rate | 10fps, 20fps, 24fps, 25fps, 30fps, 50fps, 60fps |
FocuSee's price
Now let's talk about the price of the app.
1-Computer Plan: Priced at $69.99, this plan provides FocuSee for a single device, either Windows or Mac. It includes lifetime access, free updates for Version 1, 1GB online storage, and interactive video features.
2-Computer Plan: At $95.99, this plan covers two devices, Windows or Mac. Users receive lifetime access, Version 1 updates, 1GB storage for sharing, and interactive video capabilities.
5-Computer Plan: For $179.99, this plan supports five devices, both Windows and Mac. It offers lifetime use, updates for Version 1, 1GB online storage, and enhanced video features.
Gemoo is offering hongkiat.com readers a 30% discount with the code SPECIAL30, valid until 2023/10/31. If you're interested in getting this app, you might want to take advantage of this offer now.
In Conclusion
This tool is suitable for those unfamiliar with video editing, allowing them to produce decent tutorials, promotions, and other videos. Although the price may seem a little high for a screen recording app, the added features like zooming and panning enhance the video quality. The focus on key areas adds value. Additionally, it's a one-time purchase with no recurring fees.