40 Creative and Beautiful QR Code Artworks
The QR Code (Quick Response Code) is as new kind of the barcode that carries information that can be scanned by a QR code reader. It also comes with a deadly boring design. But thanks to reader integration designers are now able to transform its meaningless look into visually appealing designs like the one you see here!
Today, just about anyone can bring their boring QR code design up a notch. Here are just 40 thematic QR codes with creative, promising and beautiful designs! While some of them may look a world away from the usual black and white QR code, you will be surprised with the fact that they actually can be scanned for info.
Most of the QR codes can actually work, but not every photography app or QR scanner application can detect them. However, you can still search and download multiple QR scanner apps from the app store to try them out. So what are we waiting for? On to the list!
Angry Birds
Can you get 3 stars for this stage? Very cool design, but floating blocks are only possible in the latest Angry Birds Space!
Source: Ads of the World
JESS3
Just as how it introduces itself, JESS3′ QR code art is all about creativity.
Source: JESS3
Assorted
Inspiring and entertaining, their codes, like the ones below, just work!
Source: JESS3
Fluid Pumping
Love the fluid pumping illustration! Awesome improvements that spice up the QR code's look, who says only black and white can get all the fun!
Source: JESS3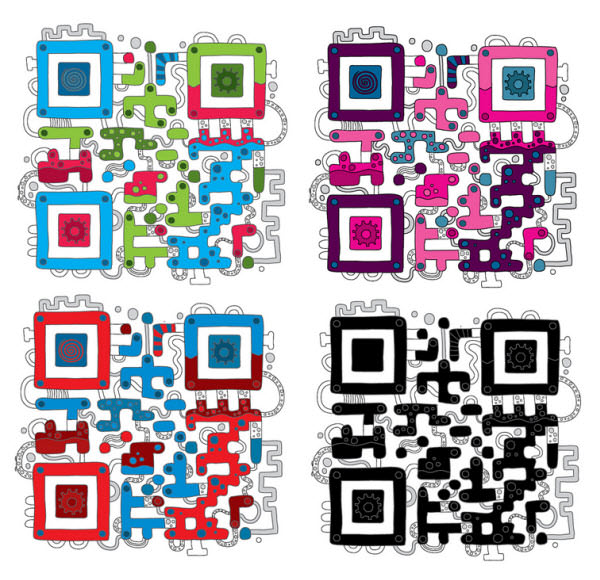 Cartoonic
I perceive the QR code as something square always, but not any more after I witness these quirky designs – and they work!
Source: JESS3
Lego Bricks
It's really encouraging to find this 3D QR code! A rarity in the QR code industry.
Source: JESS3
Facebook
Truly genius!
Source: JESS3
Fruit Ninja
And when I first view the design, I was thinking the way to slash them all in one hit!
Source: Qrezy
Emily the Strange
When I reach this from a Japanese site, I knew that this cool design could work.
Source: SET
Allied Pickfords
But the truck is blocking the code! No worries, still functioning at its best.
Source: SET
Invaders
Space Invaders have never failed to invade any art form that has the potential to be geeky, and this invasion is helped by QRious déco.
Source: QRious déco
Auto Chrome
With this gorgeous design, it's proven that overlapping dots work fine with the code.
Source: QRious déco
Elie Vazar
A truly unique one that attracted me to pick up the scanner, curious to try it out.
Source: QRious déco
IPA
Besides the cool visual, the designer must have put in so much extra effort and planning to carve out this fabulous piece.
Source: QR Arts
Corkbin
Quite standard but twisted some shapes and colors. It actually looks delicious!
Source: Paperlinks
P.Diddy
At first glance,I thought "Wow, this could make a really good business card!" Qrezy is truly professional at QR code design.
Source: Qrezy
Ginuwine
Looking at all these portraits, I think it's time to order a QR code for myself too.
Source: Qrezy
Andrea Hamilton
Using your portrait is actually a good idea, as the human's face, especially the eye, could attract a great deal of attention.
Source: Qrezy