Make Your Own Meme! 20 Meme-Making IPhone Apps
If you are fans of memes, there's a chance that you have tried making one yourself via meme-making websites. These web-based meme-makers will have the regular stockpile of memes but if you were to introduce your own pictures and turn them into a meme, well ain't nobody got time for that!
Here's where your iPhone can help. We have gathered in this list 20 of the top-rated apps to create your own meme with! Turning your own photos into memes is as easy as taking a snapshot or picking one out from your photo gallery.
Start having fun with Philosoraptor, Fry, the Rage Comics family, derp, herp and derpina and the rest of the meme family. Nutella and nyan cats not included.
Recommended Reading: 30 IPhone & IPad Apps To Have Fun With Your Photos
PicMeme
Simple and self-explanatory interface that comes with four layout templates.
Upload images from your photo library or take photo to the layout before publishing or saving the completed meme. [Free]
Mematic
Create your meme in four easy steps! Choose either 'Advice Animal' or 'Demotivational' style before uploading your personal pictures, or choose from a number of popular meme images before adding your personalized caption. [Free]
Meme Design
Apart from using your own pictures for your creation, this app with a sleek-looking interface offers tons of meme templates sorted alphabetically for your pleasure.
You can also change the colors of the fonts. The only beef you might have with this is that you only have one layout to work with. [Free]
This one will need you to sign up an account to be part of the Meme Factory social network where you can view memes created by others; 'like' or 'dislike' them and share your own work.

You get to customize the positions and sizes of your captions as well. Not bad if you're looking for some inspiration from other meme creators. [Free]
Meme Maker
Yet another easy-to-use instant meme maker. Upload your picture or pick a meme image from a ready-made selection, put in your caption and Share. [$0.99]
Memefier
A very cool app that utilizes the camera function, detects faces and replaces them with meme faces of your choice.
If you want to spontaneously create meme photos as you shoot with your camera, this is your best option. [Free]
WhatYouMeme
If you're into the collage or comic-strip kind of meme, you wouldn't want to miss WhatYouMeme.
On top of a caption for each of up to four pictures for your collage or comic strip, you can position your speech or thought bubbles. [Free]
Mr. Meme
Customize your photos from the gallery or camera with the memes provided. You can crop and rotate your uploaded pictures easily by pinching your touchscreen before including them in your text.
The free version only allows you to create up to five custom memes. [$0.99]
Meme+ Pro
Other than offering you the standard tools for generating a meme photo from your library or from templates, Meme+ Pro also provides meme sounds and information on various memes and their origins.
Perfect for the meme fanatic. [Free]
Mememize!
Stick over a hundred of your favourite meme faces onto your photos and add adjustable captions and speech bubbles!
The plus of Mememizes! is that it allows you to keep editing and saving the image to churn out different variations of your meme. [$0.99]
Over 400+ unique meme templates. Expect the whole meme family to be at your fingertips with this app for just 99 cents. What more can you ask for? Let the trolling begin. [$0.99]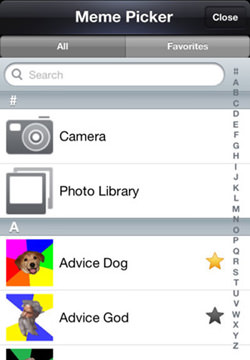 Put a meme face onto your pictures with Trollolol's library of meme faces. You can even adjust the position, angle, size and orientationi of the meme to fit on your object of desire. Then, share them with your friends.
With the in-app purchase of Epic Mode ($1.99), you get over 300 more faces, no ads and the ability to add text to images. [Free]
Meme Studio>
This has got to be the app with the largest library of memes – with thousands of memes and optional free-pack downloads (plus in-app purchases of more than 1500 memes).
You can also choose your favourite font, size and color for the caption. There are lots of sharing options as well. [$0.99]
Meme Something
Give your memes that extra touch by placing add-on graphics such as the moustache, geek specs, piggy nose, etc.
They can be moved and scaled easily to create a most realistic meme photo! [Free]
Simpel to use; fast results. All you need to do is either choose a template meme from the library or use your own pictures then key in your scalable captions.
Share or save the meme and you're done! [Free]
Meme-It Pro
A nice app that affords a good amount of customization for caption (size, font and color).
That and also over 350 templates for creating your memes. [$0.99]
Meme Creator
Add and move text lines bearing different colors and sizes around your meme.
Other than text customization, there's also more than 360 meme templates to choose from, for your meme-making needs. [$0.99]
Meme-fantasy
Meme-fantasy is catered to creating advanced comic-strip memes with storylines.
Definitely a chance for you to show off your creativity to your friends! [$0.99]
Rage Maker
This one has a huge library of over 500 meme faces, and is more for advanced meme creators who are serious in making full rage-comic strips.
You start off with several choices of comic panel; each column can then be customized with rage faces, text, and you can even add hand-drawn images to it. By far the most detailed meme creator in this list. [Free]
An all-in-one meme app that allows you to create Demotivational Posters, Rage Comics and Memes in the studio, you can also join its meme community to check out other meme-makers and their work. [Free]