Websites to Create and Manage iOS Passbook Passes – Best Of
Passbook is a place to store boarding passes, loyalty cards, store rewards cards, coupon codes and even movie tickets. Information of all those cards or coupon codes will be stored in the Passbook app, where retailers just have to scan the QR code to validate.
Using the power of Passbook, the obvious benefit is that businesses do not have to hand out royalty cards or printed coupons anymore. Instead, when creating a Passbook coupon, all they have to do is share the link with customers where it will then appear on their iPhone. Passbook also has a notification system within the iOS platform which means sending newsletters to customers about latest offerings and discounts will be in the past.
With locations enabled on the iPhone, Passbook can also show the exact location of your store/café/business for the benefit of your customers. Businesses also have the option to update customers about daily promotions as they walk past your store location.
Having given you so many reasons to start using Passbook, this article will also feature 5 best websites that are offering services to create and manage Passbook passes. These web services aim to help businesses implement Passbook with just a little knowledge of coding.
PassSource comes with many templates to choose from to begin the creation of your passes. Some templates are easier to use than others – some coding knowledge is required to fill in more advanced information to make the passes work with your business's system.
For example the Starbucks Card template allows you to transfer the details of your current Starbucks card to Passbook by inputting your Starbucks card number, current balance and currency code. You can do this on your iPhone by accessing their website; after filling in your card details, you'll be directed to the Passbook app and it'll be ready for use.
PassSource is still very new and they are working on improving the user interface of their template editor and make it simpler to understand what each code jargon does.
You're able to create unlimited passes with their templates for now, but later on you'll be able to manage the passes you've created with a monthly or annual fee which varies in price depending on personal or professional usage.
Passkit is another website which offers the creation, distribution and management of passes for your business. Their Pass Designer gives you the ability to fully design your pass by adding your own pictures, logos, descriptions and colour scheme.
Not only that, you'll be able to add text information like what a 'free coupon' pass entitles the customer to, the terms and conditions, or contact details.
There is also the option for dynamic text information which will be useful to update customer loyalty points. The pass preview is helpful when adding information in as it shows you how the front and 'back' of the pass looks like.
You can set the location of redeeming the coupon and have it notify the customer when they are nearby.
To save your created pass, you'll have to register with an email address. Details to distribute your pass will then be given to you – a QR code or a link can be used to distribute your pass. Check this video out on how to use Passkit which also showcases all their features.
Passdock requires you to register before you can use the features on their website. What's good about Passdock is that it has many templates of big companies where you can get a rough idea on how you can design your own passes.
You can create your own template and then save it for future use. Your personal template can then be used multiple times where each pass has a unique serial number.
You're able to view the design of the front and 'back' of your passes by pressing the info button at the bottom right corner of the pass preview. There are 2 modes to choose from while designing your pass – Simple and Advanced – which can be changed at the right side of the top menu bar. Selecting Advanced is much better with more useful tools not found in Simple mode.
After you've created your unique pass, you can either scan the QR code or share it through social network websites like Twitter, Facebook, Google+ and Pinterest or share the direct link.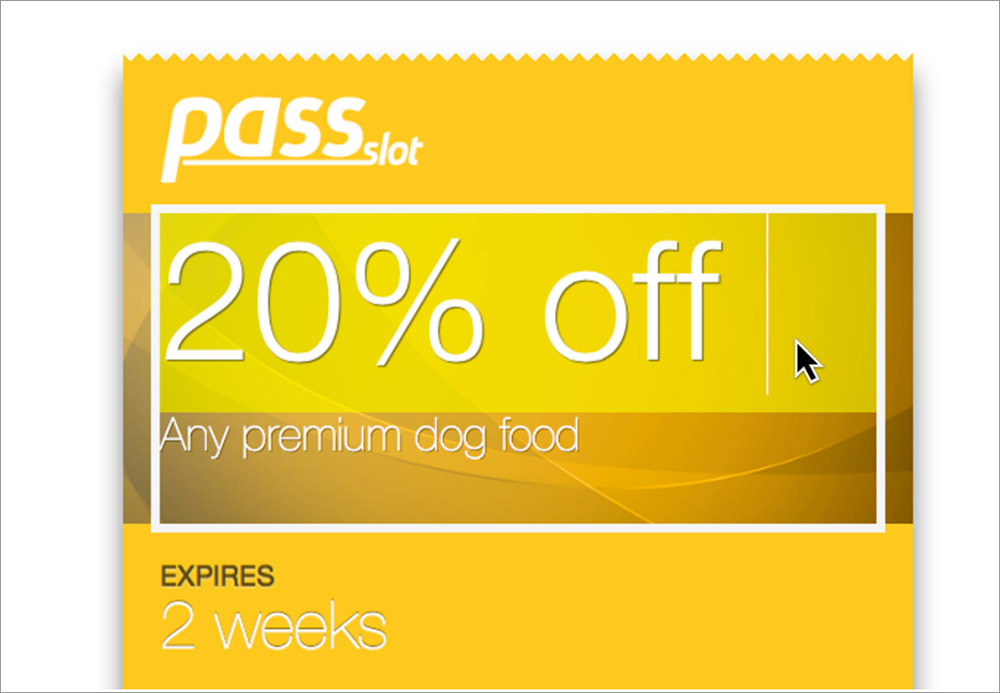 Passslot is an Apple wallet pass designer that makes it super easy for you to create your passbook pass. It allows you to design coupons, store cards, event tickets, membership cards, and even boarding passes using well-designed templates.
To create a passbook pass, all you have to do is to go to the passbook designer page, select the pass type and fill in the information in the fields given below. You can even upload your own images and logo in the pass. There is, however, a requirement to sign up for an account on the website.
Other important features offered by Passslot include pass distribution service that allows you to share your passes on all major mobile platforms and gain insights on your users and support for major payment platforms like PayPal, Stripe, and PAYMILL.
In short, users get complete control of every aspect of their passbook passes with a bundle of other features.
Conclusion
Passbook is new to the market but there is no harm in getting ahead of your competition through the services these websites provide. These web services offer businesses the ability to bypass the difficult bit as they handle the Apple side of things for you
However at this point of time, there is no official word by Apple if these services are allowed to do so but why not try out Passbook right now within your employees to find out if it integrates well with your business.