30 Templates & Vector Kits to Design Your Own Infographic
Infographics are one of the best ways to present information in graphical or pictorial form. For a designer, though, infographics mean creating hundreds of big and small elements like icons, charts, graphs, and buttons etc. However, instead of creating all these elements from scratch, infographic designers keep templates and graphic kits in their repository.
So, for all my designer fellows, here are 30 high-quality templates and vector kits that can help you design awesome infographics. Dig into the following collection and see if there's something that can come in handy for your next infographics project.
Read Also: 30 Graphic Design Trends in Infographics
This cool orange infographics kit contains 12 unique components, including pie chart, graphs, map (area chart), and timeline. It's available in both dark and light versions.
This cool flat vector kit allows you to create clean minimalist infographics with a map, triangle, timeline, and more. The pack has 5 infographic templates and 16 icons in AI, PNG, PSD, SVG and EPS formats.
This pink kit consists of different elements allowing you to create a demographic infographic. It features graphs, charts, icons, pie charts with percentages.
This bright vivid infographic elements pack has everything you may ever need. It has icons, timeline, map, charts, line graph, histogram, bar charts, and more.
This four color infographics kit includes two kinds of text blocks and numbers. You can use it to explain any data step-by-step.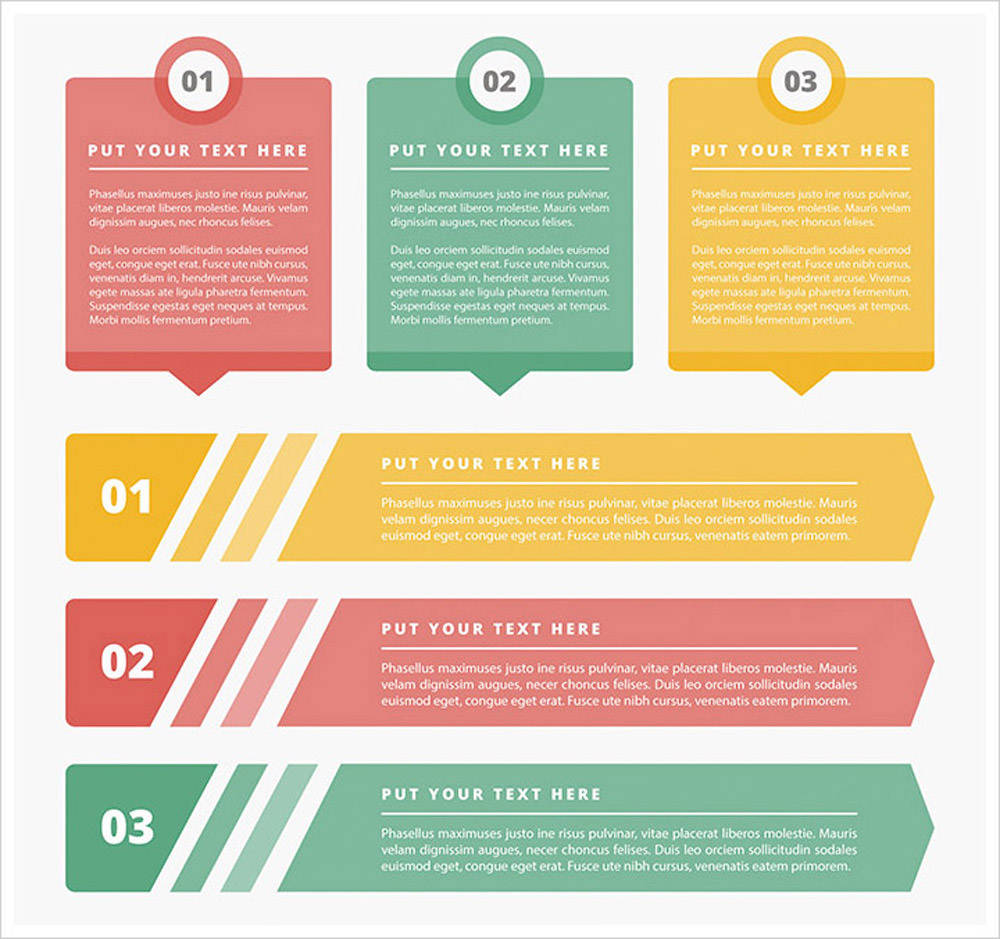 This infographic kit will be useful for visualization of your projects. You can change any element, like color and size to fit your needs.
This financial infographic kit has dots map, money bookmarks, and bar chart. It's available in three formats: SVG, EPS, and PDF.
This subtle infographics kit is an amazing choice when it comes to visualizing your data. It has color pallet, pie charts, bar charts, a map, ribbon titles, and progress bars.
This infographic kit to create your own presentation or statistical projects for business or study purposes. It has all kind of elements you may need to showcase your information.
This infographics elements kit has all necessary stuff to compare various options. So, if you need to visualize and compare any data, use this free kit.
This infographic kit has green, grey, and blue elements to combinate. These elements will help you illustrate different options using arrows, circle, and even a bulb.
This orange and red infographics kit has different elements such as pie chart, graphs, percentages, greeting card, poster, and label.
This design elements kit allows you to create amazing infographics related to ecology, nature, environment, transport, solar energy and more.
This business infographic kit consists of flat design icons with long shadows, colorful pie charts, graphs, and bar charts.
This infographic kit has different circle icons connected to each other. You can put your logos, icons, and text there.
This infographic kit can be used for SEO, social media, digital marketing, science, and internet technologies industry.
This design elements kit consists of different icons, arrows, and charts which would be a perfect for creating demographic infographic or a timeline of development of something.
This cool infographic kit has different design elements suitable for business and demographic topics, such as bar chart, graphs, icons, map of the world, and globe icons etc.
This amazing education flat design kit will help you to create a helpful infographic for school children and students.
This infographic kit contains pie chart and text blocks you can create an infographic to showcase the percentage of something, for example, how many women and men work in a particular industry.
This cute illustrated businessman is surrounded by different icons which you can change on your own icons and text.
These pie chart design elements can be used for any kind of infographic. These pie charts look like pre-loaders of different types.
This design elements kit consists of desktop illustration and colorful text block which can be used for business infographic.
This amazing infographic kit includes pyramid bar chart, a map, a bar chart, a pie chart and text blocks. It has everything you need to create an informative infographic on any topic.
These huge design kit contain the most popular infographic elements such as map, human infographics, timelines, pie charts, line charts and much more.
This infographic vector kit contains the elements you need to create high-quality SWOT analysis and line design pie chart.
This design elements kit contains four vivid colorful text banners you can use for your future infographic. You can use different numbers, titles, icons, and colors.
This vector design kit has timeline, pie chart, bar chart, and graphs. It will be a perfect solution for any kind of report infographic.
This design elements kit will be a great choice for business. It has five different research charts and text blocks to showcase various options.
This nice flat design kit allows you to create a bank, economy, or financial infographic. It has a bank, ATM, computer, and cash icons along with text blocks and arrows.
Read Also: 35 Cheatsheets & Infographics For Social Media Marketers