Top 10 BuddyPress Plugins for WordPress
BuddyPress — the "social network in a box" for WordPress — is the most powerful tool for creating communities or social networks using WordPress. The plugin unlocks various social networking capabilities for users like creating profiles, sending messages, building connections and groups, and many more.
BuddyPress comes with tons of features for creating a rich community or social network website powered by WordPress. However, you require a killer theme and some add-ons for BuddyPress to build a social network that tests the limits of your imagination. And it's not easy to find them — not the best ones.
That's why I'm going to introduce you to the best ten add-ons for BuddyPress that brings additional or better features to BuddyPress. Let's get going!
A full-featured media solution for WordPress and BuddyPress, rtMedia allows your users to post media to activity status updates — just like Facebook. It adds new media tabs under BuddyPress Profiles and Groups. Also, it lets the users create collections (more like albums) to organize their photos and videos.
rtMedia avails a responsive lightbox, video player, and upload screen that works across all device sizes. Its privacy features allow users to control the visibility of media files and albums. Last but important, you get to customize its every aspect, thanks to its rich templating system and a wide variety of settings.
Another plugin for enhancing media capabilities for BuddyPress, Activity Plus Reloaded adds Facebook-like features to your social network. With this plugin, the users can attach photos, videos, and web links with their networks — just like Facebook. It adds quick-share or upload options to the activity stream.
Your users can also embed videos from video-sharing services including Vimeo and YouTube. Also, it lets them embed web links like any modern service, i.e., the web link is shown along with its title, description, and thumbnail image.
iFlyChat is one of the best chat solutions for WordPress and BuddyPress. It adds real-time chat features to your community or social network, which then helps in boosting the user engagement in your network. The users can privately chat with each other and chat in groups or public chat rooms — like Facebook.
Its best feature is "chat moderation" — you can moderate the chats including link spamming and swearing in the chats. And the complete chat history is saved until you as the admin or moderator delete them. But that's not all, it allows the users to send emojis, share files, video-chat with others, surprisingly!
However, it limits the features — especially the concurrent users using the chats — in its free plans. Its free plan allows just ten users, but you can opt for its paid plans, which offers support for 60 to 300 users and more features.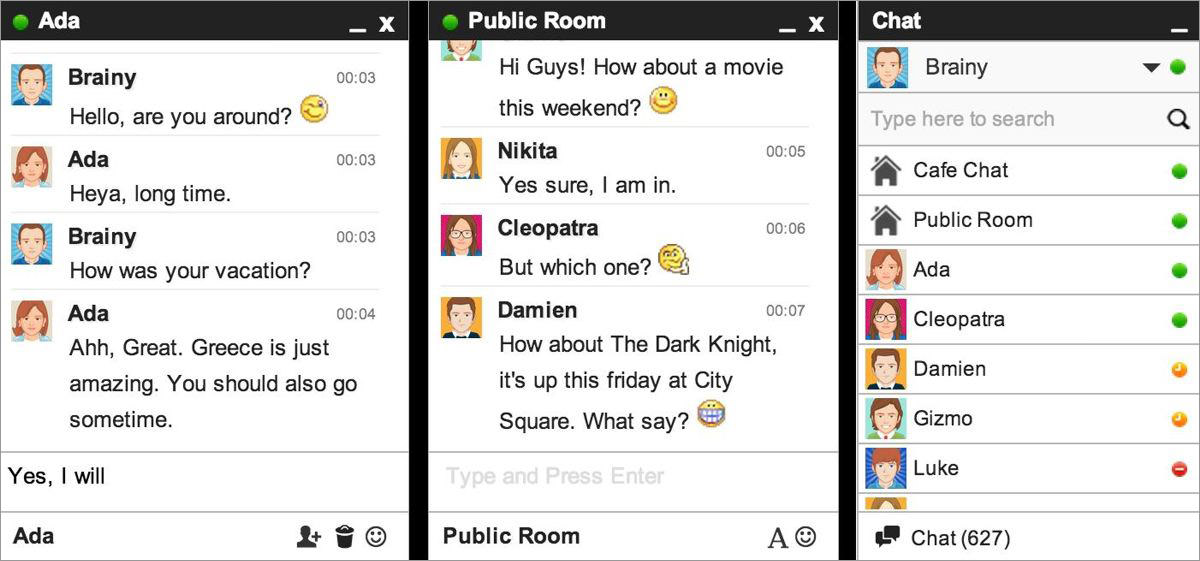 Another one of the crucial plugins, BuddyPress Global Search adds global search functionality in your community or social network. Thus, it allows every user to search for every component of BuddyPress — pages, posts, and custom post types like activities — all from a unified search bar showing live results.
BuddyPress Global Search is easy to set up as well. You just need to install this plugin and every search box works as Global Search. It shows the results in a tabbed interface — live results auto-styled per your default template.
Broadcast Live Video adds support for live video in your community or social network website. It allows users to broadcast live-streaming channels on your website via various sources like webcam, video playlists, and desktop or mobile encoder apps. The best part is it supports both desktop and mobile.
However, this plugin works directly through your web hosting, so your hosting platform must support streaming services. Fortunately, it also means that you get complete control and ownership of the live-streaming content.
BuddyPress Docs adds Google Docs-like capabilities to BuddyPress, i.e., your community or social network website. It brings collaborative workspaces — part document editing, part shared folders, and part wiki — to your network. Then, it's not the best part; it even offers the users complete privacy levels.
The docs are linked to your users or user groups with support for tags and taxonomies. The users can manage filterable and sortable document lists — all created using the TinyMCE (the well-known editor shipped with WordPress). Moreover, it helps users avoid losing content or overwriting documents. Last but important, you can check out a doc's revision history like Google Docs.
As BuddyPress Docs brings Google Docs-like capabilities, BuddyDrive brings Google Drive-like capabilities to your BuddyPress. The plugin allows your network members to share files and folders in an easy way. Moreover, it offers numerous privacy settings like BuddyPress Docs and Google Drive.
A user can just upload a private document, share it with friends or user groups, or share it publicly with everyone in your community. Surprisingly, it also allows securing a file or folder using a password to share with added security.
BuddyPress default features don't allow editing activity posts after a user creates them. With this plugin, your community users can edit their activities long after they create them. Also, this time limit is customizable through the WordPress Admin. It's easy to set up: install the plugin and it will do the rest.
You as a blogger or website owner don't like spam, right? It's also true for your community members or social network users, but it's not easy to stop spam — at least using traditional methods. Spam Destroyer helps you stop automated spam (i.e., bot-based spam) on your website without obstructing real users.
BuddyPress Registration Options doesn't follow nomenclature. Unlike its name, it doesn't focus on registration options but moderation options regarding user registration. The plugin helps you moderate new user registrations in your community or social network, which helps fight spam and other abuse.
You can block or restrict new users to their profiles only; they can't visit all of the community until they're approved. It allows customizing messages and email notifications to tailor them per your community or social network.
Youzer is one of the best plugins for enhancing user profiles on BuddyPress or WordPress. It adds several powerful add-ons and features to user profiles, which lets you create Facebook Timeline-like profiles to your social network. It brings social wall, groups, messages, notifications, and whatnot to your website.
Also, it adds activity stream, social login, emoticons, and groups and members directories to BuddyPress, making it a powerful community or social network. Then, it offers multiple color schemes, header styles, and profile widgets along with privacy settings and support for showing custom advertisements.
Though you can download and try the plugin for free, Youzer doesn't avail a free plan, unfortunately. But it avails a big list of features, making it worth a try.
That's all; you may not require all of these plugins for creating your dream community or social network using BuddyPress and WordPress. That said, you must decide and get the plugins that add or help add the feature you're looking to provide to your users. Or the ones you need such as Spam Destroyer.