20 Things About Jeff Bezos You Probably Didn't Know
You most likely know of or have heard of Jeff Bezos. After all, he's the man behind Amazon.com, the largest e-retailer in the world. When you get right to it, he is the man who has revolutionized the way we shop today. He basically paved the way for online shopping and created a trend for other entrepreneurs to follow.
With his net worth currently at $28.8 billion, this places him at No. 21 on Forbes' World's Billionaires list. But even a wealthy man like Jeff Bezos had to start somewhere right? In this article, we take a quick glimpse at his life so far. From his childhood to the causes he holds dear, here are 20 interesting things that you probably didn't know about Jeff Bezos.
1. The man who raised him wasn't his biological father
Jeffrey Preston Jorgensenlit was born on 12 January, 1964 to Jacklyn Gise Jorgensen and Ted Jorgensen. They got divorced after only being married for a year. His mother later on married another man, Miguel "Mike" Bezos, who adopted Jeff legally at the age of 4. (Source: Biography.com)
2. Just a boy who adored his grandfather
Jeff Bezos' maternal grandfather, Lawrence Preston Gise worked as Regional Director at the U.S. Atomic Energy Commission. He played a big role in Jeff's life and was the one who got him interested in computers. (Source: Wired.com)
3. Jeff was simply fueled by his curiosity
Jeff has a passion for fixing things and figuring out how things work. He was always one step ahead of others, as evident by his desire to be be a "space entrepreneur" from a young age. (Source: Wired.com)
4. Inventing and creating has always been his passion
He was always inventing something: a solar cooker, hovercraft, a robot, lasers and an electric alarm; the alarm worked as a security system to keep his siblings out of his room.
5. Became his high school valedictorian and proved himself to be intelligent
Jeff Bezos was considered an intelligent student as he was his high school's valedictorian.
He studied physics at Princeton University but later changed his degree for Computer Science and Electrical Engineering instead. (Source: Achievement.org)
6. How he learnt that kindness doesn't come easily
In his 2010 Princeton University commencement speech, Jeff Bezos talked about how he made his grandmother cry by telling her off about her smoking. His grandfather then told him, "Jeff, one day you'll understand that it's harder to be kind than clever." (Source: Princeton.edu)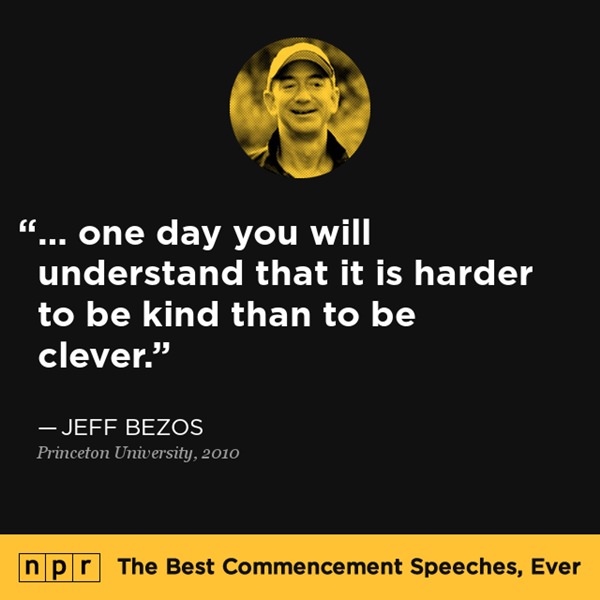 7. Jeff switched jobs
He was first employed with Fitel, a startup telecom company which lasted for 2 years. After quitting a stable job at Bankers Trust, he went to work with D.E. Shaw, an investment management firm on Wall Street. (Source: Biography.com)
8. Fell in love with a colleague
Mackenzie (Tuttle) Bezos was his colleague at D.E. Shaw. They got married in 1993 and after a year, they moved to Seattle to start Amazon.com. (Source: WSJ)
9. They adopted a daughter together from China
Jeff and MacKenzie have three sons including one daughter. Their daughter is adopted from China. (Source: CNN.com)
10. Quit his stable job to start Amazon.com
Jeff Bezos quit his position as a senior vice president at D.E. Shaw to start Amazon.com. He rented a house and worked from his garage with his first employee, Shel Kaphan. (Source: Wired.com)
11. Before Amazon.com, the company had several names
Before he settled on Amazon.com, the company was also known as Cadabra or Relentless.com. Amazon.com was named after the South American river. And the logo bears an arrow from A to Z, indicating that customers can buy anything from A to Z on the site. (Source: TheGuardian.com)

12. Jeff is a believer of small teams
Jeff Bezos believes in the "Two Pizza Rule': if a team cannot be fed with two pizzas, it's too large. To him, independent thought should prevail over groupthink. (Source: FastCompany.com)
13. The man is still frugal to this day
His frugality showed early on when he founded Amazon.com from his garage, as he turned a wooden door into a table. Up to this day, the tables in the Amazon office use the same door-desk model. (Source: Businessweek.com)
14. Generous when it comes to a good cause
When one of his employees, Jennifer Cast asked for donation of about $100,000 for a same-sex marriage cause in Washington, Jeff and his wife donated $2.5 million instead. (Source: NYTimes.com)
15. Jeff will take out the competition if he needs to
He is a highly competitive man who would not give up hounding competitors with cutthroat discounts just to put them out of business. His competitior, Quidsi, responsible for Diapers.com, was acquired after Bezos made relentless attacks with heavy discounts and offers to match Diapers.com. (Source: SeattleTimes.com)
16. Not one to tolerate incompetency
Not a fan of complacency, Jeff Bezos also does not tolerate with incompetency in his company. Some direct insults he used against his employees were, "Are you lazy or just incompetent?" or " We need to apply some human intelligence to this problem". (Source: Forbes.com)
17. Was almost involved in a fatal accident
In 2003, Jeff Bezos had a helicopter accident that gave him minor head lacerations. During the accident, instead of the life flashing before his life bit, he thought that it would be a silly way to die. He has now sworn off helicopters. (Source: FastCompany.com)
18. Bought himself a newspaper company
Jeff Bezos made headlines in 2013 when he bought the Washington Post for $250 million. He wrote in the Post about his intention to keep things the same there but mentioned that future changes were inevitable. (Source: WashingtonPost.com)
19. The explorer in him is keen on space travel
Ever since he was a child, he was immensely interested in aerospace. In 2000, he started a space company, Blue Origin, LCC with the vision to bring down the cost of space travel so everyone can go into the space. (Source: Forbes)
20. The next step? Amazon Prime Air
His latest project, "Amazon Prime Air' uses drones to deliver their products and services to customers. However, the Federal Aviation Administration (FAA) has not yet approved the project as the rules and regulations does not allow the use of drones for commercial purposes. Despite that, Jeff Bezos is hopeful to make it a reality within the next few years. (Source: USAToday.com)