9 Affordable Domain Registrars (2023)
Discover 2023's top affordable domain registrars. Get your '.com' without breaking the bank.
Whether you're launching a personal blog, setting up an online store, or creating a platform for your business, the first step is securing your address on the internet – your domain name. But where do you get one, and how do you ensure you're not overpaying? Enter the world of domain registrars.
In this blog post, we'll guide you through some of the most affordable domain registrars in 2023 where to get your domain name without breaking the bank and we'll focus on their pricing for '.com' domains.
What is a Domain Registrar?
A domain registrar is essentially a company that sells domain names (addresses for websites) in the online world, akin to selling land for construction of houses in the real world. A domain name, for instance 'google.com' in 'www.google.com', is what people type into the browser's URL bar to visit your website.
These registrars are accredited by ICANN (Internet Corporation for Assigned Names and Numbers), a non-profit organization that oversees all domain names globally. After purchasing a domain name from a registrar, you gain official ownership of that address on the internet. This address cannot be utilized by anyone else as long as it remains registered in your name.
Key Takeaways
| | | |
| --- | --- | --- |
|   | Price of .com | Whois Privacy Proection |
| | $7.99/yr | Yes (Free) |
| | $10.99/yr | Yes ($8.99/yr) |
| | $12.99/yr | Yes ($1.25/mth) |
| | $9.48/yr | Yes (Free) |
| | $1 (first year), $15 (subsequent) | Yes (Free) |
| | $9.99/yr | Yes ($1.99/mth) |
| | $13.99/yr | Yes (Free) |
| | $7.99/yr | Yes (Free) |
| | $12/yr | Yes (Free) |
Cheap and Affordable Domain Registrars
Here are nine of the most affordable places where you can register your domain, along with their prices.
GoDaddy is one of the leaders in domain registration, offering a wide range of services to help individuals and businesses establish their online presence. It provides a simple and user-friendly platform for searching and purchasing domain names, with over 500 domain extensions to choose from.
GoDaddy is recognized as the world's largest domain registrar, trusted by over 21 million customers and managing over 84 million domains. They offer 24/7 customer support and ensure a hassle-free setup process, even for those without technical skills.
Additionally, GoDaddy provides free domain privacy to protect users' personal information, real-time monitoring to ensure your site is always up and running, and tools to forward your domains to any existing website. They also offer a unique feature where you can start accepting payments immediately without a website, using a pay link branded with your domain.
At GoDaddy, a .com is priced at $7.99 for initial price and same for renewal. They also provide free basic Whois privacy.
Register a domain with GoDaddy
Domain.com is a trusted and comprehensive platform for online presence management, serving customers for over two decades. It offers a wide range of services including domain registration with more than 300 extensions, web hosting, website building, and professional email services in collaboration with Google Workspace. The company also provides web design and marketing services for those who need expert assistance.
Domain.com is not just a domain registrar or a website builder, but a one-stop solution for individuals and businesses aiming for online success. They offer a variety of domain hosting packages and tools to help you establish and grow your online presence. Their customer service is top-notch, offering live chat support, a knowledgebase, and a blog filled with tips and advice from industry professionals.
Domain.com offers a variety of domains across over 25 country codes. The prices start from $0.99 for the first year for non-premium TLDs (.art, .click, .foundation etc), .com starts at $10.99. Privacy protection costs $8.99.
Register a domain with Domain.com
Bluehost is a reputable domain registrar that offers a wide array of domain name extensions, allowing you to create a unique and memorable online identity for your brand or business. Their service is designed to be user-friendly, making it easy for you to manage your domains from a single control panel. They offer features such as domain forwarding, auto-renewal, domain lock, and expert support to ensure a seamless experience. Additionally, they provide domain privacy to protect your personal information from potential spammers and identity thieves.
Bluehost also offers a lightning-fast search feature to help you quickly find the perfect domain among the multitude of options available. They are a trusted global domain provider, offering peace of mind and a huge selection of creative domain names to help your site stand out.
Bluehost sells .com domain at $12.99 per year and .org from $9.99. Those buying a shared hosting plan from Bluehost get a free domain thrown in.
Register a domain with Bluehost
Namecheap is known for its competitive pricing and comprehensive offerings. They offer a wide range of top-level domains (TLDs) including .com, .net, .org, and many others at discounted rates. Namecheap also provides free products and services when you register a domain, including privacy protection for life and a free email address. They have an easy set-up process and provide expert help and advice whenever needed.
They also offer monthly coupons and package deals that include a free domain with hosting. Namecheap is committed to privacy and security, and they have a 24/7 customer support team ready to assist with any issues.
A.com domain with Namecheap cost $9.48 for year one, $13.98 on renewal, .co.uk priced at $2.98 for year one, $9.48 on renewal, .org costing $8.99 for year one, $14.98 on renewal, and .mobi reaching $19.99. They also provide WhoisGuard domain privacy for free.
Register a domain with Namecheap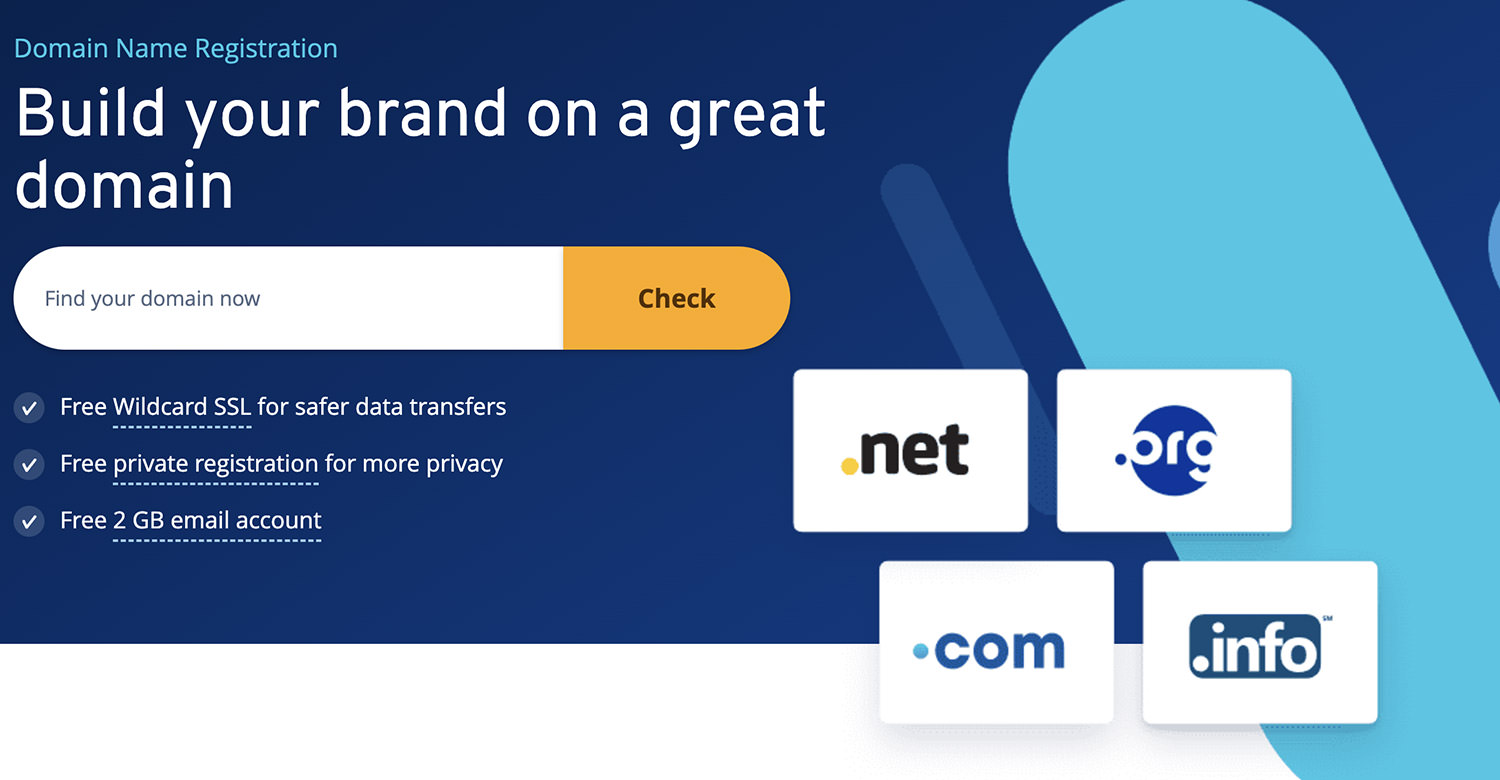 IONOS offers a wide range of services to help you establish and grow your online presence. When you register a domain with IONOS, you also receive a number of free essentials such as an SSL certificate for secure data transfers, a domain email address, and up to 10,000 subdomains to structure your website.
They also offer a free 2 GB email account and easy setup to connect your domain with third-party services or social media accounts. IONOS ensures the security of your domain with a domain transfer lock and provides 24/7 customer support. They also offer a personal consultant service for tailored advice and support.
IONOS offers .com, .org, .net, .biz, and several others for $1 for the first year. After that, the renewal price for .com is $15/year, and for .org, .net, and .biz it increases to $20/year.
Network Solutions is a comprehensive digital service provider that assists businesses in establishing and growing their online presence. Being the world's first domain registrar with over 25 years of expertise, they offer a vast range of services including domain name registration, website and eCommerce building, web hosting, and security solutions like SSL certificates and cybersecurity.
Additionally, they provide professional email services, productivity tools like Google Workspace, and various online marketing tools to boost site traffic. Network Solutions is trusted by Fortune 500 companies and is committed to providing a quality experience for all its users. They offer flexible and affordable solutions, facilitating businesses to start building their brand online.
Network Solutions offers .com at $9.99 per year. They also offers private registration to protect your personal information online. The extra protection is free for the first month then auto-renews for an additional fee of $1.99 per month.
Register a domain with Network Solutions
Hover is a domain registrar company that makes it easy for anyone, whether a newbie or an IT professional, to search for and manage domain names. They offer a wide range of top-level domains (TLDs) to choose from, and with their Hover Connect feature, you can easily link your domain to your preferred publishing tool or site builder. Hover also provides bulk pricing for those who have multiple domains, making it a great choice for agencies and entrepreneurs.
On top of that, they also offer industry-leading customer support and free WHOIS privacy, ensuring your experience is smooth and secure. They also have a domain search tool that suggests alternatives and helps you explore domain extensions relevant to your industry.
Hover provides .com registration at the cost of $13.99 for year one. They also provide Whois privacy for free.
Dynadot provides a platform for searching, discovering, and registering domain names with over 500 domain extensions available at industry-low prices. They also offer a free website builder to get your website started.
Dynadot prides itself on its suite of tools designed for comprehensive domain management, making it as simple as possible with quick setup and intuitive controls. They also offer 24/7 support through live chat or email to answer any questions. Whether you're a brand looking to control your digital presence or an investor seeking to build a domain portfolio, Dynadot has the tools and services to meet your needs.
Dynadot offers .com sites priced at $7.99 for initial price and same for renewal.
Register a domain with Dynadot
Google Domains is a domain registration service offered by Google. It allows you to find your place online by choosing from more than 300 domain endings. The service is known for its simplicity, security, and speed, with extras like email forwarding, privacy protection, one-click DNSSEC, and Google 2-Step Verification. Google Domains also offers 24/7 support from real humans.
In addition to domain registration, you can transfer a domain you already own, get a professional email address, build a website without needing to code, and market your business online with Google Ads. All these features make Google Domains a comprehensive solution for establishing and managing your online presence.
Google Domain offers .com, .co.uk and .org domains all priced at $12. Free Whois privacy is provided.
Register a domain with Google Domains
Domain Registrations FAQ
1. Can I own a domain name forever?
Well, it's not exactly like owning a piece of land that you can keep forever. When you get a domain name, you're actually leasing it for a certain period, typically up to 10 years.
But don't worry, you won't lose it after that time as long as you remember to renew your lease before it runs out. So, in a way, you can hold onto a domain name for as long as you want.
2. What happens if my domain name expires?
So, let's say you forget to renew your domain name and it expires. It's not the end of the world. There's a grace period where you can still get it back. But if you still don't renew it during this grace period, it goes into what's called a redemption period.
During this time, you can still get it back, but it might cost you a bit more. If you still don't claim it, then it's up for grabs and anyone can register it.
3. What is domain privacy and why might I need it?
Domain privacy, or WHOIS privacy as it's also known, is like a cloak of invisibility for your personal information. When you register a domain, your contact details (like your name, email, phone number, and address) are listed in a public database called WHOIS.
Now, if you're not keen on sharing this info with the world, domain privacy is your friend. It swaps out your details with those of a forwarding service. This way, you're less likely to get bombarded with spam or have your identity stolen.
4. How do I choose a good domain registrar?
Picking a domain registrar is a bit like choosing a good restaurant. You want to look at the price, the service (like customer support), the extras (think email hosting or website building tools), and of course, what other customers have to say about it.
One more thing – make sure the registrar is on the good side of ICANN, the big boss of internet domain names. ICANN stands for the Internet Corporation for Assigned Names and Numbers, and they're in charge of all the internet's domain names.
5. What happens when my domain name expires?
If your domain name expires, it's a bit like forgetting to renew a library book. You have a grace period (usually about 30 days) to renew it at the usual price. If you miss that, it goes into a redemption period where you can still get it back, but it might cost you a bit more.
If you still don't claim it after that, then it's like a book returned to the library shelf – anyone can pick it up.