Panda 5 is The Smart News Reader Designers & Developers Will Love
Old-school RSS readers are still popular because they let people curate the stuff they like, all in one place.
Panda Reader has the same idea but takes it a step further with custom RSS feeds for popular design, dev, and tech blogs. It's fully customizable, so you can change which feeds appear in your dashboard and how much space they take up.
Read Also: How to Create a RSS Reader App in JavaScript
Plus, the graphics-oriented feeds, similar to Dribbble, include preview thumbnails, so you can browse recent posts on your favorite graphic design networks.
Panda Reader is free to use as a Chrome extension and as a web app.
You do not need any account to access the dashboard, however with a free account you can bookmark/save your favorite sites and create your own customized dashboard.
Plus, this reader comes with its own link saving feature called Pandamark. You can save any links/posts that catch your eye and keep them saved for later reading. This way you can have your favorite Dribbble shots, Designer News posts, and TechCrunch articles, all in one place.
Major design sites each have their own RSS feed, so you can use Panda Reader as a simple RSS feed as well. The interface is gorgeous and it has one of the best user experiences I've ever seen.
But, to add your own RSS feeds you need a free account, so there are limitations for guests.
One thing I like about Panda Reader is how much you actually get for free. Tons of layout styles, dozens of feeds, infinite browsing, and live updates right from the dashboard. There is a pro account that offers extra layout styles and features such as a custom search option.
But, if you're a casual user who just wants to keep up with design/dev news the free account is more than enough.
This awesome web app comes from the folks at the Panda Network offering a ton of really cool web apps & tools. One example is Panda Jobs which curates the best design/dev jobs around the web, and you can even browse those right from the Panda Reader dashboard!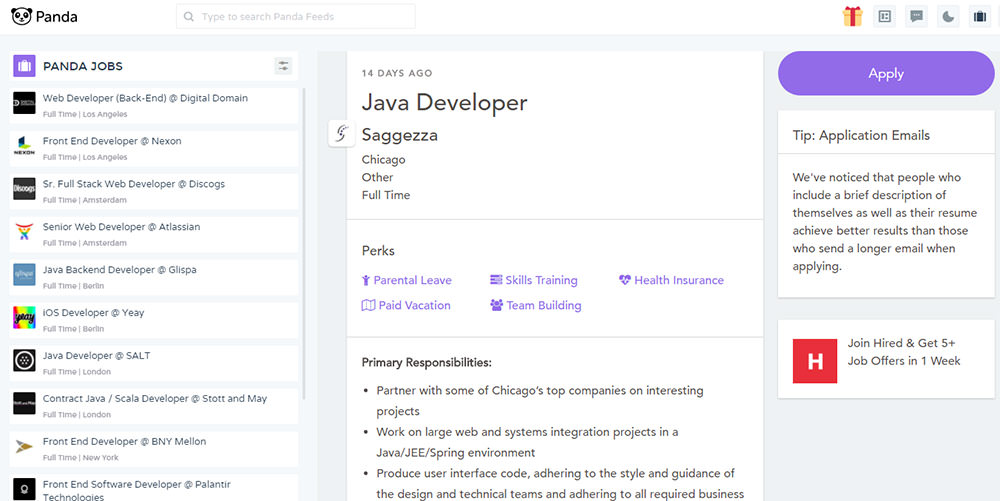 The Dribbble and Behance features alone are well worth using. But, if you're looking for one main design news dashboard to rule them all you will instantly fall in love with the Panda Reader.
Visit the main app page to get started and see what you think.