Bloggers' Networking Guide: Setting Goals & Rules (Part 2)
For me, there are two things that should be considered as the starting point of a well thought out networking strategy. The headline of this post gives a good hint on what I'm talking about, so let me just say it upfront: start by setting your goals and understanding the basic rules.
A word on setting goals
"Setting goals is an important part of most of our projects, or at least it should be. Goals are guidance for us on what path we should take."
It all sounds nice, and surely is true, but what does it really mean, you know, in plain English? Well, my personal approach can be explained by the phrase: "goals are the answer."
Here's what I mean. Whenever I'm starting a new project, the very first thing I do is set my goals. From that point on I have an answer to every question I might stumble upon concerning the project.
What I do is simple. When faced with a challenge or a decision I simply ask myself what solution is the most in tune with the goals I've set and brings me closer to achieving them.
Even though it's not that obvious at first, setting goals is as important for networking as it is for any other project.
Before you do anything, and I mean anything, you have to know what you're aiming for and why you're trying to reach out to people.
Now, I'm not going to tell you what your goals should be – this is up to you. I'm only going to give you some hints and possible ideas that are somewhat common for most people.
Common goals of networking
The word goals is pretty vague and it doesn't indicate what a properly defined goal should look like. In most cases, goals are answers to the question of what I want to achieve in a given project – what my desired outcome is.
In other words, by the end of the day/week/year what is it that you want? And I don't mean the material stuff.
For example, most bloggers have very similar answers:
"I want to have an established network of friends (other bloggers) who would promote my content to their own audiences and be willing to publish my guest posts every now and then."
"I want to have a group of people willing to participate in collaborative projects with me, and help me with my product launches."
"I want to meet some influential bloggers who could introduce me to some of the A-players in my niche."
"I want to partner with other bloggers in their launches, and be a valuable ally to them."
These are all valid goals, and they are surely worth pursuing, but what I would advise you to start with, is dividing all the possibilities into two groups.
Short term goals Vs. long term goals
Long term goals are actually better for defining first because they create an overall image of what you're doing, and point you towards the right path.
Long term goals are also more general in nature, so you can use them as a base for defining short term goals.
In essence, your long term goals are things you want to achieve ultimately. Short term goals are specific milestones that will get you to your long term goals.
For example, your long term goal might be to get to know 5 bloggers and create a strong enough relationship to be able to publish each other's guest posts and participate in their promotions in the time of one year. To get to this goal you'd have to create a number of short term goals. Things like: contact 10 bloggers and offer them guest posts within the first month. And so on.
Blogging is rarely a strictly business-like activity and, at the same time, rarely a strictly personal thing. That's why the most common long term goal of networking for bloggers is to simply make friends. To have a small number of good friends with whom you can participate in different kinds of projects, promotions and other activities.
This sort of relationship can be used both for strictly business projects and some personal, social activities. The diverse nature of blogging itself gives you such possibilities. This is something very difficult to achieve in other fields … try to imagine a similar situation in corporate banking, for example.
Here's what I advise you to do when working on your goals.
1. Pick your final, desirable outcome.
Making friends, in my opinion, is what works best. However, you can also try more business-driven approaches. Like building personal expertise in your niche, or becoming the go-to-person for a given (precise) activity.
Whatever you choose remember about two things: your goals have to be exact, and there has to be a deadline.
For example, "I want to meet some bloggers and publish many guest posts on their blogs." – This isn't exact. "I want to meet 10 bloggers from my niche and publish 30 guest posts on their blogs." – This is.
And, of course, the deadline … well, deadlines are deadlines, I'm sure you understand what a deadline is.
2. Try to define a number of milestone goals (Short term goals).
This is where you try to come up with some steps that will bring you closer to the ultimate goals.
Important. You don't have to design your whole path, so to speak. Short term goals are exactly what the name says, so you only need to define your goals for the next month or so. When the month ends you simply define another set of short term goals.
Continuing the example above; your short term goal could be to "contact 20 bloggers and offer them a guest post within 30 days." – This is both exact and has a deadline.
However, before you take your goals and do anything with them you need to learn one important thing.
Important rule of networking
I won't keep you hanging here, so I'll just say up front that the rule is this: it's not about you, it's about them.
Sorry to be the one to break this to you, but … no one cares about you (except for your mom).
OK, it's not that harsh. Your friends care about you too. But before they can care about you they need to become your friends. Same goes for your online friends.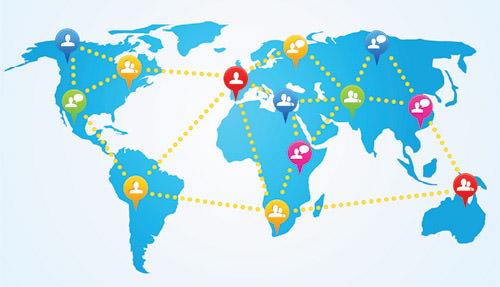 Don't be amazed that some people simply ignore your emails. It's just life. Strangers ignore each other all the time. And you are no different. When was the last time you deleted an email from an unknown recipient? … umm today?
Whatever you do, remember that you have to give before you take.
Blasting an email to a stranger titled "great business proposition inside" won't work in a thousand years. You'd be lucky if out of 1000 emails even one gets opened and read.
Now the funny part, giving just like that, out of the blue probably won't work either. I'd say that there's another important step before you can even give – introducing yourself.
Remember when your mom taught you never to take candy from a stranger? That's exactly the situation here.
So finally, here's a possible real-life scenario: introduce, give, take. Actually, a more accurate one is: introduce, give, give, give, give, take … or something similar.
In essence, networking like we're discussing it here works just like it does in real life. That's because it is real life, the internet is just a medium, and there are still people on both sides.
As a matter of fact, you have to be even more careful when asking for something online than you'd be in real life. It's much easier to refuse or even ignore someone over the internet. That's one of the reasons why some people prefer doing business over the phone to using email. Saying no to someone directly is much more demanding in terms of inner strength than writing it on the screen.
This all makes the whole online environment much more subtle and uncertain; hence the importance of giving before you can take.
It's time for action, isn't it? That's why the next post in the series is going to be all about selecting the right people to contact. Until then don't forget to subscribe to get the posts delivered straight to your inbox.
I have one more question for you. What do you think about the idea of introducing yourself before doing anything else? Don't you find giving something out of the blue to be a little strange?