Hottest Web Apps of the Month – September
We've got a great roundup of web apps and tools for you this month, following on from last month's roundup, and we think they are all going to be very handy for you
This month our selection includes useful web app that helps you to register and manage domains very easily, a great tool to help you manage relationship with your users who are using your web apps, a very neat and effective project managing tool, and even a social network for food recipes!
Don't forget you can also suggest apps for the list by commenting below, or sending us a tweet @Hongkiat using the tag #hkwebapp. We'd love your feedback on the types of apps you'd like to see, and your favorite apps. On to the apps then!
Intercom is a fantastic tool for anyone who runs a web app. It enables you to develop and maintain personal relationship with everyone using the web app, and that means users always know there is a friendly face waiting at the end of their support queries. In essence, it humanizes the relationship between you and your users.
Furthermore it enables you to see how users are using your app, where they are using it from, and a whole range of other useful information. One of my personal favorite features is that it shows you the local time of each user, which really helps smoothing out the communication process.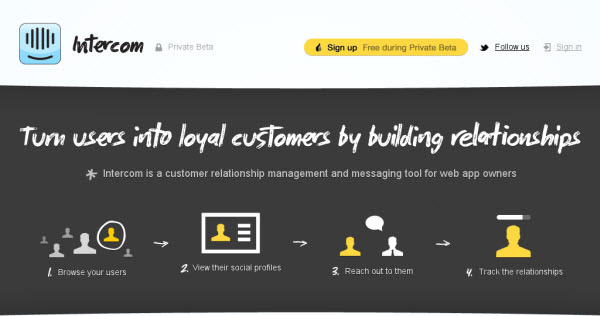 Pivotal Tracker is a great tool for anyone who follows Agile development practices. You create tracker stories and move them from step to step as they go from an idea in your head to finished product.
I've tried a whole range of tools for this purpose, but Pivotal Tracker has been the best I've tried so far. It's got a slick interface, lots of keyboard shortcuts to make the process quicker, a fantastic free iOS app, and great team integration. If you work in an Agile environment, this is an app you should check out.
IWantMyName is a domain registrar with a twist. Along with having more the 90 domain extensions for registration, they also have a killer feature on top: 1 click web app configuration for your domain.
As anyone who has gone through the set up process for a new domain can tell you, it can be pretty time consuming. Setting up Google apps, Blogger, Flavors.me or whatever else all takes time. With IWantMyName, there 70+ services you can choose from to set up in an instant, with a huge range of app types to choose from.
If you'd like your domain setup process to be a little easier, I suggest you check them out next time when you are considering a domain register.
WebPutty is a neat tool for all the CSS junkies out there. It gives you a syntax-highlighting editor in the cloud for whenever you need to make changes and your favorite text editor isn't by your side.
In fact, even if your favorite text editor is by your side, there are some really great functions built in that make WebPutty incredibly useful, the most obvious of which is one click publishing. On top of this it also features live preview, and CSS3 support, so you can easily try out all the new ideas you read about online. Great.
Trello is a really neat tool for managing projects together with teams, released by Fog Creek Software, whose CEO Joel Spolsky (of Stack Overflow fame) many of you might be familiar with.
Trello lets you organise all your different projects into boards, share them with your team, and see very quickly what is being worked on, who is working on what, and where something is in a process. It's a great concept that looks to make managing even more effective. It's currently free to sign up, so head on over and have a look.
Recipefy is a social network for recipes, which enables you to share and discover recipes in a rather unique way. Essentially you can start sharing recipes with your followers, follow people who share recipes you like, reshare recipes that appeal to you, and like recipes!
As I said, it's really a social network for recipes, and one that who enjoys good food should take a look at.
Sifter is a bug tracking app for keeping track of all those nasty issues in your apps, and how far along you are to fixing them. It lets you create projects, set milestones, assign different issues to different people, reply to comment threads, and everything else you might expect from bug tracking software.
What appeals to me about Sifter is their marketing copy – they don't claim to be the biggest or bad-ass bug tracking out there, just a simple tool that works well for small teams. Nice.
Tout is an useful app for those of us who have to send a lot of repetitive emails, where you have to repeat the same content. You create templates of those repetitive tasks (which you can also sort into categories), and when it comes the time to send them to someone, just enter their name and email address, that's possibly all!
One of the neat features of Tout is that you can link it with your Google, LinkedIn, Twitter or other accounts, and it can automatically populate different fields based on the information it pulls from there, talking about less typing works!
Yoono is a tool to unify all your social sources, and to enable you to share from one central location. It's very powerful and comes in several different flavors – browser/web app, iPhone app and desktop app.
For people who have to manage multiple profiles on multiple sites, tools like Yoono are essential. Yoono enables you to sync your status across multiple sites, share great content to all of your different networks, and stay connected wherever you are.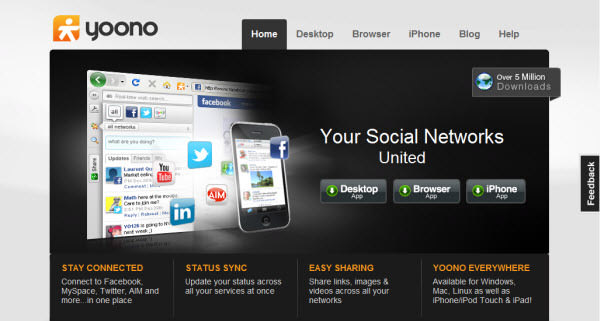 Action Method is a tool for 'capturing tasks, collaborating and getting organized'. That means you capture your action steps, delegate tasks (if required), manage projects and get things done. Action Method also has a strong product roadmap with a whole range of new features on the way including a focus area (with your top 5 tasks), team projects, and more.
There is also a great iOS app available, and for those of you who like throwbacks to the good old days, you can even get paper copies printed out to jot down your actions on the go.
For those of you who have trouble sorting through photos, Portrit could be the tool for you. Rather than sorting through all of your photos in isolation, you and your friends can come together and rate your photos, add a range of different tags, and decide which photos are the best. Think of it as crowdsourcing for photos sorting.
They have also added some fun and encouraging features where you get badges for rating your friend's pictures. It's a great way to find which of your photos stand out from the rest, and it's pretty fun to play with as well. Check it out!
Listhings is a very simple tool, but for one thing it does, it does very well – sticky notes in the cloud.
If you are always searching for the little bits of paper you jot your notes down on, or you often have (and often forget) great ideas that will make you rich, Listhings could be a lifesaver. Just head to the website, jot down your note, and you are done. It's free to use, and (apparently) very eco friendly, so try it out.
Crowdbooster
Crowdbooster is a tool for managing, measuring and optimizing your social media marketing. It shows you what works and what doesn't so you can focus more on the things that actually make a difference.
You can see charts of your follower numbers, retweets, view your influential followers and top retweeters and find out all sorts of handy information. It's also a very useful way for showing people the true value of social media. It's also free, so you can have a play, and make sure you are doing as much as possible with your social media presence.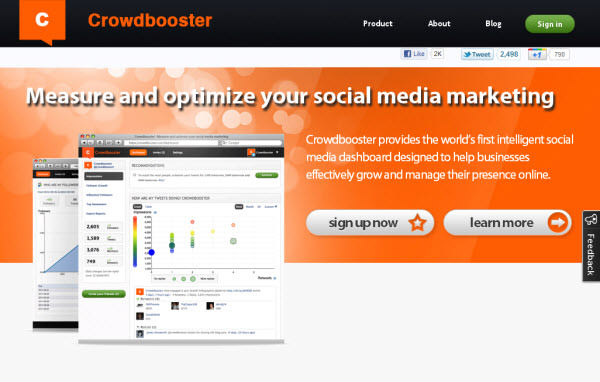 That's all for this month…
That's all for this month, but we'd love to hear your suggestions for next months' list, as well as your comments on the apps we've featured this month.
What is your favorite web app? What kind of web apps would you like to see more? Be sure to let us know in the comments below – we'd love your feedback.
Be sure to subscribe to our Newsletter or RSS feed to keep up with all the latest and greatest web apps, and all the other great content we offer.
Suggest An App!
This is a monthly feature, so if you have any great app you'd like to suggest for our next month's round-up, here's what you can do: