Interaction Design: Guide to Creating Personas
Let's do a mental experiment together. Imagine that you want to design a product or a website for a client and you are at the beginning of the process. What is on your mind? Do you try to figure out what the client likes, immerse in your own creative ideas at once, or rather try to imagine the people who will use your design?
Researchers recently began to praise the latter option and the notion of human-centered design started to appear in professional discussions. The concept assumes that if you want to create a product that actually works it's not your customer you primarily need to focus on but the customers of your customers who are the end-users of the design.
If the clients of your client are happy, the happiness of your client will be doubled. And who wouldn't want happy clients who can't wait to pay and write stunning testimonials? To reach this ideal state of business it's crucial to understand the end-user of the product.
User-centered design is hard. It doesn't only require technical and creative skills but also empathy and a deep understanding of human psychology. This level of complexity is hard to understand on the theoritical level, so UX designers introduced a practical approach: they began to create personas.
Read more: Why Experience Design is The Next Big Thing [Op-Ed]
Why You Need Personas
As your future product will have many users, a question that naturally arises: how do you design for each one of them? Rather than think of your users as just a big bunch of people that will neither inspire you nor make you understand their needs, you need to reduce them to a number that can be handled more easily.
A Persona is the impersonated version of a typical user. Note that you don't need to limit yourself to only one, but working with too many personas can easily get out of control.
Personas are not fake users; their characters must be based on user research. As it's recommended to create personas as early as possible in the design process it can be a wise idea to draw your client in into the process of persona creation. After all it is likely that they know more about their future customer base than you.
Personas also help mitigate your or your client's assumptions and biases. If you keep your personas in your mind, and you learn to relate to them as if they were real individuals, you will design for them instead of for some abstract group of faceless people.
A Brief Case Study: The Persona Cafe
As the main goal of personas is to make our minds move from the abstract and general towards the concrete, we will use a real-life example to understand how personas work in the user experience design.
Let's say you have a new client who wants you to design the website of a popular coffee shop in a university campus called "Persona Cafe".
Persona Cafe serves hot and cold drinks, sandwiches and desserts. Students and teachers come here to relax and socialize between and after their classes. So the owners of the Persona Cafe want a new website that resonates with their guests the best. How would you start?
The Initial Steps
Personas are usually presented visually as one-page documents that you can nicely print and put in front of you while you design. You can even download cool persona templates from the internet if you want or you can use this handy User Persona Creator tool.
Keep in mind that personas are not user groups, not market segments, not stereotypes, and they doesn't represent roles.
So if you have a stereotypical millenial university student or a typical awkward professor in your mind when you think about the model users of the Persona Cafe, forget them quickly.
The only thing that's important is how they relate to your product, what is the goal they want to reach, or what problem they want to solve with the use of your product. So the security guard of the campus working for a contractor company can be represented by the same persona as the eminent student learning for his exam – in other words, they frequent the Persona Cafe with the same motivations, goals and attitudes.
1. Background Info For Andrew, Virginia, Jeanne
First we will give the background information of our personas such as age, gender, occupation, etc. It's important that you remember that these are not the qualities you will need to focus on during the design process; we just create them so that we can think about them as real-life people. What will really count are the narratives we will add to our personas later.
2. Name, Age, Location
Not to be influenced by our concious or subconcious or stereotypes, we will use a fake name generator and a stock photo site to establish the identities.
I set the generator to an American name set (as the fictional campus is in the United States), the age from 19 to 46 years old, and the gender 50%-50% to represent the typical customer base of a university coffee house (students and teachers).
The first 3 hits the generator returned are the following:
the 26 years old Andrew from Oakland, CA
the 22 years old Virginia from Stanley, NY
the 45 years old Jeanne from Chester, SC
Based on the age of the characters we give them the appropriate occupations, so Andrew will be a postgrad student, Virginia will be an undergrad student and Jeanne will be a professor.
3. Photos
To generate the photos of our personas I used Pixabay's stock photo site. For Andrew and Virginia I typed the "university student" keyword into the search bar, and decided to choose the first image of a single male for Andrew, and the first image of a single female for Virginia. Then I run a search query for the keyword "teacher" and I chose the first image of a middle-aged woman for Jeanne.
So here is the background information about our personas in which the names, the ages, the locations and the profile photos were generated randomly so we can't be accused of using our own biases and stereotypes.
The Narratives
Now that we have the background information of our model guests, it's time to forget them for a while.
Let's focus on how a typical target user of a university cafe can relate to the venue. What are their needs, concerns, goals, frustrations, etc.? To find the right answer the best thing is to do a little user research. You can ask the opinion of your client, and also some of your friends or family what is on their mind when they go to a coffee house.
Tapping Real Reviews
Alternatively, the Internet can also be of good help as it's full of opinions and reviews of the average customer. For this case study I used the Yelp review site, set Stanford, California for location as it's a typical university campus in the United States, and browsed the reviews of the Coffee & Tea Shops section a bit to understand better what is the general attitude (goals, motivations, frustrations, etc.) of the average customer of a university cafe.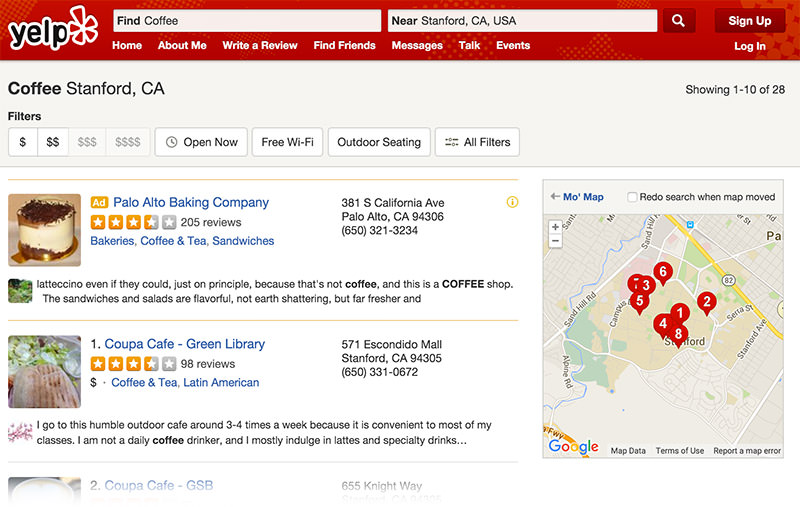 You can see what I found on this link or if you don't like Stanford you can make your own search. Let's see some citations from the reviews to understand better what can be on the mind of the future customers of our beloved Persona Cafe.
1. Motivations
"I like this coupa better than the one on university because it's cheaper."
"The Caracas and marron are Venezuelan lattes that provide a nice kick of caffeine when you need to study at green library."
"it's nice to have this place right between the Education buildings and 2 libraries…"
"… my boyfriend and I had our first date here, so it has a special little place in my heart."
"I love the location and portion sizes here."
2. Frustrations
"I ordered a panini during the lunch rush and they lost my order. … Ended up wasting 45 minutes on a takeout order."
"… that was quite possibly the worst iced double espresso I've ever had."
"The dusty air and the noise might have made the people less careful preparing lattes…"
"He's really allergic to walnuts, pecans, and hazelnuts, but the crepe didn't list any nut ingredients.
3. Goals
"I go to this humble outdoor cafe around 3-4 times a week because it is convenient to most of my classes."
"The coffee was strong which I like and the size is actually ok for a quick caffeine fix."
"This location offers online ordering which makes it a pretty convenient eating spot, and the prices are reasonable as well. "
"I'm vegan so I basically get the same stuff every time, but love it just the same. I love the hummus plate, the vegetarian heaven panini, and the hummus veggie wrap (no cheese). I also love their drinks."
Connecting The Personas With The Narratives
Now that we made our research about the typical motivations, goals, and frustrations of the average customer, it's time to return to our personas. Remember, they don't represent a special demographic but a certain attitude towards the product.
1. Andrew, 26, Postgrad Student
Customer Profile
Andrew is a busy PhD Student who needs a quite place where he can study and read without distraction. As he spends a lot of time on the campus and is also a huge coffee lover, he is the ideal customer of Persona Cafe. He wants to have the opportunity to receive quick and professional service, order online from his smartphone, and not be bothered by the staff.
Motivations
High quality, strong coffee
Quiet atmosphere for studying
Good location, close to the campus
Frustrations
He hates to wait too long for his coffee.
He doesn't want to be bothered by the staff while he is busy with his academic stuff.
He's afraid he won't be able to concentrate later in case the coffee is not strong enough.
Goals
He needs information on the type of coffee Persona Cafe serves to be able to decide its quality.
He wants to find the menu and the daily specials as soon as possible.
He wants to order with his smartphone.
2. Virginia, 22, Undergrad Student
Customer Profile
Virginia doesn't have much money to eat out, but she likes socializing very much and she needs a place where she can regularly meet with her friends. These hangouts are not mainly about studies. They just want to relax and have fun. She can't afford expensive meals but she likes variety in food and drink choices, and easily gets bored if she always has the same meals.
Motivations
Economic prices, and larger portions so she has to order only once
Diverse range of food and drink with some exotic choices
A place where she can regularly meet her friends
Frustrations
She has to spend her money on distasteful, plain food
The staff won't be welcoming and friendly, and they will ruin their fun time
She or her friends can't afford the prices
Goals
She wants to find the prices as soon as possible.
She wants to be rewarded for her loyalty (possibly in the form of discounts and coupons).
She wants interesting descriptions about the drink and food so she can make the best choice.
3. Jeanne, 45, Professor
Customer Profile
Unlike Andrew and Virginia, Jeanne is not a regular cafe-goer. She wants to keep to her diet, and doesn't like to eat out much. She'd rather walk during the breaks. She only goes to a cafe when her colleagues invite her. She is a tidy person, so a clean environment is important for her. She never drinks coffee, and only wants to eat healthy food.
Motivations
Friendly atmosphere where she can be involved in professional networking
Healthy food and drink in accordance with her diet
Connecting with her students while spending time in the cafe
Frustrations
She's anxious that the place will be dirty, as that will distract her from the professional discussions.
Unhealthy food and drink will jeopardize her diet.
During the rush hour she will have to wait a lot.
Goals
Besides using the coffee house as a place for networking, she also wants to meet her students, so the venue needs to be close to her university.
For food, she needs information on the ingredients of each item on the menu so she can decide if it's okay to order them.
As a visit to a coffee house is rather a special occasion to her, she wants to give feedback on the service and quality afterwards.
Conclusion
And, that's it! We are ready with the profiles of our 3 personas who represent the needs, goals, attitudes, and frustrations of the future guests of Persona Cafe. If you are a visual type you can look up or design a cool persona template, and fill it with the information. Here are 3 really nice examples.
You must remember that personas dwell in the realm of interaction design. Good designers must understand how the future users will connect with their product before they immerse themselves in visual design.