40 Unorthodox Things Sold in Vending Machines
Bananas
When this vending machine first came out in Japan, people went bananas over them. I'd go bananas if I saw this machine, too.
Source: Tofugu
Eggs
This vending machine is found in the mountains of the Northern Hyogo Prefecture, Japan, and is the perfect way to keep eggs fresh and readily available for the residents there, 24/7.
Source: Tofugu
Salad
Healthy and goodness, in a salad, in a jar, in a vending machine. Not all vending machines dispense fast food. While we're on the subject…
Source: Daily Mail
Caviar
Ain't nobody got time to dress up, fight for reservations, and light candles for some fine gourmet dining no more. Want some roe? Just grab them from the machine and go. More commonly found in upper scale neighborhoods in LA.
Source: NBC News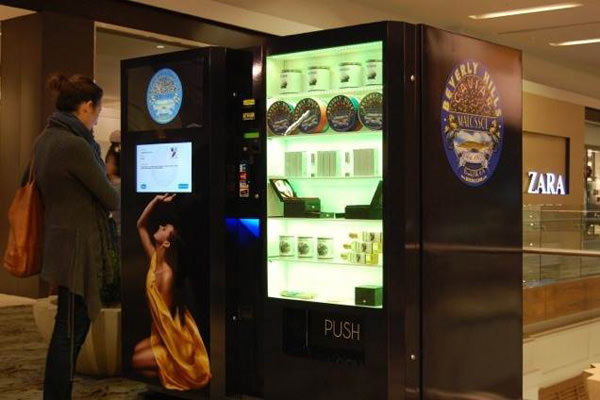 LEGO
Is there a reason why this is only found in Germany's train stations? LEGO has some explaining to do.
Source: i am bored
DIY Toys
A project built by development specialists Squibbles Ink and toy store Rotofugi, this DIY machine in Chicago allows you to make your own toy.
Source: PSFK
Rice
Being the staple food of the Japanese people, this machine makes sense. Why isn't this machine found in more rice-loving Asian countries?
Source: The Wiki Gullet Project
Fantastic Delites
Love Fantastic Deletes crackers? This guerrilla marketing tactic dispenses the snack for free if you would do the things the machine tells you to do. Check out how the public reacted in this video.
Source: Coloribus
Fresh Lettuce
Lettuce doesn't get fresher than this, in this machine in Japan, that is. Perhaps this will help encourage more people to eat their greens rather than falling back on processed foods… naah!
Source: Huffington Post
Pet Food
In order to feed its stray dogs and cats population, Istanbul came up with this vending machine. You slot in an empty plastic water bottle, and it'll dispense food at the bottom for strays.
Source: EarthPorm
Wine
If there are vending machines that dispense beer, why not wine? Now everyone can get their booze, pronto. Pennslyvania first introduced this machine in America in 2010.
Source: Daily Mail
Mashed potatoes
Singaporeans probably loved their tay-toes, mashed and available on the go. Why else would this machine exist?
Source: The Huffington Post
Pies
Yes, you heard right. Berdoll Pecan Candy & Gift Company's vending machine at Cedar Creek, Texas, dispenses entire honest-to-goodness Pecan pies.
Source: Team Hall & Nass
Umbrellas
Never be caught out in sudden rain again. Just grab an umbrella from this machine, and off you go to your next destination. This vending machine is placed around Hong Kong.
Source: Calvin-C
Condoms
If you aren't a fan of getting condoms from a supermarket aisle or a pharmacy, this is the perfect solution, like this machine that resides outside an Italian pharmacy. Now, there is no reason why you can't practice safe sex.
Source: Wikipedia