40 Unorthodox Things Sold in Vending Machines
The person who thought of the vending machine is a genius for two simple reasons: you don't need to hire personnel to man a vending machine like you would need a store, and this keeps things in stock and available for the masses, 24/7. While most of the vending machines you are used to would dispense coffee, soft drinks, packaged food, and snacks, these days we can find a lot more variety being offered.
Whether it is for convenience, practicality, or to drive a concept or an idea home, here are 40 things you probably don't expect to find in a vending machine but now can.
Live Crabs
Who would have thought that we'd see the day when crabs can be made available in vending machines? And they are alive! Grab one on the go if you are in China.
Source: The Atlantic
Ice cream
I scream, you scream, we scream for ice cream in a machine. This one is from Japan, but you might have come across the ones from Ben and Jerry's.
Source: Wikimedia
Pizza (cooked)
Want to get a steaming hot 9-inch pizza within 3 minutes? Then, keep a lookout for a Let's Pizza vending machine. Most of these can be found around Europe and, lately, in America.
Source: Aol
T-shirts
If you are a fan of Uniqlo T-shirts, this vending machine in Harajuku, Japan, dispenses the whole line via vending machines. Shame it's no longer there, though.
Source: Wired
Noodles
Instant cup noodles aren't the healthiest of snacks, but if you still have a hankering for ramen or udon, this particular machine in Japan dispenses a hot bowl of these noodles complete with meat and veggies. Yummy!
Source: Techeblog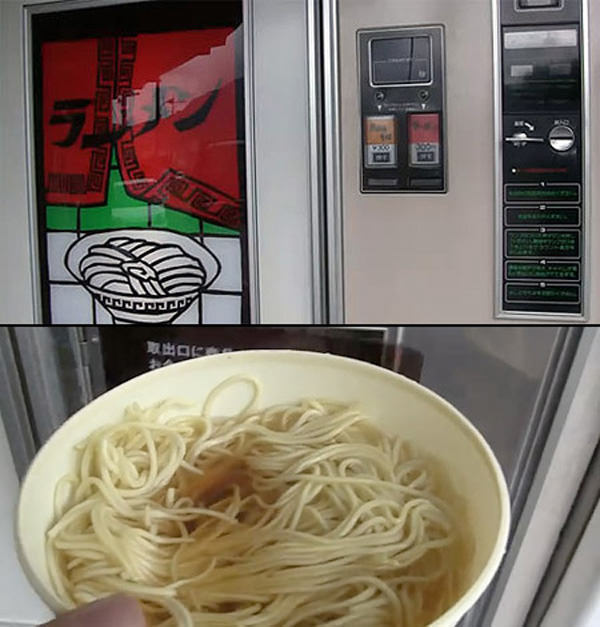 Baguettes
Get fresh baguettes 24/7 with this particular vending machine, thought up by French baker Jean-Louis Hecht who got fed up with his customers knocking on his door on all hours of the day (and night) to get their hands on his delicious baguettes.
Source: Yahoo
Guitar strings
For when you are on your way to a night gig and realize that your guitar needs a fix. It also dispenses guitar picks and drumsticks. This machine resides in Portland, Oregon.
Source: The Beer Chaser
Bike parts
Cyclists will love this particular machine as it dispenses bike parts to replace the ones that broke in yours. You can also get your punctured tire pumped or grab a quick snack. It first appeared in Brooklyn, New York.
Source: Pop-Up City
Cupcakes
Satisfy your sudden midnight sweet tooth cravings with this heaven-sent machine by Sprinkles Cupcakes. The machines can be found in New York, LA, Chicago, Atlanta, and Dallas.
Source: New York Post
Burgers
It's official, fast food cannot get any faster than this machine in the Netherlands. If you prefer having your burger cooked, though, you can try Japan's burger vending machine.
Source: Complex