Resources & Tools for Digital Designers and Agencies
It's always in the web designers' and design agencies' best interest to keep abreast of new technologies and the latest trends in web design. Resources for stock images, fonts, and other design elements are constantly being expanded and improved upon, design tools are continually upgraded, and new productivity-promoting tools appear on the market nearly every day.
Here is how you could benefit from selecting one or more of resources and tools in this list:
They can enhance your productivity.
They can help you improve your skills.
They free up more time for you by taking on tasks you might otherwise have to perform.
When resources or tools can be applied to improve the quality of your deliverables, you can charge more, or work less for the same amount of money.
Any or all of these reasons are worth giving some thought to as you go down this list. The products and design aids are affordable or free. Some are specialized, others are all-purpose. All are quality items, and all are among the best in their class. Opportunities await.
Ebooks
The UDX Book – If you are looking for a job in UX Design, or feel the need to give your career a boost, the UDX book is an invaluable source of practical information. You can read about real-world skills, not taught in the classroom, that you need to get ahead – including how to prepare a resume or a portfolio that prospective employers can't resist.
Adaptive Web Design – Progressive enhancement could be summed up as the philosophy of giving users access to content without tying them down with technological restrictions – i.e., you are serving the user, not the browser. This book explains in detail how to incorporate this philosophy into your web design, and build a better website or app (from the user perspective) as a result.
Recommended Reading: Best practices for Progressive Enhancement in web design
Freebies
Design Freebies – If you're in the market for UI design, Sketch or mockup tools, fonts or icons, Visual Hierarchy has assembled a collection of more than 200 of them, and they are all free. All of these design tools and elements are quality products, just waiting for someone to put them to good use. (visualhierarchy.co)
Line Icons – Here is a collection of 40 line icons on a black background. The icons are good for use in e-Commerce sites or mobile apps. The files are available in PSD format. For more e-Commerce icons, check out this post. (dribbble.com)
Prototyping Tools
Proto.io – If you're looking for an all-in-one prototyping and project management tool, use Proto.io, to create rich, high-fidelity prototypes quickly and without coding. You can import your designs or work on the elements for iOS Android, and Windows that come with the package. The free trial lasts for 30 days.
PowerMockup – Power Mockup is an add-on that integrates a library containing more than 800 mockup and wireframe shapes and UI elements into PowerPoint's window. With this tool, you can easily create and share web, mobile, and desktop screen prototypes right inside PowerPoint. Take it out for a spin duing the free trial before you decide.
Coding Services
PSDgator – The PSDgator development team will take your Photoshop, Sketch, or Illustrator design files, and convert them to HTML5/CSS3. They can also convert PSD to WordPress, or take an existing static website and convert it to WordPress as well as do reslicing and recoding of websites.
PSD2HTML – PSD2HTML is a top coding partner for design, digital and marketing agencies. It offers a full range of web dev services, including cutting-edge JS interaction, HTML/CSS markup and complete solutions for CMS & ecommerce platforms.
TheSiteSlinger – Ready to take the web dev world by storm? Then y'all need to pay TheSiteSlinger a visit. These results-driven experts will chop your incredible designs into prime code.
WordPress Themes
Be Theme – Be Theme is big on features, big in the size of its customer base, and biggest of all in terms of its selection of pre-built websites. With more than 210 of these pre-built websites to select from, you can quickly transform virtually any topic or theme for a website into reality. These professionally-designed layouts are super-modern in appearance and incorporate the latest design trends.
X Theme – Start with an idea for building the ultimate theme, add Cornerstone, the most innovative 100% front-end page builder ever, incorporate Stacks, an outstanding set of designs, send along 20 free, downloadable plugins with the finished package, and you get X Theme.
Commerce Themes
Merchandiser – Merchandiser is simple, fast, and reliable. That's because it is a minimalist theme. This eCommerce WordPress theme is superfast in terms of performance, much more flexible than most themes, highly customizable, and user/developer-friendly. Merchandiser's page builder is the popular Visual Composer, and you'll love the way the Theme Customizer lets you preview your site's appearance settings.
XStore – XStore is another eCommerce theme that features a minimalist approach. What users really love about this product is the special effects, including skins and hover. Everything is just right, including the ideas put forth for portfolio and blog options. Visit the website, view the demos, and see for yourself.
Web Builders
Webydo – Webydo is an all-in-one platform for website builders. It enables you to create responsive, pixel-perfect websites, it offers hosting capabilities, and project management capabilities as well. Webydo gives you total control of your projects from start to finish, and you can rely on their Customer Success team to help you along the way.
XPRS – XPRS is now IM Creator's main product. It became number one by replacing the obsolescent drag and drop page builder with Polydoms building blocks. Check out the pre-built site templates, start out with a free license (students, artists, and non-profits), or subscribe to the white label package – unlimited licenses for your clients at $350/year.
WordPress Plugins
wpDataTables – You have ton of data to analyze, a deadline to meet, and the results need to be presented in easy to understand graphics or tables with key features highlighted. That's what the wpDataTables WP plugin will do for you. More than 7000 companies have saved time and money by using this plugin to manage large volumes financial, statistical, and commercial data.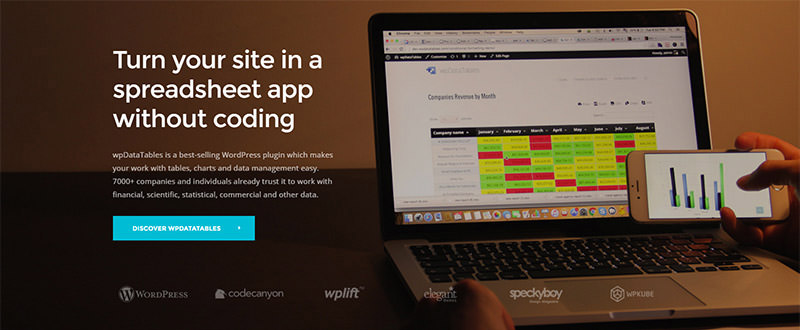 Jetpack – Jetpack is a free, open-source plugin that serves as a multipurpose WordPress site manager. With Jetpack, you can get visitor stats to help you get more traffic, protect your sites against unauthorized logins or intrusions, optimize and speed up image downloads, and more. It comes with a centralized dashboard (on WordPress.com) that will help you manage a large variety of tasks.
Stock Images
PhotoSpin – Photospin is an excellent resource for high-quality, royalty-free stock images. You can get high-resolution photos and graphics up to 17 inches long – the price depending on the size. There are plenty of vector files too. Everything is categorized for ease in searching.
Stockfresh – Stockfresh has served as a resource for stock photos, images, and vectors long enough to build a library of several million items. You can either download their affordable images one at a time, or save more by signing up for one of their flexible subscription plans. It costs you nothing to sign up and browse the Stockfresh inventory.
Collaboration and Task Management
InVision – InVision is an exceptional tool used by Fortune 500 companies (IBM, Apple, Walmart) and small digital design and development teams as well. InVision lets you prototype, refine, review, and test web and mobile products. Everything is kept under control, and no coding is necessary. Ask about a free Enterprise trial.
Azendoo – If your project workflow is subjected to fits and starts because of team communication shortcomings, give Azendoo a try. Azendoo offers the ideal solution for design and creative teams looking to better organize their tasks, track progress, share information, and collaborate in real time.
UX Tools
Loop11 – As a UX professional, you understand both the power and the necessity of testing your products with those who will be using them. Valuable insights can be collected, but only if you use a tool that gets the job done, and without placing an undue burden on you or the test participants. Loop11 is the tool you should check out.
Google Analytics Experiments – Google Analytics Experiments is a free analytics tool that can be used with prototypes or finished products to test their online performance. Three key features form the basis of this UX analysis tool: a list of experiments you can run, an experiment setup wizard, and a reporting function.
Other Tools
Fontea – Fontea is a plugin. It's a part of Photoshop, and it contains 700 Google fonts for you to choose from. All you need to do is select a font and hit the download button and the font is ready for use.
Sketch Runner – Sketch Runner (Runner) is a productivity tool for Sketch users. All you have to do is download it and start using it. It has many other cool features which you can check out from their demo. Basically, expect an intuitive interface that allows you to bypass the Sketch menu and take shortcuts by issuing commands directly from your keyboard.