Watch Video On Mobile Phone With Avot mV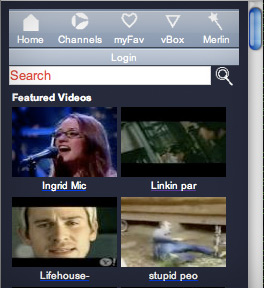 Does your mobile phone supports browsing? Well, you just got something that helps kill the boredom. Avot mV is a video delivery platform that allows you to plays video from all over the internet. It comes with functions where you can search and further personalize your account.
Just point your mobile phone's browser over to Avot mV 's Product site and there will be tones of videos available for you to watch. To avoid all the fuss of typing in the URL or names of movies you want to watch, Avot mV uses point and click so you can get to the movie you want in the shortest time.
Watching movies on Avot mV is fast, not to mention the video quality is very high as well. Movie clips are also maximized by removing all the unnecessary clutters from the mobile user's screen. You can also organize your favorite videos in a playlist and play them anytime you want, just like how you can organized your favorite musics and albums in a playlist.
This post is published by a Hongkiat.com staff (editors, interns, sometimes Hongkiat Lim himself) or a guest contributor.