uFacebook – Control Torrents Via Facebook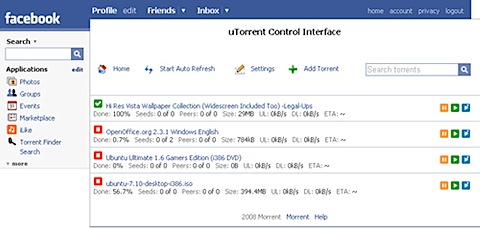 uFacebook is a uTorrent Facebook application. Think of it as a online torrent control; you get to do all sort of things via a Facebook app. For instance, initiate & pause any downloads, search for torrents all inside Facebook. uFacebook also has the ability to upload torrent from your local machine by simply browsing to it and click 'upload'. There's even option where you can change the priorities of the torrents, so the more important one gets downloaded first.
uFacebook and uTorrent are developed by Morrent, the same team who developed uTorrent WebUI for iPhone and Windows (gadget) rel="nofollow". Read more about installing uFacebook, or click here to find out more about Morrent.
Hat tip from Aaron.
This post is published by a Hongkiat.com staff (editors, interns, sometimes Hongkiat Lim himself) or a guest contributor.