Turn Windows Interface Into Mac With FlyakiteOSX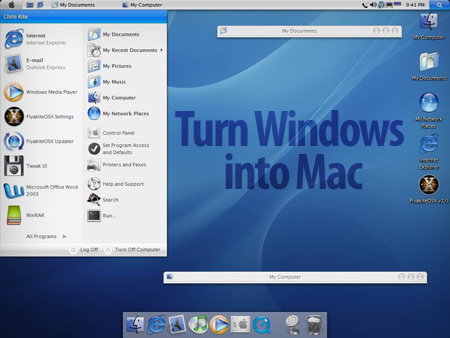 (Windows only) Are you a windows user that admires the Mac interface? You can install the entire Mac OSX Leopard on your PC but if you are not ready convert fully yet, you can try FlyAKiteOSX.
FlyAKiteOSX is a free windows application that upon install, replace your windows interface giving it a MacOS look and feel.
FlyakiteOSX is a transformation pack. It will transform the look of an ordinary Windows XP+ system to resemble the look of Mac OS X. The installer simply automates the process of replacing critical system files, setting registry tweaks, and installing extras such as cursors, sounds, visual styles, etc. FlyakiteOSX DOES NOT contain any spyware or ad-ware of any kind. All files needed for FlyakiteOSX are stored in the Windows directory in a folder named 'FlyakiteOSX' that is hidden by default. All registry values for FlyakiteOSX are written to HKEY_LOCAL_MACHINE\Software\FlyakiteOSX.
FlyAKiteOSX will also skin alot of other Windows applications' interface, that includes WinDVD, MSN, WinRAR, PowerDVD. It also comes with a apple boot screen. Pretty interesting.
Click here to downlowd FlyAKiteOSX.
PS: TigerMlik is another windows application that does somewhat similar to FlyAKiteOSX. Read our reviews here.
This post is published by a Hongkiat.com staff (editors, interns, sometimes Hongkiat Lim himself) or a guest contributor.