Tech.Ed SEA 2008 'Blog and Win' Contest For Tech Bloggers
Are you a Malaysian? Are you a technology blogger? If it's a 'yes' to both, well then you just got yourself qualified in winning attractive prizes like LG Portable DVD Player, Microsoft Lifecam, Life Chat, Optical Mouses, Keyboards and t-shirts.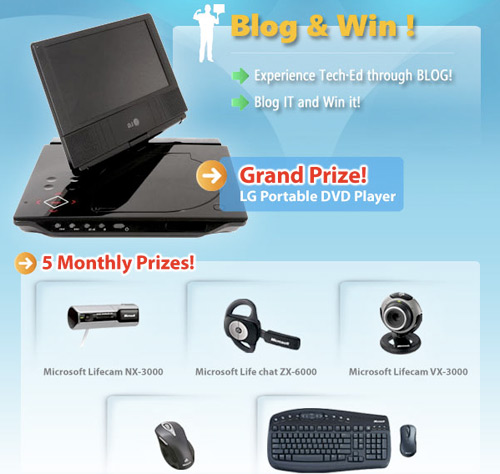 Microsoft Malaysia's 'Blog all about Tech ·Ed' contest is calling out for all technology bloggers to write about the event. Just by doing that, you've got yourself a limited edition T-shirt and if your entry is creative enough, then you might just win more.
Here's what these folks have to say:
If your blog is found to be the most creative, outstanding and mind-blowing, you will be rewarded with wholesome prizes for your great effort. That's not all, if you blog creatively and consistently, cool prizes are reserved for the best blogger of the month. One (1) of the five (5) monthly winners will stand a chance to be the 'Super Tech ·Ed Blogger'!!!
More information at Tech.Ed SEA 2008 contest page.
PS: Speaking of prizes, watch out for later entries in Hongkiat.com as I've some cool stuff to give away for the readers as well. Till then, have a good weekend ahead.
This post is published by a Hongkiat.com staff (editors, interns, sometimes Hongkiat Lim himself) or a guest contributor.