Suggest What You Want To Read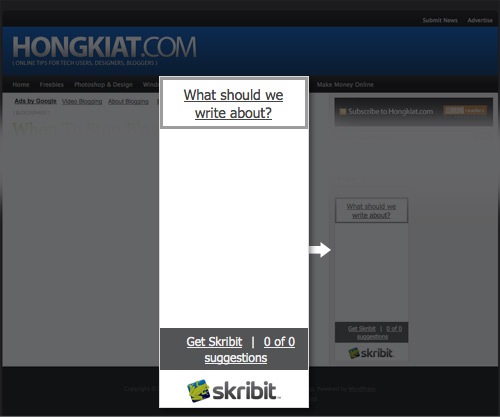 We mentioned about this cool tool but it must slipped our mind. If you are unfamiliar with Skribit, it's a widget that allows readers to suggest what they really want to read from the blog they visit. So now, we are going to implement this on hongkiat.com and it'll stay as long you keep the suggestions coming in. This widget will be placed on the sidebar (refer to the image above), and if you scroll all the way down on the right sidebar, just after Recent Comments, you should be able to find it.
So it's simple. We'll write for the few topics that are voted the most, but no promises they will be up accordingly but you can be self-assured that we will be working on them.
A little suggestion..
This is a technology blog so we prefer to stick with what we are good at. Topics around technology, design and digital inspiration, web tricks/tips, windows/mac, make money online are welcomed. Please do not suggest us to reveal how much we are making from the site, or any topic that's too far away from tech.
This post is published by a Hongkiat.com staff (editors, interns, sometimes Hongkiat Lim himself) or a guest contributor.