Snackr – RSS Feed Ticker For Desktop
By the name of the application, you might think it's something Web 2.0 yet has got something to do with foods. Snackr, in fact is a RSS reed reading application developed with Adobe AIR. What makes Snackr so special is the way it display feeds. This feed reader displays feeds in the form of ticker running at the sides of your desktop. You can further customize where you want it to appear; let it be top, left, bottom or right.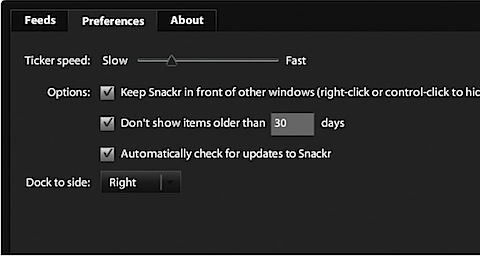 The speed of the ticker can also be further adjust; if you are a fast reader, consider running the ticker at higher speed. While you are at work, you still can keep an closed eye on sites you subscribed to. For news that catches your attention, simply click on the title to expand the excerpt or click 'view post' to go directly to the post. Everything looks good with Snackr, but it would be better if it allow scrolling back to the RSS ticker that left the screen. It's a bad feeling knowing you've missed something if you are away from the screen for few seconds.
Download Snackr for your desktop.
via TechMalaya
This post is published by a Hongkiat.com staff (editors, interns, sometimes Hongkiat Lim himself) or a guest contributor.