RockYourVote – Social Networking Site Made In Malaysia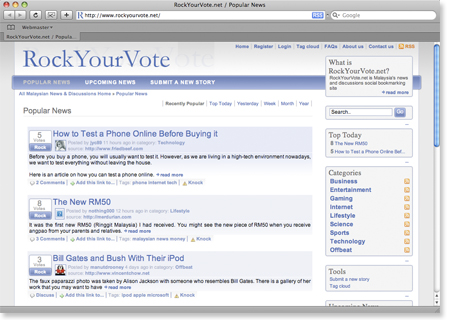 The problem with international bookmarking sites like digg, reddit, etc has is the lack of local news or even if there are, it's probably too U.S related. Malaysian bloggers Wayne Liew and Chris Wong want to give the locals something of their own, a site that features local news, happenings and events, thus the born of RockYourVote.
RockYourVote is powered by Pligg, using voting style to bring the most interesting stories surface to front page, another words digg.com style. Similar services like this was Innit, social bookmarking site initiated by Nuffnang but only limited to their publishers only.
In my point of view, creating such startups are fairly easy while the hardest part is always to maintain its popularity and quality. I've seen similar services started up glamorously but then end up becoming inactive or site spammed with too many low quality blog post. It's not easy when it comes to maintenance but that's the steps you have to take to become an authority in future.
Best of luck!
This post is published by a Hongkiat.com staff (editors, interns, sometimes Hongkiat Lim himself) or a guest contributor.