Quote And Share Screenshots From Browser – Kwout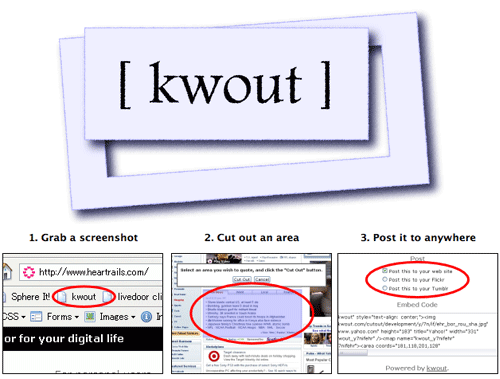 Whenever you found something interesting online and wish to share with your peers, the most direct way would be telling them the URL and which area or section to look at. With Kwout, you can share stuff more efficiently by quoting specific part of the website as image and share it. It's all easily done with within few clicks.
Kwout is an online free service that allows you to crop, quote specific part of the website, turns it into image so you can share with anyone. Here's all you need to do:
Go to kwout.com, type in the url in the textbox.
Scroll the area you want to share, click 'Cut Out'.


You're done!
Do your final adjustment in terms of image width/height, borders, shadows, etc if necessary. Kwout provides 3 ways to share your quoted screenshots – post on web, post to Flickr and email to friends.
Bookmarklet to quote
There's bookmarklet that you can place on your browser, so you don't have to visit Kwout whenever you want to do some quoting. Check out the bookmarklets at the lower fold of the main page.
This post is published by a Hongkiat.com staff (editors, interns, sometimes Hongkiat Lim himself) or a guest contributor.