Hongkiat.com Reloaded – Version 3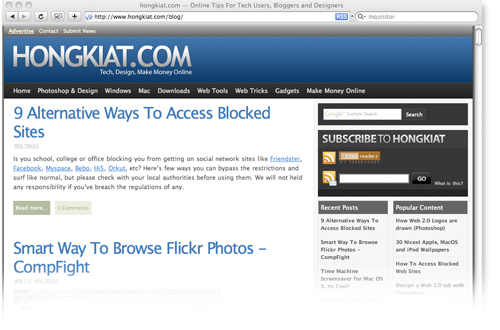 Welcome to the brand new Hongkiat.com, guess it's about time. I'm not sure when was the last time it was revamped but somewhere in February I've come to think that the site looks old and it desperately needs a new look; so here we, are after about one month of planning, research, design and coding, I present you Hongkiat.com v3.
The 3-Column Stays
In the process of determining what stays and what goes, here's what I've done.
Observe the before-and-after of some blogs after they've done their revamp.
Played with few premium wordpress themes
Visited few nicely design blogs
Flipping through "Don't Make Me Think" (one of my fav book) again and again
The final decision – 3 column stays, revamps will be work on top of current layout instead of restructuring it (which might potentially confuse existing users)
Helping old contents get attention
Here's a problem I see with blogging. Old contents tend to hide into archives as new contents flows in. Yes, we have 'Related Content' plugin, or we can even create a link-back to them but still, I think there's more we can do. In this new theme, I'm experimenting few ways to help old contents getting some focus.
Category/archive page
Both category and archive can come with or without thumbnails. With thumbnails, it should be able to attract some attention. Column/row-view is an idea I kinda rip from YouTube, also beautifully implemented in Smashing Magazine. I thought they fit in nicely on category page.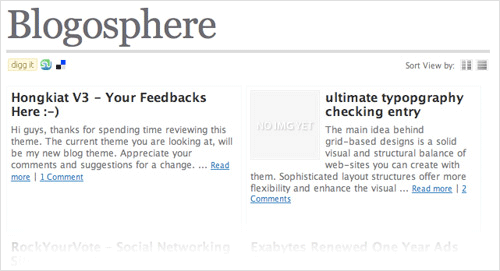 After Content
The column next to Related Entries is not a permanent ad column. With help of some php logics and WordPress tags, it'll also help push some older content using images.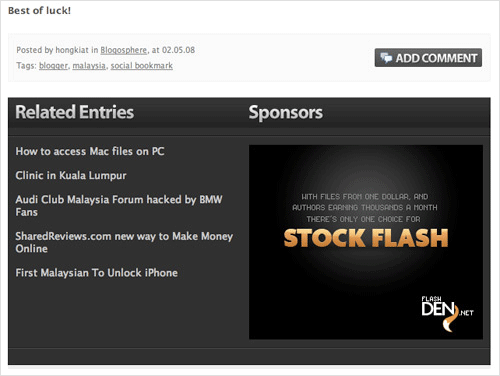 Few more methods are still undergoing experiments, but for now I'll have to launch without them.
The Progress
By comparing the items in my to-do list, I'd say the theme is about 65% complete but it has to be live else I'll spend most of the time doing unnecessary refinement and experimenting new functions, end up procrastinate the launch. The last part of the plan is to release this as a free theme.
What do you think?
Last but not least, your comments/suggestions on this new theme is absolutely welcome. It'll help me better refine it. Thanks in advance.
There have been some slight updates on the theme, particularly on the sidebar. If you seen weird alignment or images, it's probably the cache. Try clear cache and reload.
This post is published by a Hongkiat.com staff (editors, interns, sometimes Hongkiat Lim himself) or a guest contributor.