Hongkiat.com Cloned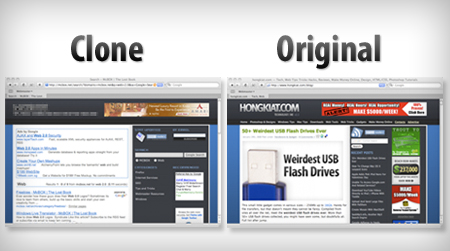 I would like to thank Ray of Webappers for bringing this site to my attention. Honestly, the level of plagiarism is extreme. Not only the theme is duplicated, a lot of contents are directly copied over as well. Even some of the original photoshop tutorial files are downloaded, re-upload and shared in rapidshare. That's stealing and redistribution! I'm not going to mention it's URL so definitely no link love or anything.
So I did a background search on the website, gather all information including:
Registrar name and contacts
Where the sites was publicly listed
Google AdSense public key and ID of other ad network his used, and of course
Owner's personal contacts
I sent the owner an email, highlighting the actions I will perform if contents are not taken down.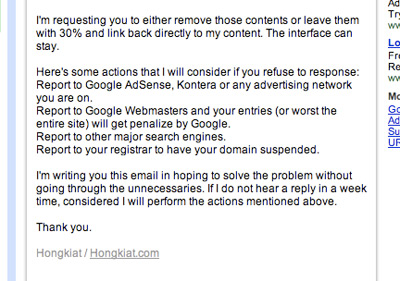 The is by far, a clone that look closest to hongkiat.com. Here's a question, what actions will you perform when you noticed your site is duplicated?
Founder and Chief Editor of Hongkiat.com, a designer, developer and hardcore fan of Apple. Follow him on Twitter, or befriend him on Facebook.