Download Songs From iPod to Computer With YamiPod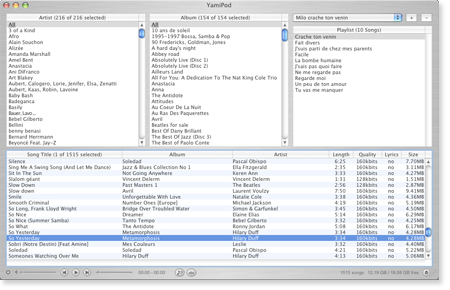 If you are not using Mac, that doesn't mean you cannot retrieve your songs from iPod to your computer as easy as with itunesFS. YamiPod is a free application that allows to retrieve songs from your iPod. It works like a magic on Windows, Mac as well as Linux.
YamiPod does not require installation, you can directly run/execute it after download. Here's a list of YamiPod features, directly quoted from the original site.
YamiPod Features
stand alone program, no installation required
iPod is automatically recognized
mp3 and AAC files can be copied to/from iPod
read/write access to mp3 id3 and AAC infos
playlist support (On-The-Go included)
playlists import (PLS,M3U)
playlists export (PLS,M3U)
full unicode support
auto-download new versions
advanced song import/export settings
2 restore features
built in music player
iPod informations
2 search features
remove duplicated tracks
find lost music files
easy ratings edit
PC to iPod synchronization
create and edit notes (with unicode support)
automatically update song playcounts
News RSS and podcasts to iPod upload
Growl support (Apple only)
export song lists to HTML or plain text files
multiple iPods support
Last.fm support
Click here to visit YamiPod download page.
PS: YamiPod currently does not support iPhone and iPod touch.
Thanks sk
This post is published by a Hongkiat.com staff (editors, interns, sometimes Hongkiat Lim himself) or a guest contributor.