Do you have these people in your company?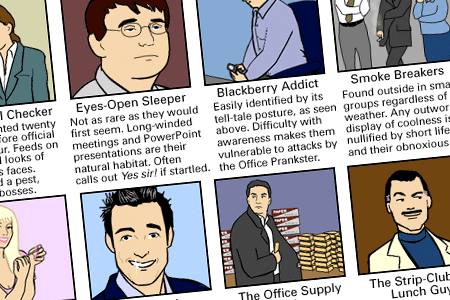 Here's for a thought, in most companies (particularly I.T firms) there's definitely rooms for weirdos. Folks at joyoftech try to categories these weird office employees with hilarious names (with description).

Among them are:
The Arrival Checker
Eyes-Open Sleeper
Blackberry Addict
Smoke Breakers
The dumb Good-looking girl
The dumb Good-looking guy
The Office Supply Pincher
The Strip-Club for Lunch Guy
Too-Tight-Tie Guy
Butt Crack Guy
The Cat Lady
Brooding IT Guy
This post is published by a Hongkiat.com staff (editors, interns, sometimes Hongkiat Lim himself) or a guest contributor.